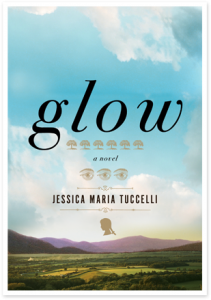 978-0670023318 – Viking – Hardcover – $25.95 (ebook versions available)
Jessica Maria Tuccelli's outstanding first novel, Glow, opens in the fall of 1941, in Washington, D.C., and traverses back and forth through time and place to Hopewell County, Georgia in 1836, and then across the century following.  We start with Amelia J. McGee, a young woman of Cherokee and Scotch-Irish descent, an outspoken pamphleteer for the NAACP, whose husband has been hauled off to jail as a draft protester, sending her daughter Ella, alone with her only her dog as company, on a bus home to Georgia.  This desperate act, meant to protect her daughter, turns out to be disastrous, as the girl, almost at her destination, is snatched by two drifters and then left for dead.
Ella is rescued and cared for by Willie Mae Cotton, an ancient root doctor and former slave, and her partner, Mary-Mary Freeborn, who live deep in the Takatoka Forest near Ella's ancestral home. While Ella heals, in a fluid and beautifully told story, we learn the history of her people and those who are caring for her.
Tuccelli is a lovely writer, and her almost magical ability to capture the voices and stories of the diverse characters in this novel is striking.  She does not shy away from pain and suffering, but manages to find transcendance and hope for her characters against tremendous odds.  The people in this novel are powerfully real, committed to family, to the land, and to the personal histories that make them who they are.
Tuccelli is a fine writer and also a terrific writer to interview.   It's of course impressive and a natural issue to discuss, that she is not from Georgia nor does she share any personal history with the people and place she has made her own in this novel.  There are some truly compelling characters in this book that I will never forget.  I had a great time talking to her and hope you enjoy our conversation as well.   Her excellent website is well worth a visit.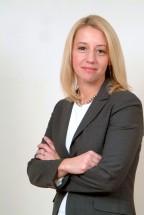 In this series of interviews, called Publishing Talks, I talk to book industry professionals and other smart people about the future of publishing, books, and culture.  This is a period of disruption and change for all media businesses.  How will publishing evolve as our culture is affected by technology, climate change, population density, and the ebb and flow of civilization and  economics?
I hope these Publishing Talks conversations will help us better understand the outlines of what is happening in publishing, books and reading culture, and how we can ourselves both understand and influence the future of books and reading.
Liate Stehlik appeared on a panel I moderated last winter for Digital Book World, and I was  very much impressed by her perceptive understanding of the evolving publishing landscape.  In her role as the Senior Vice President and Publisher of William Morrow/Harper Voyager/Avon Books division of HarperCollins, Liate oversees the digital-centric Avon Impulse imprint, giving her a unique experience base and outlook.  Avon Impulse is innovative publishing for authors and readers, and is a learning base for the company within which it operates.
I thought it would be interesting and enjoyable to talk to her about her views on the book business, past, present and future, and I think our conversation demonstrates that it was just that and more.  Avon Impulse represents a significant effort by a Big Six publisher, creating a chance to experiment and learn important and valuable lessons about digital books and readers, which can then be applied across the overall publishing enterprise.  Much of what Liate and her company has learned will doubtless be applicable to many others in publishing.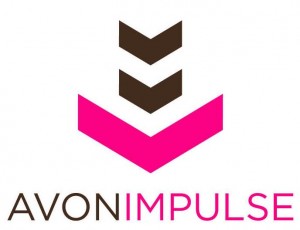 I'll welcome comments and reactions from listeners in all kinds of publishing.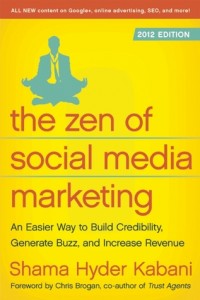 978-1936661633 – Ben Bella Books – $16.95 – paperback (ebook versions are available)
If you're involved in any business or any form of communication arts or entertainment, you already know that social media has rapidly become the buzz term of the new century.  Increasing numbers of people all over the world spend hours a day online in some level of engagement on Facebook, Twitter, Linked In, Tumblr and now Pinterest.   That the book I am talking about here, The Zen of Social Media Marketing: An Easier Way to Build Credibility, Generate Buzz, and Increase Revenue, is an updated 2012 edition of a book first published less than two years ago, indicates how dynamic and fast changing online social media have become.
Over the last four or five years, I have voraciously read or skimmed any number of books that cover either specific social media platforms, or more broadly on social media marketing and strategies for businesses and professionals.  Quite a few of them were very good and taught me valuable lessons.  None, however, was as penetrating and inspiring as this book.  Author Kabani deeply understands how social media marketing is so different from traditional marketing – and requires a very different approach from anyone attempting to "use" social media for their business or profession.  Zen is the right term.
Shama Kabani started her own marketing business, The Marketing Zen Group, right out of graduate school, and built it into a successful operation, learning as she went.  Her company used social media to attract clients; she practices what she preaches.  In the book, Shama lays out her  basic principles, contrasting the conversational and participatory approach of social media marketing to the megaphone approach of traditional product marketing that worked in the one way world of broadcast and publishing media for so many years.  Her core structure is compelling and simple: ACT: Attract followers, Convert them to consumer or customer, Transform your successes into magnetic attraction.
Throughout the book, Shama features anecdotes, guest experts in a wide range of subjects providing useful advice, and a steady stream of really powerful tools and behaviors that will help anyone from beginner to expert become a better social media participant and therefore a marketer.  For many businesses, becoming adept at working in social media has been the magic that has helped them succeed and thrive in a challenging and constantly changing environment.  I do believe that if you only have time to read one book on social media, this is the one to have.  So many of your customers (and potential customers) are so deeply involved with social media, you cannot afford to ignore them.
Talking to Shama was great fun, highly rewarding for me, and I think this interview will be useful and extremely valuable to all.  Writers and publishers in particular will find this conversation of particular value.  You can reach Shama directly in a variety of ways:
Email: shama@marketingzen.com; Facebook; Twitter; LinkedIn; Google+ 

Please post comments and any ideas and suggestions this discussion engenders.