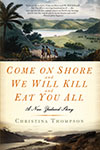 978-1596911277 – Bloomsbury USA – $15.00 – paperback (ebook editions available)
Christina Thompson's Come on Shore and We Will Kill and Eat You All – A New Zealand Story gets one's immediate attention for its outstanding title, of course.  How could one resist?  This tightly woven memoir was recommended to me by a writer friend who admires stylish writing and it certainly does offer some very fine writing.
But I was most drawn to it at the outset, because Ms. Thompson is an anthropologist, a field of study I have always loved.  Early in her career, she lived and worked in Australia, and traveled to nearby Pacific islands, including New Zealand, where she met and eventually married a Maori, the point where this book really starts to take off.
The title of the book comes from a statement made by Maoris at an early meeting with some European explorers.  It perfectly stands for the cultural gulf between the two peoples and the lack of understanding each had for the other's entirely foreign culture.  This theme of misunderstanding, and of culturally determined viewpoints, runs throughout the entire book.  Because she is now directly connected to the Maori/Polynesian worldview by dint of marriage, and because she has an anthropologist's ability to look beyond her own viewpoint, Thompson is able to navigate the intricacies of cross-cultural interaction better than most writers.
Thompson talks about her family, children, American and Maori relations as part of the effort to understand differences, and to explain behavior.  It's inevitable that Maori and Polynesian cultures are poorly understood in either Europe or America, where the author and her family now lives.  In this memoir, author Thompson looks at the past and the present through the lens of contact and perception with a powerful incisiveness.  Sometimes we are lulled by the commonplace story of the present, and then are shaken awake by its connections to a violent past.  The historical Maoris were a violent and warlike people, and their collision with the equally violent (and self-centered) Europeans of the colonial imperial era created a long period of difficulty for the native people of New Zealand and surrounding regions of the Pacific.
This book is one I can recommend to anyone who wants to see beyond her or his own experience, to learn the limits of anyone's personal perspective as it is part of a cultural construct, and to peek into the different ones that are around us in our now hyper-connected universe.  Another fine book I am pleased to recommend.  And I do think our conversation expands on the ideas that are present in the book.
Christina Thompson is the editor of Harvard Review. Her essays and articles have appeared in a number of magazines and journals, including Vogue, American Scholar, the Journal of Pacific History, Australian Literary Studies, and in the 1999, 2000, and 2006 editions of Best Australian Essays. She lives near Boston with her husband and three sons.You can read excerpts from this book, find some very interesting resources and learn more about the author and her work at www.comeonshore.com.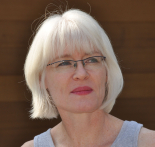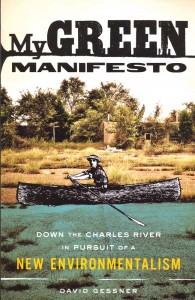 978-1-571313-24-9 – Milkweed Editions – paperback – $15 (ebook editions available)
David Gessner is a sort of post-modernist environmentalist.  He's written a number of books that celebrate the natural world and the wild, and he is a terrific writer capable of transcendent prose and has the keen observer's eye that anyone writing about nature must have.  But he understands the difficulties and contradictions that suffuse contemporary civilization.  And he has a sense of humor and irony (which environmentalists are not always known for).
In My Green Manifesto, he addresses a major issue that affects so many of us who feel strongly about the arc of modern civilization, that its inertia is overwhelming, the problems so great, the solutions so elusive, and the efforts of individuals so ineffectual as to make us lose all hope of being able to make meaningful change.
The book takes us through Gessner's journey from the headwaters of the Charles River to its end in Boston's urban harbor.  His trip is made for the most part in company with a true environmental hero, Dan Driscoll, who almost single-handedly spurred the suburban and urban communities along the once highly polluted river to make significant changes to both restore and protect the river and riverside ecology.  They travel in a leaky canoe, drink beer, sleep in tents, and enjoy the pleasures of a "limited-wild" experience.
Gessner takes heart from the work Driscoll has done, and shows us how important his practical efforts have been.  "This new picture is that of a man or woman who knows how to get things done, who understands the value of momentum, of focus on a particular project. Not a shrill or dry or particularly flowery environmentalism … Someone willing to get in [a] fight and 'Sue the bastards.' Someone willing to stick their nose in there and feel what it's like to get bruised. And someone willing to stay locked in that fight for years, even if it costs them emotional as well as actual capital.''
Gessner writes with great humor and joy about the pleasures of being in nature, wherever one lives, and that is the core of his manifesto.  His ideas will resonate for many who are not willing, able or equipped to spend significant time in distant wildernesses. And as a "manifesto" this book will be easy for most readers to digest and accept.  Gessner's message is positive and powerful because it is realistic and not preachy and because so many of us can relate to his experiences of the joy of being in nature and at the same time despair over the sheer extent of modern society's environmental unconsciousness.
Gessner reminds us that it is possible to hold two seemingly contradictory ideas in our minds at the same time, that complexity and contradiction are almost facts of life, but cannot defeat us from taking action to make change.  "The first idea was acceptance, the acceptance, totally without rancor, of life as it is, and men as they are … But this did not mean that one could be complacent, for the second idea was of equal power: that one must never, in one's own life, accept these injustices as commonplace but must fight them with all one's strength.''
Author website here (you can find a list of all his many fine books there)  Gessner's latest book is one I am interested in reading as well.  The Tarball Chronicles: A Journey Beyond the Oiled Pelican and Into the Heart of the Gulf Oil Spill chronicles his visit to the Gulf after it had passed out of the news.  Not an uplifting story, I fear.