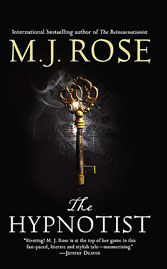 978-0778329206 – Mira Books – paperback – $14.95 (e-book and audio book editions available)
M.J. Rose is a critically acclaimed novelist – she's best known for her thrillers, of which The Hypnotist is one.  It's in a series with The Reincarnationist and The Memorist, all them with reincarnation as a central theme.  MJ's characters are compelling and well drawn, and her stories are complex and original, the books are fun to read and impossible to put down.  What more could you ask of a novel?
M.J. is also well known among writers for her activism in behalf of writers, and her brilliant understanding of marketing.  But that's a different conversation than the one we had about The Hypnotist, a book I deeply enjoyed reading, for me perfect as I got to read the book on vacation, and it is way better than most books we think of as "beach reads."  As one reviewer said: The Hypnotist has "something for everyone: murder, suspense, history, romance, the supernatural, mystery and erotica."
The detective Lucian Glass becomes deeply involved in the pursuit of anti-hero Malachai Samuels, whose Phoenix Foundation is committed to the study of reincarnation (at almost any cost).  Glass is a tortured soul whose own life connects him to the present and past day lives of other characters in this novel.  It's a complexly drawn story and one that will reward readers, even those who have no interest in the paranormal or esoteric metaphysical subjects that are do beautifully woven through the story. You will enjoy the denouement, and the story will stay with you long after you have turned the last page of the book.
Rose is a skillful writer who treats her readers to a high level of originality and surprising story making.  She is also fun and rewarding to talk to about her books, as she shows in this insightful interview.  She has a great website, a couple of blogs, and aside from having written 11 works of fiction, she has also co-authored two books about writing, and has been profiled in Time Magazine, Forbes, The New York Times, Business 2.0, Working Woman, Newsweek and New York Magazine, and has been on many television shows.  She is also the founder of the very successful book promotion business, AuthorBuzz.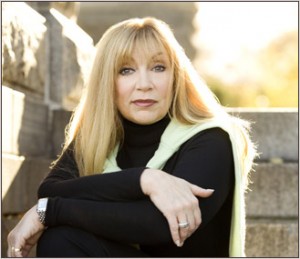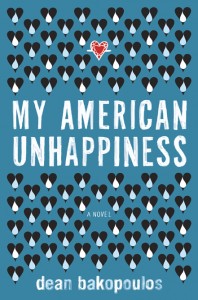 978-0151013449 – Houghton Mifflin Harcourt – Hardcover – $24.00 – ebook editions available
Dean Bakopoulos is a very funny and perceptive writer.  My American Unhappiness, his second novel, takes place in Madison, Wisconsin during the period of the second Bush administration.  Both the geographical and political backdrops are crucial elements of the story, whose main character is Zeke Pappas, a nebbish who runs a nonprofit called the Great Midwestern Humanities Initiative.
Zeke is an obsessive of some great measure.  His life work has become the creation and maintenance of an "inventory of American Unhappiness," a project that is a "byproduct of an overly cerebral loneliness." He is also wildly naive and unrealistic, characteristics which in a certain way serve him well, as he is surrounded with problems in his life that would defeat the average person in short order.
Bakopoulos brilliantly balances the personal difficulties faced by Zeke with his involvement with some of the darker elements of the Bush era, including corrupt conservative politicians hiding the kind of personal behavior they legislate against in public, and the disconcerting pursuit of Zeke by a dark security-oriented governmental agency established after 9/11.
In some ways, the book could be read as just a zany midwestern comedy, but it's clear that with Zeke Pappas's story, Bakopoulos wants to tell us something important about 21st century American society.  Zeke's world is falling apart.  His mother develops cancer, and decides to give her orphaned grandchildren (whom Zeke loves) to an aunt, unless Zeke can marry in time (impossible for him as he is simply too unrealistic about women).   The government wants to audit the nonprofit he runs.  Nothing works for Zeke.  It's a situation he feels he shares with the country as a whole, and Zeke knows it is the President that is the source of American unhappiness and ennui.  Zeke sees Bush as "unencumbered by something as pervasive as unhappiness," which makes him unfit to lead a country as complex and haunted as America.  For Zeke Bush does not have the depth of spirit required to lead the nation.
Dean Bakopoulos is a writer to watch, a writer with great skills and who does have the depth of spirit required to portray the American scene through fiction.  He is also a terrific writer to talk to about his work and gave me a great interview.  You can visit his website to learn more about his work and ideas.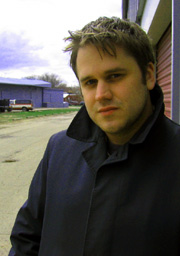 I am definitely looking forward to reading his next book.

Just like millions of other Americans we were hammered pretty hard by this hurricane, in our small Connecticut town 99% of homes lost power, and as of today, September 2, still more than 55% of homes are without power.  We got ours back last night, thankfully, but still do not have internet.  Without a good connection, posting interviews is painfully difficult.  I have several great interviews ready to post, next being with Dean Bakopoulos about his excellent novel My American Unhappiness.   I hope to have a new Publishing Talks interview posted by next week also.
Our other big news is that Livewriters, our book and author video site, had its best traffic month in August, surpassing 70,000 unique visitors.  We are posting ever more interesting interviews, readings and discussions with authors about their books there, plus featuring just about every book trailer there is.  And if you want to enjoy a lively literary blog experience, visit Livewires, a fresh look at the literary landscape.
During the storm, I had plenty of time to read (print books by candlelight and flashlight, ebooks with the device's own light) and am looking forward to talking to the authors of quite a few wonderful books, including My Green Manifesto, Just Bill, Confronting Collapse, and Duet.
My best wishes to all who suffered in and after the storm, and condolences to all those who died in it.