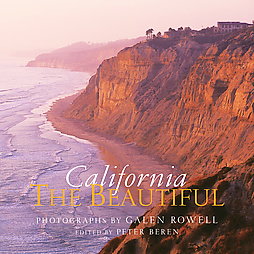 978-1599620749 – Hardcover – Welcome Books – $19.95
Galen Rowell was an incredible photographer, documenting and interpreting nature all over the world.  He was an accomplished mountain climber, so he was able to reach places that most other photographers could never go.  He died tragically and far too early in an airplane crash in 2002.  I've been familiar with his work through many books, calendars and exhibitions, but really did not know a great deal about him.  Peter Beren, who I have known through the book business, has authored and edited numerous books, including The Writer's Companion, Vintage San Francisco, and Hidden Napa Valley. He was the publisher of Sierra Club Books and founding publisher of VIA Books, and now lives and works independently in San Francisco.
California the Beautiful is both a photography book and a literary meditation on California as a place of transcendent beauty.  The geography of California has engendered some of the great nature writing of our time, and much of that work is featured here.  Peter talked at length about the genesis of this project, his work with Galen Rowell, the way Rowell worked and Peter also read some of the wonderful selections of writings that are included in this book.
California the Beautiful is both a portrait of the state's diverse natural beauty and, through the incredible voices of its writers, a testament to the ever-renewing spirit that it has come to embody. Aldous Huxley, British author turned Hollywood resident, described the California dream as "this great crystal of light, whose base is as large as Europe and whose height for all practical purposes, is infinite."
Among the other authors offering praise are Maya Angelou, Mary Austin, Ray Bradbury, Joan Didion, Gretel Ehrlich, Lawrence Ferlinghetti, M.F.K Fisher, Robertson Jeffers, Jack Kerouac, Clarence King, Jack London, Henry Miller, John Muir, William Saroyan, April Smith, John Steinbeck, Robert Louis Stevenson, Mark Twain, Nathanael West, and Walt Whitman.
This is a beautiful book that inspires an almost altered state in the reader, as the saturated colors move from eye to brain.  But the photos and the writing made me want to get in my car and drive straight west to see some of the places there that absolutely must be experience first hand by every American.
An excerpt of California the Beautiful is available at www.chptr1.com.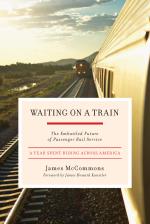 978-1603580649 – Paperback – Chelsea Green Publishing – $17.95
I learned a great deal from reading this excellent book.  Not just information about trains – there's alot here – but about the people who around the United States who are working to make train travel a viable alternative to driving, about the communities and states where rail is succeeding, about the history and scope of railroads in America and around the world, and specifically a great deal about Amtrak, its ongoing struggles, as well as the modern freight railroads that are thriving today.  Jim McCommons has alot to tell, but he never lectures us.  Because the book is built on the backbone of his year spent traveling around America by rail, and because McCommons is an experienced and talented journalist, Waiting on a Train beautifully combines travelogue, personal memoir and transportation analysis and history that gives us a great introduction to an important and large subject that might otherwise seem opaque and difficult to approach.
McCommons spent much of 2008 in trains.  He talked to travelers, workers on the railroads, policy makers, professional planners, politicians, including many of the people who have been most involved in passenger rail policy for the past 35 years.  Waiting on a Train is not a sentimentalist's approach to rail travel.  McCommons tells us plainly what the challenges are for those of us who want to see mass transit developed into a meaningful alternative to automobile and air travel.  And he does not pull punches – developing passenger railroads is not going to be easy and it will not happen quickly.  It's important to realize that only 2% of the American public has actually ever ridden a train – a stunning fact I learned from this book.  I'd recommend this book for anyone who loves trains, an easy call, but I'd also like to see people who have never even thought about riding on a train read this book so they will understand why rail must be an essential component of the American transportation system of the future.
In my interview with James McCommons, we talked in detail about what it was like for him to spend so much time in trains, writing this book, and many of the subjects he covered.  He talks about high speed rail, the differences between Europe and America, meeting railroad policy makers, and talking to regular travelers from many different backgrounds.  It's a fascinating story I hope will be widely read and discussed.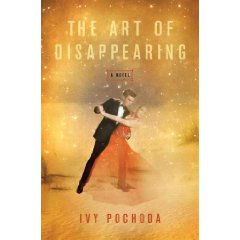 978-0312385859 – Hardcover – St. Martin's Press  -$24.99
The Art of Disappearing is simply a wonderful novel.  And it's the author, Ivy Pochoda's first too.  It's beautifully written, flows naturally, and as with all great novels, it's layered and complex.  A story that transforms the reader's experience can be considered a true work of art, and this is one of those.
This is a description from Ivy's own website:
Toby Warring seems too young and too attractive to be sending drinks to strange women in a small-town Nevada saloon, but that is exactly how he meets Mel Snow, a textile designer who is selling her wares throughout the country.  In a brief but strangely familiar conversation, Toby shows Mel that he is a rare "real" magician—actually creating the wine he places in front of her—and explains that all he has ever wanted is to perform in Las Vegas.  They marry the next day.
You can read excerpts from the book here to get a feel for her writing, which is luminous.  Magic is at the heart of the book, but it's not about parlor tricks.  In my interview with Ivy Pochoda, we talked about how she came to write this story, how it incorporates much of her own experience of place, and how she created the magical realism that imbues the book.  Ivy grew up in Brooklyn in a very literary family, fell in love with writing and books early, went to Harvard (where she was a champion squash player, and lived in Amsterdam for several years.  While living there,  she started work on the novel and it is where much of The Art of Disappearing is set, though Las Vegas and the American west are also important locales for the book and its characters.
I love this novel and will be looking forward to the author's next book.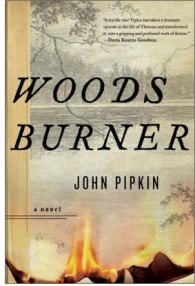 978-0385528658 – Hardcover – Nan A. Talese – $24.95
I first heard about this novel on NPR and was immediately attracted to the notion of a novel that was generated by this single almost unknown incident, when Henry David Thoreau accidentally set fire to the Concord woods in 1844.  I'd learned of this first from poet friend Jonathan Williams many years ago, but it never really hit me how paradoxical this event was.  John Pipkin has woven a truly original story out of the history surrounding this one event.
He starts with the historical Thoreau, imagining him not as the genius of outdoor philosophy he has become, but as a bumbling, confused and somewhat thoughtless individual who does yet fully know who he is or even why he is.  Pipkin adds other characters to the story, all of them confused and searching for something that perhaps only the accidental conflagration set off by Thoreau and his young friend can bring them.  There is Eliot Calvert, aspiring romantic playwright and accidental bookseller searching for meaning in a mundane life, the irresistibly named Norwegian orphan immigrant Oddmund Hus (whose past also involves an explosive accident) who is silently in love with the wife of the farmer he works for, and Caleb Dowdy, the strange, confused Episcopal minister who seeks salvation through self abasement.  And of course, Thoreau as Pipkin paints him, a young largely unfulfilled son of a pencil manufacturer, way over his head in the woods, searching for meaning in nature bit in no way ready for his destiny.
All will meet, all will be transfixed, transformed, formed, in the conflagration at the heart of this story.  I talked to first-time novelist John Pipkin early one morning in September about this truly excellent book.  In this interview he talks about what lead him to this story, and how he came to imagine it, as well as his research, the characters and of course, Thoreau himself.  Pipkin is a terrific writer, and just as good at talking about his work.  I am looking forward to reading more of his work, and recommend this novel to almost any reader – it is that good.