978-0375401954 – Hardcover – Knopf – $24.00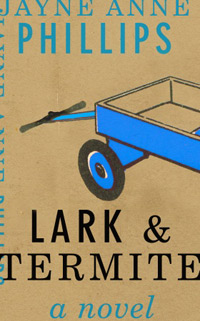 Lark and Termite is one of the best novels I have read in a long time, written by one of the best writers we have.  Jayne Anne Phillips writes fiction that is always deeply luminous, complex and beautiful.  There's an almost meditative quality to this novel, as the author switches between multiple perspectives and voices brilliantly, almost lulling the reader into not realizing that a complex and intricate story is being told.  Phillips gives voice and life to her characters, defining a family and the complex web of events and places that give it structure, deep and viable across place and time in an extraordinary, mysterious and beautiful story.
As Alice Munro says about Lark and Termite: "This novel is cut like a diamond, with such sharp authenticity and bursts of light."
In this interview, Jayne Anne Phillips talks in detail about her newest novel, the genesis of the story and its characters, their history as she imagines them, how she works as a writer.  We also talk about her first book, Sweethearts, published by my Truck Press in 1976.  Overall this is a varied and interesting conversation with a writer who is in complete command of her abilities.
— David Wilk, September 2009
Knopf makes an excerpt of Lark and Termite available for readers to sample, well worth visiting the book site or click below.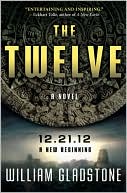 978-1593155568 – Hardcover – Vanguard Press – $19.95
William Gladstone, author of the new novel, The Twelve, interviewed by Writerscast host David Wilk.
The Twelve is a terrific first novel by an experienced book industry professional, west coast based William Gladstone.  I know the author personally, and I've read this novel at various stages of its development.  In its final published form, it has become a compelling read on a subject of great interest to many people – the future.  It's a book with a strong spiritual message but one that does not get in the way of its fast moving and intriguing story.
The publisher's description of the book goes like this: "The Twelve is an extraordinary and unforgettable novel about a most unusual man. As a child, Max lives in a world of colors and numbers, not speaking until the age of six. As an adult, Max ventures on a journey of destiny to discover the secret behind the ancient Mayan prophecy about the "end of time," foretold to occur on December 21, 2012.
When he is fifteen years old, Max has a near death experience during which he has a vision that reveals to him the names of twelve unique individuals. While Max cannot discern the significance of these twelve names, he is unable to shake the sense that they have deep meaning. Eight years pass before Max meets the first of the twelve.
With this, Max's voyage of discovery begins, as he strives to uncover the identities and implications of "the twelve"—individuals he will meet during his journey towards truth, all of whom seem connected, and all of whom may hold the answer to what will happen at the exact moment the world may end. The novel takes the reader on a series of global adventures, culminating in a revelation of why and how Max and the twelve are destined to unite to discover the magnitude of the meaning of December 21, 2012. Only the twelve can provide the answers, as the fate of all humanity rests in the balance."
In my fast-paced interview with author Gladstone, we talk about the genesis of the novel, his sense of the meaning of the book, and what the future holds for humanity.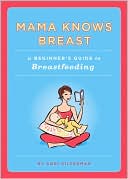 978-1594741654 – paperback – Quirk Books – $14.95
Andi Silverman, author of Mama Knows Breast, interviewed by Writerscast host David Wilk
As a middle aged man, I am clearly not the audience for this book, but when I saw a copy of the book and read the first few chapters I knew right away this would be an author I wanted to interview.  Mama Knows Breast is a great title for a book (as well as for the author's very well put together and consistently informative website). And her publisher, Quirk Books, has put together a beautifully produced paperback with very cool and comforting illustrations.
As the author, Andi Silverman tells me in our interview, she wanted to write the book she needed when she was looking around at books about breastfeeding – something not medical, or like a textbook, but a book for moms by a mom, with humor, a caring approach, and above all, not judgmental regardless of the decisions each mom makes about breastfeeding.
And of course, as she rightly points out, breastfeeding is not just a subject for women.  Having been father to two breastfed children, I can attest this is true.  Breastfeeding is not a choice that every woman or family can make of course.  But breast milk is healthy and natural, and better for the baby and child than any formula.  My interview with Andi Silverman reflects her spirit and approach as an author – she is full of good advice gently given, and is someone almost any woman would want to consult for advice.