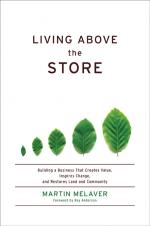 9781603580854 – Hardcover
Chelsea Green Press – $27.95
This is one of the most important and challenging books I have read in a long time.  In this book Martin Melaver tells stories about his life, his business, his family, and his community, as a  framework for understanding how business can (and must) change, in order to become truly sustainable, to become additive rather than extractive, and to rethink the way business is done.  As the publisher says: "Living Above the Store is for readers who care about issues of community and sustainability as well as for those who want to learn more about how a socially responsible business can first redefine, and then find, success."  In this interview, Martin and I talk in depth about the key ideas in the book, and talk in detail about some of the practical issues the book raises for so many who want to make a difference.  Martin demonstrates his clarity of thought and deep commitment to truly making change in business and community.  Highly recommended!
Martin Melaver has been CEO of Melaver, Inc., since 1992. Never content with the well-trod path, he has a PhD in literature from Harvard University and an MBA from Northwestern University's Kellogg School of Management. He is actively involved with numerous community organizations in and around Savannah, Georgia. Melaver splits his time between Savannah and Tel Aviv, Israel. …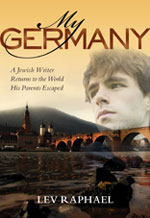 978-0299231507 – Hardcover
University of Wisconsin Press  $26.95
Lev Raphael grew up loathing everything German. A son of Holocaust survivors, haunted by his parents' suffering and traumatic losses under Nazi rule, he was certain that Germany was one place in the world he would never visit. Those feelings shaped his Jewish and gay identity, his life, and his career.  In "My Germany." Raphael explores many layers of his personal life, including his visits to Germany, his complex relationships with his parents and his inner self.  My interview with this interesting and engaging writer ranges across a variety of subjects, including the author's writing methods, a discussion about this new book and his life as a writer, the nature of memoir, memory, and the discovery of self.

978-1593155377 – Hardcover
Vanguard Press  $25.95
David Morrell is one of the better action thriller novelists writing today.  Not only does he write well, but his novels always have terrific characters, explore complex emotional relationships, and are driven by great story telling.  When I picked up The Shimmer, I already had a number of other books on my plate and no real intention of reading it right away.  But after the first few pages I could not put it down.  This wonderful novel combines elements of the thriller novel with science fiction and fantasy, historical fiction, modern psychological horror stories.  My interview with the interesting and voluble David Morrell gives readers a chance to get to know quite a bit about this novel, his 28th, and much more about his background as a writer, a teacher and storyteller.  The Shimmer takes place in a town in Texas modeled closely on the real-life town of Marfa and includes a great deal of real history woven into a gripping modern tale.  This book is a great example of Morrell's work, and this interview was a lot of fun for me to do. — David Wilk