978-1416975199 – Hardcover
Aladdin (Simon & Schuster) $16.99
P.W. Catanese is the author of a number of books for children and young adults who lives in Connecticut.  In this podcast, Writerscast host David Wilk interviews Catanese, who talks in detail about his life as a writer, his earlier series of fairy tale retellings for younger readers, and his latest novel, the excellent Happenstance Found, which is the first in a new series he has created called The Books of Umber.  The novel opens with Happenstance, a strange boy of undetermined age, waking up in a cave with no memories of who he is or anything about the fantastic world in which he lives. He soon encounters Lord Umber, an adventurer who seems familiar with our world as well as his own, and his two companions — a brute cursed to be forever truthful and a one-handed artist and archer… As the group attempts to learn about his origins, they're forced to confront a supernatural assassin and secrets from Umber's own mysterious past.  The world Catanese creates in this novel is highly compelling; his new series should appeal both to adults who love a good fantasy and to the younger readers to whom it is aimed.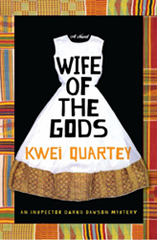 978-1400067596 (Hardcover)
Random House $24.00
Dr. Kwei Quartey is medical doctor, born in Ghana and raised by an African American mother and a Ghanian father.  He has lived and practiced medicine in California (where he is the lead physician for an urgent care clinic) for a number of years; he wanted to be a writer since he was a young boy and writes in the morning before going to work.  Writerscast host David Wilk interviewed Kwei during a recent visit to New York where he was appearing at Book Expo America.  Dr. Quartey talks about his writing, the background for his new novel, a complicated and beautifully written mystery set in contemporary Ghana.  Wilk and Quartey explore many aspects of the writing life as it has emerged for this first time novelist.   Wife of the Gods is an impressive debut by a new talent, and as the first in a series based on his compelling main character, Inspector Darko Dawson.  This interview should be an equally compelling introduction to the author and his work for many readers.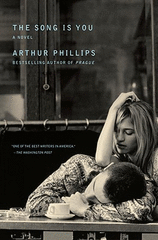 9781400066469 (hardcover)
Random House, $25.00
Writerscast host David Wilk continues his interview with Arthur Phillips, acclaimed author of Prague, The Egyptologist and Angelica. Phillips was born and raised in Minnesota, educated at Harvard, and now lives in Brooklyn, the setting for his newest novel The Song is You. It is a beautifully written, complicated, sometimes painful, often extremely funny and very modern novel.  Music is a critical underpinning of the story, and the complexity of the relationship between listener and performer is deeply entwined with the unusual love story that is at the heart of the novel.   Phillips is widely considered one of the best novelists writing today – and The Song is You is solid evidence of how good he really is.  Kate Christensen's New York Times review says it best: "the whole novel zings with fresh insight and inspired writing. "The Song Is You" is smaller, more focused and more ­character-driven than Phillips's earlier books, and it's not only a welcome new direction, but also a novel impossible to put down."
In this second segment of a lively and revealing two part interview with Writerscast host David Wilk, Phillips continues to discuss his newest book, and how he wrote it, the role of music in the novel, what he is working on next and explores some of the interesting and interior elements of the novel and his life as a writer.