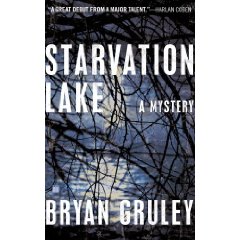 978-1-4165-6362-4 (paperback)
Touchstone, $14.00
Writerscast host David Wilk interviews Bryan Gruley, award-winning Chicago bureau chief for the Wall Street Journal, whose first novel, a mystery called Starvation Lake is about to be published as a paperback original from the Touchstone imprint of Simon & Schuster. Gruley's novel is set in small town Michigan, and centers around a journalist with an unresolved past, local hockey players, and an engrossing story that captures the reader from the beginning and won't let go. Harlan Coben has called Starvation Lake "A great debut from a major talent."
Wilk and Gruley talk in depth about the writer's work, what it's like for a full time journalist to take on a novel, small town newspapering, and explore in depth some of the background and underpinnings of Gruley's first novel. They discuss character development, story development and plotting, and the life and work of the novelist. Listeners will enjoy the opportunity to hear from a writer who clearly has alot to say and is an emerging new talent in American fiction.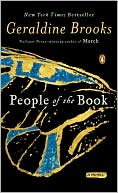 978-0143115007 (paperback)
Penguin Books, $15.00
Writerscast host David Wilk interviews Pulitzer Prize winning author Geraldine Brooks, on tour for the release of the paperback edition of her newest novel, People of the Book.  This brilliant and engaging historical novel has a story that spans centuries, using the Sarajevo Haggadah as the focus. As one reviewer has said:  "There's a romance between Brooks and the world, and her writing is as full of heart and curiosity as it is intelligence and judgement." Carrie Brown, The Boston Globe.
In a wide ranging discussion with host Wilk, Ms. Brooks talks about her work and her working methods as a historical novelist.  Wilk and Brooks talk in depth about The People of the Book.  The author also offers fascinating details about the novel she is working on now, based on the Wampanoag Indians of Martha's Vineyard, where she lives with her family.  Her own website www.geraldinebrooks.com is a rich source of information about this wonderful writer and her consistently rich and rewarding fiction.