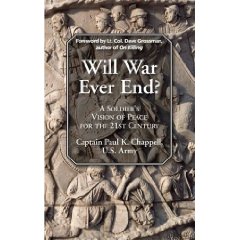 978-1935073-02-4
Ashoka Books, Hardcover $14.95
"There is cause to hope, and believe, that there can be an end to war."
–Lt. Col. Dave Grossman, U.S. Army (ret.), author of On Killing
Writerscast host David Wilk interviews first time author US Army Captain Paul K. Chappell, whose new book, Will War Ever End? A Soldier's Vision of Peace for the 21st Century will be published in February, 2009.  The author talks about his personal background, why an active duty soldier who has served in Iraq has written a "manifesto for waging peace," and explores some of the powerful ideas he covers in his new book.  In a wide ranging interview Captain Chappell makes clear that achieving peace is not just a cliche, discusses the practical ways we can all work toward an active state of peace on earth, and gives compelling evidence for his reasoning that human beings are not naturally violent.   In this interview the author shows why his powerful and original ideas are receiving so much attention among thinkers and activists for peace.  The book website is located at www.paulkchappell.com.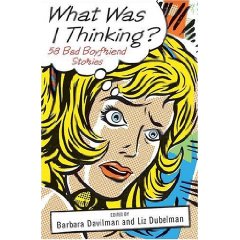 ISBN# 978-0-312-38472-2
St. Martin's Press, Hardcover $21.95
This fun WritersCast podcast has host David Wilk interviewing Liz Dubelman, co-editor of the wonderfully entertaining collection of first person essays by women describing those special moments in relationships when they suddenly realized: it's not going to work.  WHAT WAS I THINKING: 58 Bad Boyfriend Stories will be published February 3, 2009.  Dubelman, co-founder of www.vidlit.com, talks about the genesis of the book, how she and co-editor Barbara Davilman (co-author of YIDDISH WITH DICK AND JANE) collected the essays in the book, how women are responding to it, and why it seems men do not have the same sensibilities about relationships that women do.  Dubelman also talks about "Come to Your Senses Day" – February 15, and the book's website www.c2ysd.com.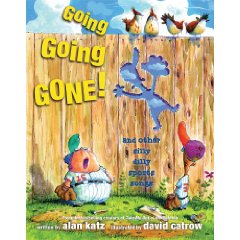 Going, Going, Gone!: And Other Silly Dilly Sports Songs
Alan Katz and David Catrow
ISBN# 978-1416906964
Simon & Schuster, Hardcover $16.99
The first WritersCast podcast of 2009 has host David Wilk interviewing author humorist Alan Katz, author of more than 20 books for children and adults. His newest book is Going, Going, Gone, coming in February 2009. Wilk and Katz talk about a wide range of subjects, including Katz's writing methods and experience as a writer. Alan Katz gives his first public performance of songs from his newest book.