Tom Shroder: The Most Famous Writer Who Ever Lived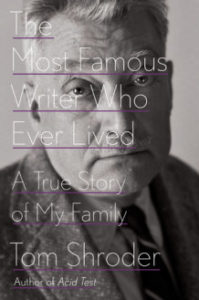 The Most Famous Writer Who Ever Lived: A True Story of My Family – Tom Shroder – Blue Rider Press – hardcover – 9780399174599 – 416 pages – $28 – published October 4, 2016 (ebook editions available at lower prices)
Tom Shroder is an excellent writer and an experienced editor who has had a long career as a journalist, as well as having also written some really interesting books. As it turns out, he is the grandson of the once-bestselling author, MacKinlay Kantor, who won the Pulitzer Prize in 1956 for his sprawling historical novel about the Civil War, Andersonville. I expect that a number of my listeners will have read that book, and many will quite possibly remember MacKinlay Kantor as someone who was an extremely well known and popular author in the fifties and sixties.
Like so many of us, Shroder grew up mostly taking his grandfather for granted, and while he was close with both his grandfather and grandmother, Tom did not really know very much about their actual lives before he was born, when their lives were very different. Their daughter, his mother, was also a writer as Tom was growing up, but he did not want to identify with the literary milieu of his youth. It was only later in his life that he was spurred to learn more about his family history, and to begin to understand himself within any kind of a personal literary context.
This book recounts the thoroughly compelling MacKinlay Kantor's very colorful and intentional life as a writer, as well as weaving together Shroder's own story, which is one of becoming a writer without perhaps intending to do so. It works amazingly well, and even if you have never read Andersonville or any of the other many books Kantor wrote during his long and checkered career, this particular book is likely to captivate you. It is full of wonderful stories and empathetic emotional connections.
Shroder's journey to understanding who his grandfather was turns out to be almost as epic as Kantor's actual life, full of twists and turns, discoveries and surprises. I read Andersonville long ago, and remember being fully engaged by its epic scope and historical detail. But I had forgotten that Kantor was also the ghost writer for Curtis Lemay later in his life, when things were not going so well for him. His was a complicated and very American 20th century story, story, and Shroder tells it exceptionally well.
Tom Shroder has been an award-winning journalist, writer and editor for nearly 40 years. His books include Acid Test: LSD, Ecstasy and the Power to Heal (2014), a mind-altering account of the resurgent research into the medical use of psychedelic drugs; Fire on the Horizon: the Untold Story of the Gulf Oil Disaster (2011) (co-author); and Old Souls: Compelling Evidence From Children Who Remember Past Lives (1999), a study of the border between science and mysticism.
He was the editor of The Washington Post Magazine between 2001 and 2009, where he oversaw Gene Weingarten's two Pulitzer Prize-winning feature stories, "Fiddler in the Subway" and "Fatal Distraction."
Shroder's The Hunt for Bin Laden (2011) was based on 15 years of reporting by The Washington Post. Shroder is also known for co-creating the Tropic Hunt, a mass-participation puzzle which has become The Washington Post Hunt in Washington, D.C.
Shroder was born in New York City in 1954.
You can visit Shroder's author website here.
"Fascinating…As Shroder vividly tells the story of this larger-than-life writer who was a generous and often doting grandfather, he contemplates the fleeting nature of fame….a biographical gold mine and an object lesson in the ultimate fading away of the best-selling, prize-winning success many writers dream about."
—Susan Cheever, The Washington Post
This book was a pleasure to read, and the conversation with Tom Shroder was a lot of fun for me as well. He made this interview extremely easy for me to conduct.