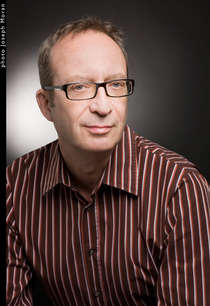 In this series of interviews, called Publishing Talks, I have been talking to book industry professionals and other smart people about the future of publishing, books, and culture.  This is a period of disruption and change for all media businesses.  We must wonder now, how will publishing evolve as our culture is affected by technology, climate change, population density, and the ebb and flow of civilization and  economics?
I hope these Publishing Talks conversations can help us understand the outlines of what is happening in the publishing industry, and how we might ourselves interact with and influence the future of publishing as it unfolds.
These interviews give people in and around the book business a chance to talk openly about ideas and concerns that are often only talked about "around the water cooler," at industry conventions and events, and in emails between friends and they give people inside and outside the book industry a chance to hear first hand some of the most interesting and challenging thoughts, ideas and concepts being discussed by people in the book business.
Frank Rose is a journalist and author, most recently of a book called The Art of Immersion, How the Digital Generation Is Remaking Hollywood, Madison Avenue, and the Way We Tell Stories.  I could easily have interviewed him about that book, which is interesting enough in its own right (and later this year I plan to talk to him about it for WritersCast).
But for this conversation, I wanted to talk to Frank about how writers are adapting to the changes wrought in publishing by the advent of digital books.
Frank has recently reprinted another one of his books, one that has been out of print for a number of years; it fits the profile of a fine book from the recent past that cannot be published or re-published commercially anymore.  That book is called West of Eden: The End of Innocence at Apple Computer.  It's about the power struggle at Apple that ended up with Steve Jobs being pushed out of the company he had helped found. West of Eden was originally published in 1989 at which time it was a national best-seller and was rated as one of the ten best business books of the year by BusinessWeek.
In 2009, Frank published an updated version of the book himself for Amazon's Kindle, as well as a digitally printed paperback edition under his own press name (Stuyvesant Street Press) and the book has been doing quite decently.  One assumes that there are a fairly large number of people today who are interested in and knowledgeable about the history of modern computing and the computer industry.  Enough for an author, if not for a commercial publisher to make a reasonable profit from publishing this book digitally.
Currently Frank writes for Wired, where he has been a contributing editor for almost ten years.  Before this assignment, he was a contributing writer at Fortune, writing about Hollywood and global media conglomerates, he's also been at Esquire, Premiere and Travel + Leisure, and has written for the New York Times Magazine among many other magazines.  And he began his writing career at the Village Voice covering the emerging punk scene in Lower Manhattan in the '70s.
Chances are good that Frank Rose's experience as an author turned publisher will be reflective of a myriad of similar authors in the next few years.  And perhaps will indicate some interesting opportunities for other segments within the publishing ecosystem.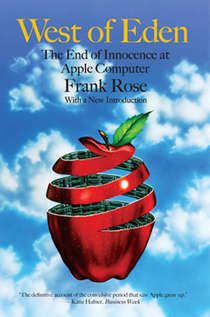 I think this conversation will be interesting to many in the book business who are thinking about how roles are changing in publishing, especially as digital publishing creates so many new opportunities for easy distribution to readers.
More on Frank Rose here.  More on West of Eden at Amazon.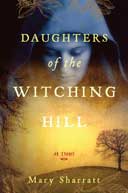 978-0547069678 – Hardcover – Houghton Mifflin Harcourt – $24.00
I really enjoyed reading this book and came to admire its author, not only for her writing skills, which are very good indeed, but because she was able to so deeply and movingly inhabit her characters in a place and time so foreign from our own.  Mary Sharratt's novel is transcendent in many ways.   It centers around the years leading up to the 1612 Lancashire, England, witch trials that resulted in the executions of nine supposed witches.  Mary Sharratt has brilliantly imagined her story, in which witchcraft is real, albeit not evil in the way the accusers made out.  It's much more complicated – in fact this witchcraft is the folk medicine and healing power of the local spirits of pre-Christian England.  Never preachy, Sharratt gives us a countryside where politics and money separate people from one another, and crushing poverty is the lot of so many.
Widowed mother Bess Southerns supports her family and friends by healing the sick, telling fortunes, and blessing those facing misfortune, conjuring charmes that combine forbidden Catholic ritual, medicinal herbs, and guidance provided by her spirit-friend, Tibb.  Bess is always careful, knowing the dangers her powers create for her but eventually everything unravels in a series of events that finally gets Bess, her family, friends and supporters into inevitable trouble with the law.  Sharratt has crafted a beautiful historical novel that brings this era to life and gives its people she writes about a deep and complex life that many will find surprising.   The conflicts between religions, as well as the conflicts between class are here, as well as mystery and suffering and beauty too.  The book is set in the English countryside where the author, an American, currently lives.  It's clear to me that Mary Sharratt has allowed this place to inhabit her, as much as she it.  She has put together a beautifully crafted story, full of complexity and compelling characters, and even knowing how the book must end, I was hooked from beginning to end.
As a reader I was transported there with her, and found her story uplifting, painful, and beautiful all at the same time.  This is a wonderful book.
In my interview with Mary, we talked about her experience as an American living in the English countryside, and how she came to write this book.  We talked about the story itself, her characters, their lives, the nature of English witchcraft of the 16th century, power and politics and the warp and weave of her excellent story.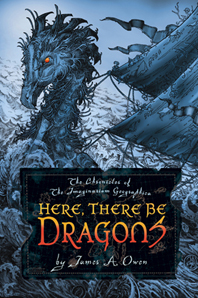 978-1416912279 – Hardcover – Simon & Schuster – $17.95 (a paperback edition is also available – but the price difference is small enough for me to recommend you buy the hardcover)
James A. Owen is a wonderful writer.  It's interesting to me how many really excellent writers there are who are categorized as "young adult" writers because the books they write are about things like dragons, or boys who are heroes or even young wizards in an imaginary school in an imaginary part of England.  In my opinion anyway, Here, There be Dragons is a book for readers of all ages or any age.  It's well written, has characters with depth, beautifully done line drawings by the author, and a fast moving, engaging story line that includes heroes who are connected to our literary history in some very interesting ways.  What more can one ask for in a novel?
"What is it?" John asked.
The little man blinked and arched an eyebrow.
"It is the world, my boy," he said. "All the world, in ink and blood, vellum and parchment, leather and hide. It is the world, and it is yours to save or lose."
An unusual murder brings together three strangers, John, Jack, and Charles, on a rainy night in London during the first World War. An eccentric little man called Bert tells them that they are now the caretakers of the Imaginarium Geographica — an atlas of all the lands that have ever existed in myth and legend, fable and fairy tale. These lands, Bert claims, can be traveled to in his ship the Indigo Dragon, one of only seven vessels that is able to cross the Frontier between worlds into the Archipelago of Dreams.
Pursued by strange and terrifying creatures, the companions flee London aboard the Dragonship. Traveling to the very realm of the imagination itself, they must learn to overcome their fears and trust in one another if they are to defeat the dark forces that threaten the destiny of two worlds. And in the process, they will share a great adventure filled with clues that lead readers to the surprise revelation of the legendary storytellers these men will one day become.
It's a pretty good bet that if you like this book, you will be pleased to know you can continue to read.  This is the first volume in the Chronicles of Imaginarium Geographica series, which has now reached a total of four books, with more to come.  It's probably true that this book and its series will appeal most to a certain type of reader, one who has read and enjoyed adventure stories, particularly those well written classics of the past (again, I don't think it's about the age of the reader but rather one's interests).  Unlikely heroes, normal people faced with challenges to which they rise, mythological characters brought to life, and above all, dragons, definitely motivate some of us more than others.  I guess I am one of those.
I had the pleasure of meeting James A. Owen at Comicon in San Diego.  I was impressed to see a writer so willing to engage with his readers – Comicon can be exhausting for exhibitors and for creators even more so.  In this interview, he displays his engaging personality, and talks with me about the origin of his work as a novelist, his work in comics, contacts with film makers (the film adaptation is in development and appears scheduled as a 2011 release), and his attempt to revive the classic magazine, Argosy.  Owen started as a comic book writer and illustrator, and even was a publisher of comics, and then moved into writing novels almost accidentally.  This is a lucky turn of events for readers of fiction.  You can learn much more about James A. Owen and his work at this website and he also has a beautiful blog based site, the Wonder Cabinet, that is well worth regular visits.  I'm hopeful that over time, Owen's work will reach the wider audience it deserves.
Note to listeners: this interview is slightly longer than most at 27 minutes, but should provide sufficient interest to reward your investment of time.