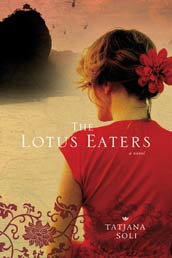 978-0312611576 – St. Martin's Press – Hardcover – $24.99 (also available as an e-book)
I know I am not alone having read both Tatjana Soli's The Lotus Eaters and Karl Marlantes' Matterhorn – they are unavoidably linked as both are set in Vietnam during the American war.  Of course they are incredibly different in outlook, approach and story, but reading them together is a wonderful experience.  As Writerscast listeners know, I loved Matterhorn – I do think it is the great novel of the Vietnam War that we have been waiting to experience for several decades.
At the same time, Tatjana's novel is simply remarkable.  She writes beautifully, inhabits her characters, their place and time, their suffering, challenges and transcendent moments.  As she told me in her interview, she fell in love with the Vietnam of that era from afar, and learned everything she could about it in order to be able to write this story.  Her main character is a young photographer, Helen, who comes to Vietnam early in the war, mainly because her brother died there, and she is drawn to the place where he lost his life, to figuratively solve the mystery of his death.  But that is just the beginning of her journey.  The war, the soldiers and other journalists, and the people of Vietnam overtake her.  She becomes deeply connected to this place and time.  Soli brilliantly portrays the landscape and the people of Vietnam, the suffering and horror of a seemingly endless war, and the way that war overtakes every element of human and natural life.
Helen falls in love with another photographer, Sam Darrow, a grizzled veteran who teaches her how to cope with war, survive, thrive, document, participate, suffer and love the danger and energy of men at war.  But the truest, and deepest story is her love for Linh, an exceptionally complicated Vietnamese former soldier, who has gone to work for the American news agency Helen works for.  At the end of the book, which thankfully avoids the cliched approach of much modern fiction, Helen and Linh journey out of Vietnam through Cambodia, an even more horrendous landscape of death and together find their way to safety, a harrowing journey that mirrors where they have traveled emotionally through the course of the novel.
A woman among men sees war more clearly than most, I think; in this book, that vision focuses and transforms the reader as well.  Tatjana Soli's story about writing this book and what it means to her is great to hear.  I think she is a terrific writer, worth reading, and well worth listening to as well.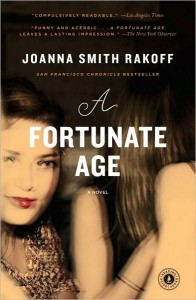 978-1416590804 – Paperback – Scribner – $15.00
Joanna Smith Rakoff is a wonderful writer – she's a poet and an essayist, and her skill as a writer shines throughout her novel A Fortunate Age.  This was not a book I expected to enjoy as much as I did; Rakoff won me over with the details of her sprawling story, and her characters, whom I similarly did not expect to like so much.  The book is modeled directly on Mary McCarthy's now classic, The Group, whose characters were Vassar women, in a story set in the 1930s and 1940s, whereas Rakoff's characters are all friends from Oberlin, living in New York City in the late 1990s and the early years of the new century.
Like the novel Rakoff used for inspiration, this is a complicated story with a number of characters told over a number of years.  This novel is set mostly in New York City with flashbacks to her characters' earlier lives, especially their time in college in Oberlin, and some side stories as well.  Essentially, it's a coming of age story, and based on the supposition, I think, that for so many of us, the decade crossing from our twenties to our early thirties truly marks the painful bridge from still youthful adulthood to "real" life.  It's not an easy transition, and for many has the sense of hyper-focused reality that makes it all the more powerful for those experiencing it.
In talking with Joanna, I wanted to explore her interest in Mary McCarthy and her novel that A Fortunate Age is based on (and The Group is also a book I recommend to modern readers, it is a book that is probably more neglected than it should be).  Joanna talks about the striking similarities she felt between the lives of her own age group and that of McCarthy's and how that led her to write her own book.  We also talked about the way her book is imagined and how through fiction she worked to represent a particular time and place, a milieu that she evokes through this story, the breadth of her characters and their individual linked stories.  As she points out, this novel is, for her almost Victorian in the way its characters function against and within an overall cultural structure toward understanding their social being.   There is alot going on in her book, which Rakoff manages quite masterfully, and her ability to handle complexity of story and persona shines in this interview as well.  I'm certainly looking forward to reading her next book and to talking to her again.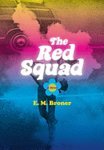 978-0307-37791-3 – Hardcover – Pantheon – $24.00 (also available as an e-book; a paperback edition will be out in July 2010 – 978-0307-45584-0 – $15.00)
This is a sometimes hilarious, always engaging, warm and sexy novel about a group of midwestern academics from the sixties, told from the vantage point of Anka Pappas, who, forty years after this fraught period in her life, finds out the entire group was under surveillance by the federal, state and local governments.  The story weaves together past and present, as Anka reconnects with her friends and associates – much drama, emotion, and memory unfolds, demonstrating that the past is not at all a dead or forgotten issue.  It's a complicated story that Ms. Broner tells quite skillfully, keeping alot of balls in the air (it does help to have a cast of characters in the front of the book to which the reader can refer, as there is alot of perspective changing going on, sometimes at very high speed).
Broner knows that the political engagement of the sixties and early seventies can not be seen as an isolated period.  It is deeply connected to our present.  And through this book, she shows us that the issues that engaged the young activists of that earlier period are still with us today.  The power relationships in our society ultimately have not been changed; there is much work to be done, and much more engaged life to be lived.
There's no preaching here, this is a book written by a smart, accomplished writer, who knows how to make a story work, and who clearly had a great time writing this book.  Talking to Esther Broner about the book was alot of fun for me.  In this interview, she talks about this book and how it relates to her own life.  We talk about politics, the nature of fiction and nonfiction, memoir and story, reality and imagination, appearance and reality, and of course the connection between the activism of the 1960's and how it relates to us today.
This is an enjoyable, funny book that carries a powerful political and emotional punch, written by a skilled and experienced author whose work deserves a wide audience.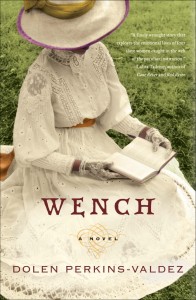 978-0061706547 – Hardcover – Amistad/HarperCollins – $24.99
Dolen Perkins-Valdez' first novel, Wench, just blew me away.  The writing is beautiful, and the story is compelling.  Perkins-Valdez has been able to imagine her characters in a very difficult time, in very difficult circumstances, capturing their pain and suffering as well as their joys, and the complexity of life lived by humans.  No stick figures here, male or female, black or white.  The author is sympathetic in the strongest sense of that word – she understands people.  She does not excuse anything, but she is able to imagine who they are, and therefore her readers are given no excuses either.  Here's the story of the book (I took this from the author's own website, which is one of the better author websites I have seen recently):
In 1851, a lawyer named Elias P. Drake purchased a plot of land near Xenia, Ohio with the intent to establish a summer vacation resort where the country's elite could relax and enjoy the mineral springs in the area. At the time, it was believed that natural water could cure illnesses and bring about good health.  What made this resort unusual, however, was that it became a popular vacation destination for southern slaveholders and their enslaved mistresses.  Ultimately, these flagrantly open relationships offended the northern abolitionists who also frequented the resort.  After four years, the resort closed.
This part of the story has been confirmed by historians.  I took this forgotten historical note and sketched in a fictional account of what it would have been like to be an enslaved woman traveling to this free state each summer.  Why wouldn't the women try to escape? What kinds of emotional attachments did they have with these men?  Initially, I believed that it was entirely possible that they actually loved the men.  Ultimately, I discovered that it was much more complicated than that.
Situated in the free state of Ohio, Tawawa House offers respite from the summer heat. A beautiful, inviting house surrounded by a dozen private cottages, the resort is favored by wealthy Southern white men who vacation there, accompanied by their enslaved mistresses.
Regular visitors Lizzie, Reenie, and Sweet have forged an enduring friendship. They look forward to their annual reunion and the opportunity it affords them to talk over the changes in their lives and their respective plantations. The subject of freedom is never spoken aloud until the red-maned, spirited Mawu arrives and voices her determination to escape. To run is to leave behind the friends and families trapped at home. For some, it also means tearing the strong emotional and psychological ties that bind them to their masters.
When a fire on the resort sets off a string of tragedies, Lizzie, Reenie, and Sweet soon learn tragic lessons,that triumph and dehumanization are inseparable and that love exists even in the cruelest circumstances as they bear witness to the end of an era.
That's the bare bones of the story.  Obviously, you need to read this book to understand how good it is.  And do listen to this interview.  In it, Dolen talks about how she became a writer, how this book came about, how she feels about her characters, and a great deal more.  Dolen Perkins-Valdez is a writer who deserves our attention.  I'm very much looking forward to her next book, and hoping she will be writing many more after that.
As an aside, the cover is beautiful, and perfect for this book, and has a sort of subliminal effect on me, which maybe contributed subtly to how much I liked reading this book and talking to its author.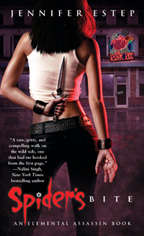 978-1439147979 – Mass Market Paperback – Pocket Books – $7.99
Jennifer Estep has written three books before this one, in an edgy paranormal romance series she called Bigtime.  Spider's Bite kicks off a new series, this one she calls urban fantasy, and I think the description is apt.  It's gritty, violent, tough, but full of love and a kind of self-defined punk-inspired love that has a depth and strength that is really admirable.
I know the book business likes to categorize books, sometimes quite narrowly, and there are good reasons for that.  So this book falls into a category that Publishers Weekly calls "urban fantasy."   While I am not quite sure I know what that means, this novel is certainly a full on fantasy novel set in a city, so I guess that label fits in a literal way.  But all labels and categories aside, author Estep has fashioned a terrific set of characters, in particular our hero, Gin.  The first line of the book makes clear what we readers are getting into: "My name is Gin, and I kill people."  And she does, she is an assassin after all.
I was very impressed with Estep's writing and she has fashioned a terrific story line.  Some of the characters run to type, but they fit the story so well, we don't mind.  The author has set her imagination loose on the southeastern city in which the story takes place, maybe in our future, or maybe in an alternate universe, it's wild and never dull.  I'm looking forward to reading the sequels too.
Jennifer and I had a fun interview talking about this book, how she started as a writer and where her ideas come from.  She's a dedicated reader turned writer, and her love for books, ideas and writing shines through her work and her words.
See an excerpt from the book at chptr1.com.  Visit Jennifer's well put together site to learn more about her and her books.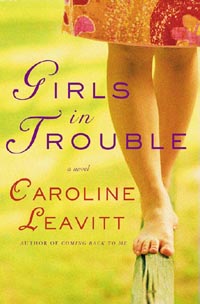 978-0312339739 – paperback – St. Martin's Griffin – $14.95
Sometimes you get lucky.  There are books you find by accident, maybe you choose them just to browse, not meaning to become engaged, they're discoveries, books you would not "normally" have picked up to read, they surprise you, you're hooked, and then you can't stop reading.  For me, reading Caroline Leavitt's Girls in Trouble was just that sort of a book.  In this case I read it because she wrote me an email and asked if she could send me a copy of the book, which was easy enough for me to agree to.  When it came, I picked it up, the story line described on the cover has some personal resonance, so I took a chance and started reading.  And then found I could not put it down.  Reading Girls in Trouble was a constant surprise and revelation.  It took me places I did not expect to go, it gave me characters I wanted to know and know better, and I believed in their experiences.  And it's a big plus that Caroline can really write.
I don't want to give any of the story away, but suffice to say, what happens to the people in this book is not what you expect, and reading it will help you understand something important about families, relationships, and parenting.  Not the easy, feel-good poster stuff from the movies either.  I recommend this book to almost any kind of reader, male or female, old or young, literature readers and even those who just like to be entertained.  It's that good.
Given how much I liked this book, interviewing Caroline Leavitt was quite a pleasure.  She has a lot to say about writing, and the way she interacts and lives with her characters, and how this and her other books came into being.  Girls in Trouble is a rich vein to mine for an interview too, as it works on so many different levels and across so many lives and years, and of course because it is centered around an open adoption gone terribly wrong, it generates a certain amount of controversy and that gives the author another great subject to talk about.  I am very much looking forward to reading her next novel, Pictures of You (which we also talked about in this interview).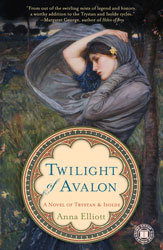 978-1416589891 – Paperback – Touchstone – $16.00
This is a beautifully written book and immediately engrossing.  I was, quite honestly, surprised to find out that this is Anna Elliott's first novel, as the writing is so good.  Another retelling of any part of the Arthurian cycle runs grave risks – these are stories many readers know well, and have strong feelings about.  Elliott tells the story from a far different perspective than most modern versions, and I think is quite brilliant in her portrayal of the role of a strong woman in a particularly brutal time.  There is much that is beautiful in this story, plenty of human warmth, redemption, strength of character and charm, even.  But the author does not shy away from a realistic depiction of a dark and dangerous time in early European history.  She manages the unfolding of her story well; I never lost interest in the characters, and was drawn deeply into the world Elliott creates, which after all, is the point of a mythological telling like this one.  I am looking forward to the next two novels in the trilogy.
I enjoyed talking to this first time novelist about Twilight of Avalon and how she came to write it (or how it came to her).  And I think listeners will be interested in what she has to say about this book, early British history and the unfolding of the Trystan and Isolde story through the three books in her story cycle.  There is romance here, but there is also a strong woman whose connection to magic, healing and the realm of spirit has quite a bit to say to modern readers as we are ourselves living in perilous, sometimes dark, often dangerous times ourselves.  Thanks Anna Elliott for the telling.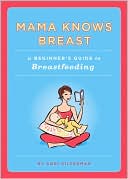 978-1594741654 – paperback – Quirk Books – $14.95
Andi Silverman, author of Mama Knows Breast, interviewed by Writerscast host David Wilk
As a middle aged man, I am clearly not the audience for this book, but when I saw a copy of the book and read the first few chapters I knew right away this would be an author I wanted to interview.  Mama Knows Breast is a great title for a book (as well as for the author's very well put together and consistently informative website). And her publisher, Quirk Books, has put together a beautifully produced paperback with very cool and comforting illustrations.
As the author, Andi Silverman tells me in our interview, she wanted to write the book she needed when she was looking around at books about breastfeeding – something not medical, or like a textbook, but a book for moms by a mom, with humor, a caring approach, and above all, not judgmental regardless of the decisions each mom makes about breastfeeding.
And of course, as she rightly points out, breastfeeding is not just a subject for women.  Having been father to two breastfed children, I can attest this is true.  Breastfeeding is not a choice that every woman or family can make of course.  But breast milk is healthy and natural, and better for the baby and child than any formula.  My interview with Andi Silverman reflects her spirit and approach as an author – she is full of good advice gently given, and is someone almost any woman would want to consult for advice.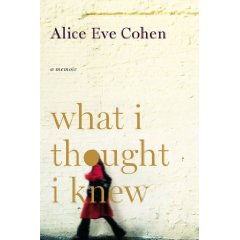 978-0670020959 – Hardcover
Viking – $24.95
Alice Eve Cohen's memoir tells an incredible story – a writer and playwright, she was diagnosed as infertile in her thirties, she adopted a daughter with her then-husband (whom she later divorced).  At 44 she began to experience strange physical symptoms – after six months of suffering she was finally recognized as being pregnant.  In many ways that was only the beginning of her story – which is an incredible, honest, sometimes funny but as often a painful journey of discovery.
I generally am not that interested in the modern memoir – most people's stories are just not that interesting.  But I was attracted to Alice's story right away, partly because of my own experience with DES and its damages to the children whose mothers took that fertility drug.  Alice's persona shines through her story.  She is vivid and clear about everything that happened to her and how she felt at the time, and later, and she pulls no punches, including her own foibles, fears, and weaknesses throughout.
Overall What I Thought I Knew is a wonderful book that holds our attention throughout.  It's transformative for the author and for the reader.  In my interview with Alice Eve Cohen, we talked in detail about the book and her experiences then and now (the events took place several years ago).  She's not only a wonderful writer but a great interview subject as well.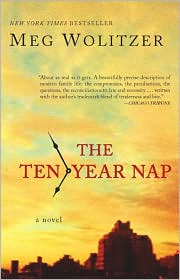 9781594483547 (paperback)
Penguin Group, $16.00
Writerscast host David Wilk interviews author Meg Wolitzer, whose novel The Ten Year Nap has recently been released in a paperback edition. This brilliantly written novel, set in contemporary New York City, portrays the lives of a group of women who have set aside their careers to raise children. Wolitzer paints her characters with the complexity and sympathy they deserve, but she never lets them off the hook for their foibles and failings. Women and men will recognize – sometimes painfully – much that is familiar to those who have lived through and come after the post-first wave of feminism in modern urban culture. Her humor is subtle but can make the reader laugh out loud as well.
In a wide ranging discussion Wilk and Wolitzer discuss the story line, characters and issues raised in The Ten Year Nap, as well as Ms. Wolitzer's approach to writing and books and how she works. For any fan of Meg Wolitzer's novels, and there are many, listening to this interview will be fun and illuminating. The Ten Year Nap is a wonderful book and highly recommended to anyone interested in contemporary American fiction.