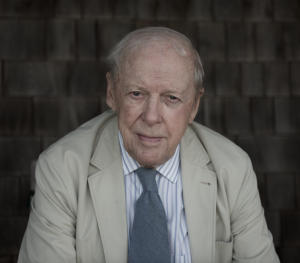 Publishing Talks began as a series of conversations with book industry professionals and others involved in media and technology about the future of publishing, books, and culture. As we continue to experience disruption and change in all media businesses, I've been talking with some of the people involved in our industry about how publishing might evolve as our culture is affected by technology and the larger context of civilization and economics.
I've now expanded the series to include conversations that go beyond the future of publishing. I've talked with editors and publishers who have been innovators and leaders in independent publishing in the past and into the present, and will continue to explore the ebb and flow of writing, books, and publishing in all sorts of forms and formats, as change continues to be the one constant we can count on.
It's my hope that these conversations can help us understand the outlines of what is happening in publishing and writing, and how we might ourselves interact with and influence the future of publishing as it unfolds.
It's well known to all that literary writers more often than not struggle financially. This is especially true for writers early in their careers. According to most research, fewer than five per cent of writers who identify as "professional" are able to make their livings directly from writing.
Aside from the National Endowment for the Arts fellowships for writers, there are few programs that provide direct support to emerging and early career literary writers. That is why the Whiting Awards, given annually by The Whiting Foundation since 1985 have been so meaningful to literary culture, and of course, to the writers who have received this form of support.
The Whiting Foundation provides $50,000 to each of ten writers every year. Writers cannot apply for these awards–instead, Whiting accepts nominations from 100 individuals in the literary arts, and then an anonymous panel of six toils in secret throughout the year to read the work, and then argue over who should be selected based based on the criteria of early-career achievement and the promise of superior literary work to come.
Overall, more than $6.5 million has been awarded to 310 poets, fiction and nonfiction writers, and playwrights to date. This is an incredible program that has had a remarkable impact on American literature. Some of the now recognizable writers selected over the course of the last 30 years include David Foster Wallace, Colson Whitehead, Tracy K. Smith, Jeffrey Eugenides, Lydia Davis, Denis Johnson, Susan-Lori Parks, Mary Karr, Tony Kushner, Michael Cunningham, Alice McDermott, August Wilson, Jorie Graham, Mark Doty, Deborah Eisenberg, Ben Fountain, Justin Cronin, Tobias Wolff, Jonathan Franzen, Terrance Hayes, Ian Frazier, and John Jeremiah Sullivan, all of whom were "emerging" when their awards were given.
Every time I see a new list of Whiting Award winners, I feel compelled to explore their work, as I am sure I will find some whose writing will affect my imagination and attract me to continue to follow them in the future.
The recently announced 2016 winners are:
Brian Blanchfield, Nonfiction
Alice Sola Kim, Fiction
J. D. Daniels, Nonfiction
Catherine Lacey, Fiction
LaTasha N. Nevada Diggs, Poetry
Layli Long Soldier, Poetry
Madeleine George, Drama
Safiya Sinclair, Poetry
Mitchell S. Jackson, Fiction
Ocean Vuong, Poetry
So how did the Whiting Awards come about? The history of the Whiting Foundation is a fascinating story. I had the good fortune to publish the memoir of attorney Robert Pennoyer in 2015, As it Was, in which he recounts the story of the Whiting Foundation and its programs. Bob was one of the first trustees of the Whiting Foundation, as his firm had represented Flora Whiting, who was quite an amazing and brilliant woman.
As Bob writes, "In 1921, before IBM had even acquired its name, she had had the good fortune to sit next to Thomas J. Watson, Sr., at dinner. He told her, "My dear, I have a new company that's going to be making things." She invested in the stock when it was almost worthless and held on to it for almost fifty years. When she died, in 1970, she left $10 million to the foundation that she had established, with no restriction on how it should be used."
At the outset, the foundation supported the humanities, but as its endowment continued to grow, it had to create some additional programs; Bob's wife, Vicky was a poet, and she suggested that creative writers were in need of some meaningful support. The trustees agreed, and then hired Gerald Freund, who had worked with the MacArthur Foundation to establish their "genius" awards, to design a program to support emerging writers, and thus the Whiting Awards to Writers began.
I am pleased to present here my conversation with Bob Pennoyer, recorded in his office in New York City, talking about the Whiting Awards. His first-hand accounts of the history he has lived are unmatched. In fact, Bob's book is full of such fine storytelling. Bob has been an attorney with the Patterson, Belknap law firm in New York City since 1958. Before that he served as counsel in the Defense Department (where he has the pleasure of testifying in front of Senator Joe McCarthy) and was in the US Navy during World War II.
Bob Pennoyer was president of the board of trustees of the Whiting Foundation for many years. In the 1960's, Bob was a founder and trustee of Exodus House, a halfway house for addict rehabilitation in East Harlem and he has served as a trustee of Union Theological Seminary, Carnegie Institution in Washington, Columbia University and is currently serving as trustee of the William C. Bullitt Foundation and trustee emeritus of the Metropolitan Museum of Art and the Morgan Library and Museum.
"…The spirit that flows through these pages may be modest, but it is also filled with an irrepressible optimism and a faith in simple values that are both uplifting and marvelously contagious. As It Was is a lesson in a life well lived, and a tonic for dark and troubled times."
— Scott Horton