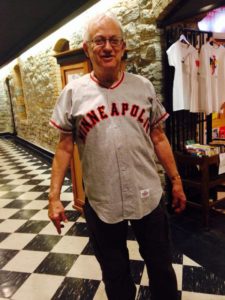 Publishing Talks began as a series of conversations with book industry professionals about the future of publishing, books, and culture. As we continue to experience disruption and change in all media businesses, I've been talking with some of the people involved in our industry about how the book business might evolve as our culture is continues to be affected by technology and macro-economic factors.
I've now expanded this series to include conversations that go beyond the future of books and publishing. I've talked with editors, publishers, booksellers and others who have been innovators and leaders in independent publishing, and will continue to explore the ebb and flow of writing, books, and publishing in all sorts of forms and formats, as change continues to be the one constant we can count on.
For the past several years, I've been talking to editors and publishers of independent presses about their work, including a number of important literary publishers. In this conversation, I am speaking with an old friend and colleague, David Unowsky, founder of the outstanding St. Paul bookstore, the Hungry Mind, which evolved into many other book related ventures, including a literary review and a successful independent press.
The store eventually sold its name to help stay in business in the face of ever increasing financial pressures, and ultimately, under its new name, Ruminator Books, closed in 2004. Which means it was in business for over 30 years, and was for most of that time an incredibly important place, not only to Twin Cities residents, but for the many writers and publishers whose work the store supported, and importantly provided an entry point into the book business for many individuals who have gone on to a wide variety of positions in the book industry.
The Hungry Mind was and remains for many, a special place, and David Unowsky was its beating heart and soul. I'm really pleased to have the chance here for David to talk about his work as a bookseller, communitarian, publisher and entrepreneur. David and "the Mind" – and all the wonderful people and books that passed through its doors –  are central to our understanding of what might eventually be considered a "golden age" of books in our country.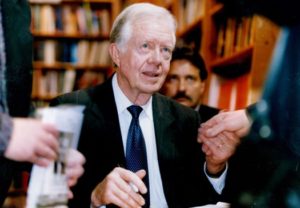 Jan. 12, 1994: Former President Jimmy Carter made an appearance at the Hungry Mind Bookstore in St. Paul to sign his latest book,"Turning Point: A Candidate, a State and a Nation Come of Age." In the book, Carter describes how his first race in the pre-civil-rights South almost was taken away by a political boss.
Photo: Minneapolis Star Tribune.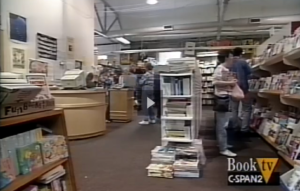 Screen shot from a 1998 C-Span program about Hungry Mind