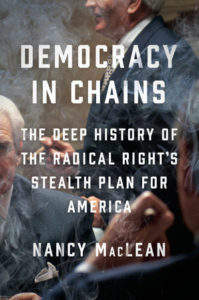 Democracy in Chains: The Deep History of the Radical Right's Stealth Plan for America – Nancy MacLean – Viking – Hardcover – 9781101980965 – $28.00 – 368 pages – June 13, 2017
I will say this clearly and forthrightly: whatever your political opinions or positions, you must read this book. It shines an important light on the history of what has now become the most potent force in modern American politics. This book reveals in detail how the Koch brothers and other shadowy billionaires' political philosophy has been weaponized in an ongoing war against democratic beliefs and institutions.
Professor MacLean came across this historical record more or less by accident, while she was researching the Nobel Prize-winning political economist, James McGill Buchanan, the principal architect of the ideas and institutions  the Koch brothers and their allies have harnessed to radically alter the American political landscape in their distorted image of "economic libertarianism." This philosophy fully recognizes that anti-democratic efforts are necessary to secure the wealth of the few against the "predations" of the democratic majority, and all their work for the last forty years or more has been aimed toward controlling and weakening democratic institutions. They have been remarkably successful in their efforts.
There is so much to learn in this book, yet still so much more for us to uncover, and ultimately then, so much that needs to be done by those who feel the need to defend democratic liberalism and American institutions. It is remarkable to learn that this effort is essentially part of a longstanding effort to reach far back into our history to undo FDR's democratic reforms, as well as those of JFK, LBJ, and the civil rights movement. And that Charles Koch is so ironically a follower of the principles of that old Bolshevik, V.I. Lenin.
We learn here that Koch and his cronies have built a secret cadre of true believers who want to do what their hero Buchanan did in Pinochet's Chile, which was to use the institutions of government to control and contain democracy. They have come a long way toward succeeding in our own country, as most citizens are completely unaware of what they are doing, especially with their takeover of the judiciary. And in Trump's America, they are free to have their way with us.
One way you can tell Nancy MacLean has made an impact with her research is the level and sheer ferocity of mostly personal attacks from the right against her. Those who post in opposition seem to have neither read the book, nor care to think about the author's actual work. One of the tools used by the Koch-financed opponents of democracy is the personal attack and what they call the "increased transaction cost" for anyone who opposes their views. Since they usually cannot win intellectual or even political arguments, they prefer to disparage and attack those who dare stand against them on other grounds than reason.
I urge listeners to read this book, think about what MacLean has uncovered, and then, if you agree with what she says, use what you learn from this book to stand up for freedom and democracy against oligarchy.
"This sixty-year campaign to make libertarianism mainstream and eventually take the government itself is at the heart of Democracy in Chains. . . . [MacLean] takes the time to meticulously trace how we got here. . . . If you're worried about what all this means for America's future, you should be. . . . And if someone you know isn't convinced, you have just the book to hand them."
—NPR
"It's the missing chapter: a key to understanding the politics of the past half century. To read Nancy MacLean's new book, Democracy in Chains: The Deep History of the Radical Right's Stealth Plan for America, is to see what was previously invisible."
—George Monbiot, The Guardian
"[A] riveting, unsettling account of 'Tennessee country boy' James McGill Buchanan, key architect of today's radical right."
—O, The Oprah Magazine
Nancy MacLean is also the author of Behind the Mask of Chivalry (a New York Times "noteworthy" book of the year) and Freedom is Not Enough. She is currently the William Chafe Professor of History and Public Policy at Duke University, and lives in Durham, North Carolina.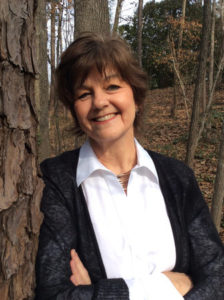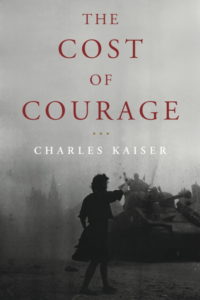 The Cost of Courage – Other Press – Hardcover – 288 pages – 9781590516140 – $26.95 (ebook versions available at lower prices)
I read this beautifully written book about one family's experience of World War II in France just before our recent election. At that time, I was not expecting to have to think about it in the context of our own political situation. Even without understanding that the incredible courage of his subjects may be instructive to us today, this book is about an incredible story of bravery and sacrifice. As of this moment, The Cost of Courage must be read in a new context.
All of us need to consider the lessons learned from the experience of everyday people in horrible circumstances like those of the French in occupied France. These were times of brutal repression and daily violence for individuals who constantly made momentous moral decisions with life and death consequences.
The Cost of Courage recounts the true story of the three youngest children of a bourgeois Catholic family, who worked heroically in the French Resistance during the Nazi occupation of France. Charles Kaiser was lucky enough to know this family from the time he was a small boy, because his uncle was billeted with them after the liberation of Paris by Allied forces.
In 1943, André Boulloche was working underground as General Charles de Gaulle's military representative in Paris, coordinating Resistance activities in northern France. Unfortunately, he was betrayed by one of his associates, arrested and taken prisoner by the Gestapo. His two younger sisters continued to fight against the Germans until Paris was freed in 1944. André Boulloche managed to survive his time in three concentration camps through sheer force of will.
The  elderly Boulloche parents and the oldest brother were also arrested when the Gestapo tried to capture the two sisters. Tragically, these three were on the last train the Germans ran from Paris to Germany before the Allies liberated the city, and they died soon after in Nazi concentration camps.
After the war, the Boulloches remained silent about their terrible wartime. Ultimately, Charles was able to convince the last surviving sister to finally tell her family's incredible story. The Boulloche story is moving and powerful, and we are fortunate it could be told to us by this fine and sensitive writer.
It was a true pleasure for me to be able have this opportunity to talk to Charles about his book and his experience of writing it. Charles and I were in high school together, but have had very little contact since then, and while I have followed his outstanding career as a journalist and author, we have not talked often over these many years. I am gratified to have read this book, and have been inspired by its story. I urge my listeners to read The Cost of Courage, as we are ourselves now live through times that will challenge our own willingness to pay the true cost of courage.
Charles Kaiser started writing for The New York Times while still an undergraduate at Columbia. He spent five years at the Times as a reporter, and after that was the press critic at Newsweek for two years. After writing about media and publishing for the Wall Street Journal, he wrote his first book, 1968 in America, published in 1988. His highly praised book, The Gay Metropolis was published in 1997.
His writing has appeared in New York, the New York Observer, Vanity Fair, the Washington Post, the Los Angeles Times and Manhattan,Inc. among many other publications.
Kaiser was a founder and former president of the New York chapter of the National Lesbian and Gay Journalists Association. He has taught journalism at Columbia and Princeton, where he was the Ferris Professor of Journalism. To learn more about his work, visit his website here.
"In this poignant personal tale, Kaiser explores the emotions and breaks through the silences that haunted an amazing family after their experiences in the French resistance to Nazi occupation. The result is a compelling and heart-wrenching book about courage, love, and the complex shadings of heroism."
—Walter Isaacson