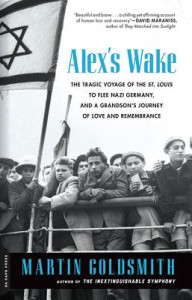 978-0-306823-71-8 – DaCapo Press – paperback – 352 pages – $15.99 (ebook editions available at lower prices)
I seem to have an inordinate interest in books about the Holocaust, doubtless because I think about my unknown relatives who perished in Lithuania and Poland during WW II, and feel somehow that knowing what happened to other Jews in that awful time will help me imagine the story of what happened to my own relatives. It's difficult not to wish that there were more accounts of heroic escapes from the Nazis and their allies in every country they occupied, but more often than not, the stories we do get to know are deeply sad, frustrating, or horrific.
Martin Goldsmith's parents came to the United States in 1939 from Germany, having survived the Nazi regime only because they were classical musicians who played in the Kulturbund, a special group of Jewish musicians that entertained other Jews in Germany (that was the subject of Martin Goldsmith's last book, THE INEXTINGUISHABLE SYMPHONY: A True Story of Music and Love in Nazi Germany).
This new book, Alex's Wake, is principally the story of Goldsmith's grandfather and uncle, who tried to escape Germany in 1939 on the ill-fated journey of the German luxury liner, the SS St. Louis, which took more than 900 Jewish refugees (at their own expense, paying high prices to the German steamship company) across the Atlantic, first to Havana and then, having been turned away by the Cubans, to the USA and Canada, which also refused the refugees entry to their countries. This meant that the ship had to sail back to Europe, where amazingly and after great effort, the refugees were accepted by England, Holland and France. Only those who went to England truly escaped, however, as soon after the Germans overran both France and Holland, and these forlorn, long suffering escapees were once again under the thrall of the Nazis, who now could kill European Jews without restraint.
Goldsmith's father suffered lifelong guilt for not being able to rescue his father and brother (and one must imagine, also his mother and sister, whose stories are really not told here, but who also were murdered in the war). That guilt was ineffably passed on to the grandson, and this book is Martin's attempt to expiate that guilt, and to understand as much as it is possible, the story of his family's travails more than 70 years ago.
Goldsmith and his wife traveled to Europe, spending six weeks retracing the journey of his antecedents, Alex and Helmut Goldschmidt. That journey forms the structure of the book, around which is built the narrative of his family's formerly happy and successful life in Germany, their struggles to escape the Nazis, the terrible journey of the SS St. Louis , and especially moving, the detailed tracking of Alex and Helmut's terrible time in occupied France where their hopes were truly lost, and where, after great suffering, they were transported to Auschwitz and finally their deaths. Along the way, Goldsmith learns a great deal about his family's life in Germany, meets many interesting people, and in fact helps to change the lives of others as well as his own.
This is a fine example of narrative nonfiction and while at times painful, well worth reading. Goldsmith's improbable effort to expiate his family's guilt and suffering brought forth forgiveness and a sort of transcendence both for himself and others involved in the story, and the book's honesty and beauty in the face of pain enables us to overcome the sorrow that inevitably arises when experiencing a story of deeply felt pain and loss. He's an engaging writer and memoirist, and a fine storyteller.
Martin Goldsmith has been a radio host for public radio and Sirius XM, where he now is director of classical music programming and appears on the Symphony Hall channel. Goldsmith has also sung with the Baltimore Opera Company and the Washington Opera. He has also acted in Washington-area theaters, including Arena Stage. His music reviews have appeared in the Washington Post and he is the author now of three books, including Alex's Wake.
Website for the book is here. Alert – we had a really good conversation so this interview runs slightly long at almost 42 minutes.