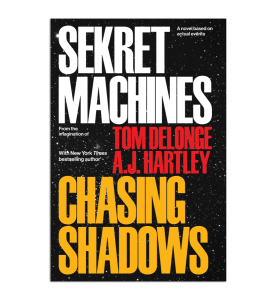 9781943272150 – To the Stars Media – Hardcover – 704 pages – $24.95 – ebook editions available at lower prices.
Recently, I've had the good fortune to be working with musician Tom DeLonge and the energetic staff of To the Stars Media, helping them develop their book publishing projects. To the Stars is an independent production and publishing company that creates trans-media projects, all done with a tremendous level of creativity and imagination.
To the Stars began its publishing program last year with the wildly successful young adult novel, Poet Anderson: Of Nightmares, co-written by DeLonge and best selling novelist Suzanne Young (The Program series).
The newest project from this team is a thriller called Sekret Machines Book One: Chasing Shadows, that reflects Tom DeLonge's specific interests in UFO's and secret government programs. Tom is best known as the former leader of Blink-182 and founder of Angels and Airwaves. He is also a serial entrepreneur, film maker and writer, who is an authority on UFO's and government involvement with them (this Billboard article and interview with Tom is a must-read).
The Sekret Machines project includes some forthcoming nonfiction books as well as this series of novels that is a collaboration between DeLonge and best selling YA and sci fi novelist AJ Hartley. Between them, they have created a thrilling and complex weaving of four stories told from multiple perspectives.
Sekret Machines Book One: Chasing Shadows is fiction based on secrets drawn from the the mostly hidden realities of alien contact known to our military and intelligence communities. It's an exciting and engrossing story, the first in a trilogy that promises excitement and action for anyone interested in great storytelling and compelling characters.
AJ Hartley is a prolific writer of fiction for all ages, as well as being an accomplished Shakespearean scholar and professor at the University of North Carolina-Charlotte. His novels for kids include the wonderful Darwen Arkwright series, among others, and the YA novel called Steeplejack is coming from Tor this spring.
I have now read several AJ Hartley books, and have concluded that he is one of the best new writers I have come across in a long time. His work is really remarkable, and the collaboration with the effervescent Tom DeLonge has resulted in a really terrific novel. I had the opportunity to speak with AJ about the writing of Sekret Machines and his collaboration with Tom while we were both visiting To the Stars in Encinitas, California in February, 2016. We had a great time talking about this very cool project.