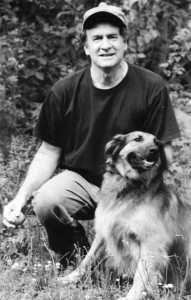 Publishing Talks began as a series of conversations with book industry professionals and others involved in media and technology about the future of publishing, books, and culture. As we continue to experience disruption and change in all media businesses, I've been talking with some of the people involved in our industry about how publishing might evolve as our culture is affected by technology and the larger context of civilization and economics.
I've now expanded the series to include conversations that go beyond the future of publishing. I've talked with editors and publishers who have been innovators and leaders in independent publishing in the past and into the present, and will continue to explore the ebb and flow of writing, books, and publishing in all sorts of forms and formats, as change continues to be the one constant we can count on.
It's my hope that these conversations can help us understand the outlines of what is happening in publishing and writing, and how we might ourselves interact with and influence the future of publishing as it unfolds.
It is my great pleasure and honor to have a conversation about publishing with extraordinary Bill Henderson, the founder and editor of Pushcart Press and the Pushcart prize.
Pushcart was founded in 1972, the same year Bill ended his gainful employment as an editor at Doubleday (which is now one of the many imprints of Penguin Random House). Bill's first book was the very important Publish It Yourself Handbook, published in 1973 and distributed then more or less by hand, at least initially. This book is a collection of essays by such luminaries as Anais Nin, Stewart Brand, Virginia and Leonard Woolf. Over the years it has sold over 70,000 copies through four editions and has been a touchstone for independent publishing.
But it was really Henderson's idea for a prize and anthology to recognize and celebrate the best work of the independent magazines and presses that were flowering in those days that has made Pushcart so meaningful and important. It was in 1976 that Bill and a group of Founding Editors he enlisted, including Paul Bowles, Ralph Ellison, Joyce Carol Oates and Reynolds Price, that began the Pushcart Prize anthology that is still published annually, now forty years on.
The original model is still in place. Publishers, magazines and Pushcart's contributing editors nominate work they feel is their best, and Bill himself reads everything and selects what he feels is the best work from the hundreds of works submitted. It's an incredible accomplishment that has helped launch and sustain the work of now thousands of writers and presses.
Pushcart is adamantly individualistic and essentially noncommercial. Its books are distributed by WW Norton, but otherwise, Bill is a one person operation. The press is now a nonprofit, but that means he has to raise money for it, and that takes time too.
As our conversation together will demonstrate, Bill shows no sign of slowing down and no sign of changing his opinion about what matters in writing and publishing. His commitment to the work is unwavering, and what he has done is truly magnificent. I am proud to have had an association with Pushcart from its inception, and am in awe of the work Bill and his operation has accomplished over these many years.
You can learn more about Pushcart here. Order the new anthology from your favorite independent bookstore, and if you are as impressed as I think you will be, make a donation to Pushcart here.
And there is even more to the Pushcart effort – Bill Henderson operates a bookstore on his property every summer in Maine, where he has also built a cathedral of local stone (profiled in the NY Times!)