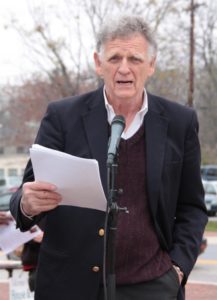 Publishing Talks began as a series of conversations with book industry professionals and others involved in media and technology about the future of publishing, books, and culture. I've talked with many people about how publishing is evolving as our culture is affected by technology within the larger context of changes in civilization and economics.
I've broadened the series to include conversations with editors and publishers who have been innovators and leaders in independent publishing both in the past and into the present. Through these talks, I hope to continue to explore the ebb and flow of writing, books, and publishing in all forms and formats, as change continues to affect our lives.
For the past several years, I've been talking to editors and publishers of independent presses about their work, including a number of important literary publishers. Most recently, I had the pleasure of speaking with Merrill Leffler, the co-founder and publisher of Dryad Press. Leffler and his publishing program have been fixtures in the Washington, D.C. area poetry and indie press scene, but are by no means local in interests or scope of work.
Merrill and his friend Neil Lehrman published the first issue of Dryad, a small poetry magazine, in 1968. Their journal, like many others in that era, began as a quarterly. After the first several issues, their publication dates became more variable, and in roughly 1975, Dryad evolved into Dryad Press — two issues of the magazine were sent to subscribers as books. In a further evolution over the years Dryad expanded from publishing poetry to include fiction and non-fiction as well.
With almost a half century of self-taught publishing behind him, Merrill Leffler, a writer and poet of some note himself, has much to talk about. In this conversation, we talked about the history of Dryad and its evolution as part of the modern era of independent publishing, as well as poetry, fiction, and much more.
Compared to many other writers and independent press publishers, Leffler has an unusual and singular background. He was trained as a physicist, worked for NASA's rocket program and was the senior science writer at the University of Maryland Sea Grant Program, where he focused on research involving the biology of the Chesapeake Bay. In addition, for a number of years he taught English at the US Naval Academy in Annapolis.
Merrill Leffler has also published three collections of his poetry, most recently a collection called Mark the Music. There's a great article about him ("Can a poet lose weight by snacking on poems?") that mentions his role as the Poet Laureate of Takoma Park, Maryland here. And an excellent piece about Dryad and its history by Leffler at a DC area literary website called Splendid Wake.
Leffler is warm, generous, and was a pleasure for me to speak with. I hope you enjoy this interview as much as I did!