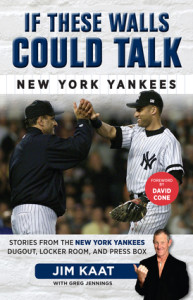 978-1-62937-024-8 – Paperback – Triumph Books – $14.95  – written with Greg Jennings, foreword by David Cone (ebook editions available at lower prices).
Doing this podcast has been great fun for me. I've gotten to read some wonderful books, and have met and talked to well over 200 interesting and intelligent writers. Now I can add having a conversation with one of my favorite baseball pitchers to the rewards of being a literary podcaster not long after having the honor of interviewing a Man Booker award winning author (Anne Enright).
Jim Kaat was a Major League pitcher from 1959-83 with the Washington Senators (1959-60), Minnesota Twins (1961-73), Chicago White Sox (1973-75), Philadelphia Phillies (1976-79), New York Yankees (1979-80) and St. Louis Cardinals (1980-1983).
Kaat was an amazingly durable left-handed pitcher, winning 283 games against 237 losses, with an ERA of only 3.45 (that's average runs allowed over nine innings) and 2,461 strikeouts in 4,530 innings. Kaat had his best year in 1966 while with the Twins, going 25-13 with a 2.75 ERA and 205 strikeouts in 304 innings over 41 starts. Jim was a three-time All-Star and a winner of 16 Rawlings Gold Glove Awards for best fielder at his position, 12 of which ran consecutively from 1962-73. Both Gold Glove marks were long-standing records for pitchers until being eclipsed by Greg Maddux (13 consecutive from 1990-2002, 18 overall).
Kaat's career spanned four decades and seven U.S. Presidential administrations, and at the time of his retirement in 1983, his 25 years of Major League service were a record. Since then, only Nolan Ryan (27) and Tommy John (26) have logged more seasons.
After all those years of playing baseball at a really high level, Jim went on to become a talented and skilled baseball announcer. He worked first in the minor leagues but showing a natural skill as an observer of the game, he quickly moved up to the big leagues, broadcasting first for the Minnesota Twins and later many years for the New York Yankees. After he retired from his second career, he made another comeback and is still working today as an announcer for the MLB network. For his broadcasting work, Kaat won an Emmy in 2006 for "On-Camera Achievement" after being nominated for two Emmys the previous year for "Outstanding Live Sports Coverage."
If These Walls Could Talk is an enjoyable collection of anecdotes and stories, organized loosely around the positions on a baseball team. It's mostly about the Yankees, and New York fans will love this book, of course. But there is much more in this book than Yankees stories – in it, Kaat tells his own story in his natural and appealing manner. Anyone who appreciates baseball will find these stories told from the perspective of a 60 year veteran of the game to be compelling and engrossing.
It was great fun for me to have the chance to talk to one of my heroes, Jim, "Kitty" Kaat. Thanks Triumph Books for publishing this fun book. And to those Hall of Fame voters on the Golden Era committee – please vote Jim Kaat into the Baseball Hall of Fame – he deserves to be there!