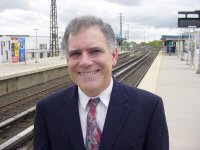 Publishing Talks began as a series of conversations with book industry professionals and others involved in media and technology about the future of publishing, books, and culture. As we continue to experience disruption and change in all media businesses, I've been talking with some of the people involved in our industry about how publishing might evolve as our culture is affected by technology and the larger context of civilization and economics.
I've now expanded the series to include conversations that go beyond the future of publishing. I've talked with editors and publishers who have been innovators and leaders in independent publishing in the past and into the present, and will continue to explore the ebb and flow of writing, books, and publishing in all sorts of forms and formats, as change continues to be the one constant we can count on.
For the past several years, I've been talking to editors and publishers of independent presses about their work, including a number of important literary publishers.
Many years ago, I was introduced to the amazing poetry and writing scene in the Los Angeles area, centered in Venice Beach with the Beyond Baroque Literary Center (which was founded by poet George Drury Smith in 1968) through an old family friend, Alexandra Garrett. Surprisingly to many, Los Angeles has an amazing literary history – there's much more there than just tinseltown. And of course Charles Bukowski and John Fante lived and worked there, John Martin's Black Sparrow Press was born in LA, and there have been and now are thriving poetry scenes in various locales throughout the urb over the years. Doug Messerli's Sun & Moon Press is another notable LA publisher we've spoken with.
There were several terrific bookstores in LA in those years, and quite a few great literary magazines and small presses over the years. One of the central individuals in the LA poetry movement of the seventies, eighties and nineties is Bill Mohr, whose magazine and press, Momentum, was a focal point for many writers in and around Los Angeles. Bill and I were friendly in those years but since lost touch, so it was a pleasure to get a chance to talk to him about Momentum for this series of interviews about the independent presses and magazines of the last half century.
Bill was born in Norfolk, Virginia, and grew up there, then moved to Los Angeles to do some acting with various small theater companies, including the Burbage Theater Ensemble. He published and edited Momentum magazine for five years, and then founded Momentum Press in the early 1980s. Between 1975 and 1988, Momentum published about 25 books including Leland Hickman's Great Slave Lake Suite, which was one of five finalists for the Los Angeles Times book prize in 1980.
Bill also edited two important LA-focused anthologies, The Streets Inside (1978) and Poetry Loves Poetry (1985). During much of this time Bill worked as a blueprint machine operator and a typesetter, and later went to graduate school to start a new career as a scholar and professor. Mohr has been a visiting scholar at the Getty Research Institute in Los Angeles, as well as an Andrew W. Mellon Fellow at the Huntington Library in San Marino, CA. A chapter from his work-in-progress on West Coast poetry during the Cold War was included in The Sons and Daughters of Los: Culture and Community in L.A. (Temple University Press). For over 25 years he has taught creative writing in medium and minimum security prisons in Chino and the University of California, San Diego, and Idyllwild Arts, in Idyllwild, CA.
Bill is now a professor in the Department of English at California State University, Long Beach. He has a Ph.D. in Literature from the University of California, San Diego, and has taught at CSU Long Beach since 2006. His poems, prose poems and creative prose have appeared in dozens of magazines in the past 40 years, including 5 AM, Antioch Review, Beyond Baroque, Blue Collar Review, Blue Mesa Review, Caliban (On-line), Miramar, ONTHEBUS, OR, Santa Monica Review, Skidrow Penthouse, Solo Nolo, Sonora Review, Spot, Upstreet, Wormwood Review, and ZYZZYVA. His volumes of poetry include Hidden Proofs (1982); Penetralia (1984); Bittersweet Kaleidoscope (2006); and a bilingual volume published in Mexico, Pruebas Ocultas (Bonobos Editores, 2015). A CD and cassette release of spoken word was produced by Harvey Robert Kubernik and released by New Alliance Records in 1993.
This conversation was great fun for me, and I hope will be an important addition to the oral history of independent publishing over the last decades.