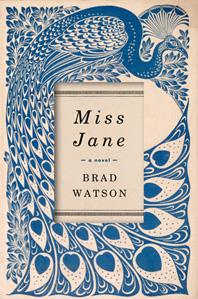 Miss Jane: A Novel – Brad Watson – W.W. Norton & Company – Hardcover – 9780393241730 – 284 pages – $25.95 (ebook versions available at lower prices)
I originated the Writerscast series of conversations with writers at least in part, to remind myself to keep reading book length prose. I didn't want to miss out on discovering great books and finding new writers to read. In this era of too much noise and stimulus, reading a novel or a serious work of nonfiction can be a wonderful pleasure, as well as a reward for escaping the rhythms of daily life. It does take time, and sometimes finding time to read is difficult. But there are some books that are completely fulfilling to spend time with. Having the opportunity to read a novel like Brad Watson's Miss Jane was a deeply rewarding experience, and one I will not soon forget. Discovering books like this one is a special experience for me.
This is the kind of novel that you don't come across that often. It is not action packed. In fact, it is more quiet than any novel I have read in a very long time. And it is fully engrossing.
I really love this book and have found myself talking about it to people all the time. It is that special. The writing is luminous, and the characters are as alive and present as if they were in the room with us as we read. I cannot imagine it is possible to not fall in love with this book.
But enough rhapsodizing about the book. I need to give you just a bit about the story, so you have a sense of what it is about. Miss Jane is based on the life story of Brad's own great-aunt. Because he did not know her at all really, he had to imagine her life in rural, early twentieth-century Mississippi, born with an unusual and not talked about genital birth defect, that would prevent her from having either sex or a marriage. But just as Brad's real aunt lived a full and long life, so he imagines Miss Jane to live, alone, but with family and other relationships as well. Her life was completely her own, and while it was not her choice to be made the way she was, it was her choice completely to live a complex and deeply experienced life of her own.
Brad Watson is a truly fine writer. The reviews for Miss Jane bear that out. He is the author of two collections of stories and the novel The Heaven of Mercury, which was a finalist for the 2002 National Book Award. His fiction has been widely published in magazines. Most recently, Brad was selected to receive the Harper Lee Award for Alabama's Distinguished Writer of the Year for 2017 and Miss Jane is included on the 2017 longlist for the Wellcome Book Prize. He teaches at the University of Wyoming, Laramie.
I hope you will enjoy listening to our conversation about this amazing and wonderful book.