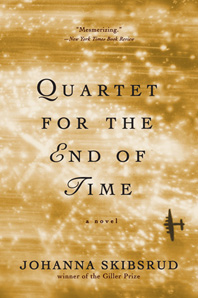 9780393351828 – W.W. Norton – 480 pages – paperback – ebook versions available at lower prices.
I've been interested in Canadian writer Johanna Skibsrud's work for several years, in fact since interviewing independent publisher Andrew Steves of Gaspereau Press. The small Nova Scotia based press was the original publisher of Skibsrud's first novel, The Sentimentalists, selected for the prestigious Giller Prize in 2010. It was a major literary event in Canada for such a tiny press to be recognized for publishing a fine novel that ultimately became a commercially successful book.
Skibsrud is a prolific and multi-talented writer. Her short story collection, This Will Be Difficult to Explain and Other Stories was published in 2011 and shortlisted for Canada's Danuta Gleed Award. She has also published two books of poetry: Late Nights With Wild Cowboys (2008), which was shortlisted for the Gerald Lampert Award for the best first book of poetry by a Canadian poet, and I Do Not Think That I Could Love a Human Being (2010), which was short-listed for the 2011 Atlantic Poetry Prize.
Skibsrud now teaches at the University of Arizona in Tucson, returning to Canada with her family every summer. Since I had the good fortune to be visiting Tucson in January, 2016, I interviewed Johanna there about her newest novel, The Quartet for the End of Time.
This book is inspired by and structured to follow Oliver Messiaen's chamber piece of the same name (Quatuor pour la fin du temps). Messiaen's piece was composed and first performed in 1941 while he was a prisoner of war in a German prison camp. His beautiful and haunting composition was in turn inspired by a text from the Book of Revelation:
And I saw another mighty angel come down from heaven, clothed with a cloud: and a rainbow was upon his head, and his face was as it were the sun, and his feet as pillars of fire … and he set his right foot upon the sea, and his left foot on the earth …. And the angel which I saw stand upon the sea and upon the earth lifted up his hand to heaven, and sware by him that liveth for ever and ever … that there should be time no longer: But in the days of the voice of the seventh angel, when he shall begin to sound, the mystery of God should be finished ….
Skibsrud's novel is centered on a single moment of betrayal and how it affects the four characters whose stories are woven together during the period of the Bonus Army march and the 1930s, leading up to and then through the period of World War II.
The novel's beginning is about Bonus Army marcher and World War I veteran Arthur Sinclair, who is falsely accused of conspiracy and then disappears. The mystery of this event will affect his son, Douglas and also Alden and Sutton Kelly, the children of a U.S. congressman who become connected to Arthur and Douglas while the marchers are camped in Washington, D.C. The book then follows these characters as they live through the period of massive social change that took place during the period leading up to and during World War II.
This novel is thoroughly compelling, beautifully written, complex in form and lyrical in language. I think Johanna has succeeded in her effort to imagine a story of loss and love through the lens of a complicated period of modern history. Tim O'Brien said this about the book, praising "…its intimate and completely compelling portraits of human beings struggling to do the right thing under ambiguous moral circumstances."
I very much enjoyed talking with Johanna Skibsrud about this book and her work as a writer. She is as intelligent and interesting to talk to as she is to read. This interview was recorded in her office at the University of Arizona. If you want to learn more about this author's work, I recommend visiting Johanna's website.
And if you're interested in the Bonus March, which is a far too little known, and truly disheartening episode of American history, you might also be interested in Georgia Lowe's novel, The Bonus. I talked to her about this book and the Bonus March story for Writerscast in 2012.