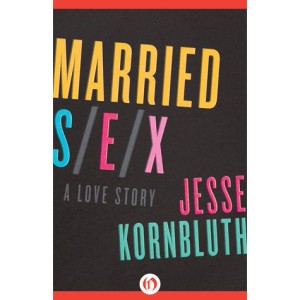 978-1504011259 – Open Road Media – paperback – 246 pages – $12.99 (ebook versions available at lower cost)
I've been a subscriber to Jesse Kornbluth's excellent newsletter, HeadButler, for awhile now, and have very much enjoyed his approach to books, music and art (politics and culture too). In many ways, he represents to me the quintessential New York intellectual: smart, well read, opinionated and caring about the future of humanity and our civilization. He's a writer of screenplays and a number of interesting and successful nonfiction books, and he has long been involved in the emerging forms and formats of online digitally-based culture, going back to his days as editorial director at AOL.
Married Sex is his first novel. It is short, extremely well written, and completely compelling. Jesse has brilliantly portrayed his characters, both male and female, and pinpoints them for the reader in very few words. It's also a fun book to read. Sex with intelligence, you might say.
Without giving away very much of the story, let's just say that the focus is on a couple who have been together a long time in a committed, deeply sexual romantic relationship. Then something happens that changes everything. You have to read the book to find out more. I think you will enjoy this book a lot. I love this line about it from Kirkus: "A libidinous fairy tale with an unusual Prince Charming."
And I also think you will enjoy listening to my conversation with Jesse as well. He's funny and trenchant, and we had a great time talking to one another about the book, his work, and how this book fits into his life. And oh yes, let's get this settled right away – it's a novel, not a memoir.
I often recommend Jesse's newsletter and website to friends, HeadButler.com, what he calls "a cultural concierge site." I've discovered and sometimes rediscovered a number of books and records through his literate and intelligent recommendations. It's all free, based on the perhaps dubious concept of readers buying things he recommends from Amazon.
Jesse Kornbuth was the Editorial Director at AOL, was a contributing editor to Vanity Fair and New York magazines and is the author of four nonfiction books, including Highly Confident: The Crime and Punishment of Michael Milken. He has written several screenplays for ABC, PBS, and Warner Bros.
Married Sex is Kornbluth's first novel. He lives in Manhattan with his family. I am looking forward to reading his next book.