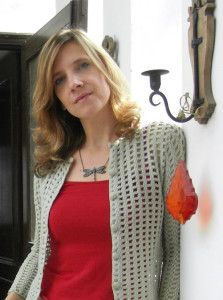 Lyndee Prickitt's powerful and engaging storytelling project, We Are Angry, fits readily into both the categories of interviews I am doing here – she's both the author of the (book) project as well as the primary publishing impressario who put together an innovative form of digital storytelling. But the interview does need to go into just one category, so I have chosen to call it a Publishing Talks interview.  Publishing Talks began as a series of conversations with book industry professionals and others involved in media and technology about the future of publishing, books, and culture; Lyndee Prickett's work is an important addition to that conversation.
We Are Angry is a fictional response to the very real and difficult issues of rape and abuse of women in modern India.
From the We Are Angry website:
"After the brutal December 16, 2012 gang-rape in New Delhi, many people in India and beyond felt a need to express their anger, fears and concerns about why this was happening. Women and men took to the streets to put a voice to their anger. Social media swelled with introspection and pontification. Anonymous mourners created real life and online commemorations. Movie stars satirized and campaigned. Artists painted street walls and canvasses. Actors staged plays in local parks and international cultural festivals. Screenwriters wrote movies. Singers sang.
The conversation across the nation changed. Women and their rights was not just a matter for earnest do-gooders and NGOs, but the topic du jour and the inspiration for a panoply of expression for weeks and months. And then the din quietened. People tired of talking about how women, at home and abroad, have been and should be treated.
We Are Angry is an effort to keep the conversation alive – fusing traditional fictional text storytelling with other media, bolstered by real news content and annotations, and showcasing a range of art and expression from a team of people who want to harness their anger and work creatively for change."
Lyndee Prickitt is a multimedia writer and journalist. She created her company, Digital Fables, to tell stories using the web as a platform. After working with Reuters and the BBC for more than 15 years, she wrote and produced the award winning digital short-story, Weareangry.net. Though a native Texan, Prickitt lives in New Delhi with her Indian husband and their daughter.
We Are Angry was nominated for a Webby, won the Transmedia Story of the Year from Digital Book World, and was a runner up in the New Media Writing Prize. The Guardian newspaper called it "devastatingly powerful."
There has been a great deal of discussion within the international ebook community about whether digital storytelling will migrate away from devices and out to the web. What Lyndee Prickitt has done with We Are Angry is a powerful example of how this can be done. When you land on the site, you are immediately offered two options, one to "read" and the other to "experience" the story. I suspect most readers choose first to experience the story.
I really like what she says on the We Are Angry site about this project:
"We are living in mixed media times and yet rarely do we find the media coalescing in a truly integrated and artistic way, a way that could take storytelling – especially issue-based storytelling – to another level, not replacing books or the linear text experience, but offering another construct.
We Are Angry is an attempt, a humble first attempt, at doing this: creating 360 degree digital fiction."
Listen to this interview, then visit the website and experience the story for yourself. Let me know what you think about it.