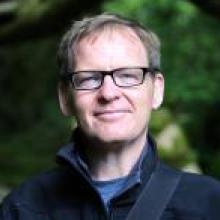 Publishing Talks began as a series of conversations with book industry professionals and others involved in media and technology about the future of publishing, books, and culture. I've talked with publishing industry leaders about how publishing has and will continue to evolve and now include conversations that go beyond the future of publishing. I've had conversations with editors and publishers who have been innovators and leaders in independent publishing in the past and present. This series of talks continues to explore the ebb and flow of writing, books, and publishing.
For the past several years, I've been talking to editors and publishers of independent presses about their work. Many of them have been literary publishers. But there are a number of really excellent independent presses that have achieved success in other subject areas. It usually requires being specialized and knowledgeable about a specialized field, and being integral to a specific community of enthusiasts and readers, to find and sustain success.
Octane Press is one such endeavor. This fine publisher focuses on cars, farm machines, motorsports and motorcycles. This may seem a relatively narrow niche of readers, but it is one that works well for this publisher. Founded by photographer, writer and editor Lee Klancher, Octane Press is an excellent example of how to successfully build a print-based publishing business in the modern era. The company has won an array of awards, and has grown steadily since it began. I am very pleased to have had the opportunity to talk to Lee about his work and the story of Octane Press, and I think listeners interested in contemporary publishing will find his story compelling and his experience valuable.
Lee Klancher has been publishing great stories for more than twenty years. As an editor and publisher, he has worked on some of the most-respected and best-selling books in transportation publishing. He is a prolific author and an excellent photographer, and has contributed content to more than 30 books, as well as dozens of national magazines including Men's Journal, Draft, and Motorcyclist.
Lee has taught writing and photography at the Minneapolis College of Art and Design. He is best-known for his photography of collectible farm tractors that appears in his books and calendars. Lee lives in Austin, Texas, where Octane Press is located.