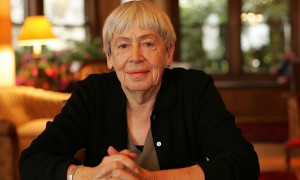 Ursula Le Guin has had a long and wonderful career as a writer. Her extraordinary work has influenced many other writers, particularly in science fiction, for which she is probably best known, but Ursula has also written extensively about the art and craft of writing, as well as children's books, and books for young adults. She is also a poet of some note, with four poetry collections published. Altogether she has had published almost fifty books and more than a hundred short stories.
Ursula was born and raised in Berkeley, California, where her parents were the anthropologist Alfred Kroeber and the writer Theodora Kroeber, author of the very famous book, Ishi. She went to Radcliffe College and did graduate work at Columbia University. Ursula married Charles A. Le Guin, a historian, in 1953; they have lived in Portland, Oregon since 1958.
Le Guin's best known fantasy works, the six Books of Earthsea, have sold millions of copies in America and England. Her first major work of science fiction was The Left Hand of Darkness, whose radical investigation of gender roles and literary complexity have made the book a classic and a must read work of literature. Among her books for children, the Catwings series has become extremely popular. She also published a translation of Lao Tzu's Tao Te Ching, after forty years of working on it and practicing Taoist principles in her life.
Three of Le Guin's books have been finalists for the American Book Award and the Pulitzer Prize, and among her honors are a National Book Award, five Hugo Awards, five Nebula Awards, SFWA's Grand Master, the PEN/Malamud Award, and in 2014 she was awarded the National Book Foundation Medal for Distinguished Contribution to American Letters.
While Le Guin is no longer writing fiction, she continues to write poetry, as she has done virtually her entire life. With the appearance of this new collection of poems from 2010-2014, Late in the Day, published by the excellent PM Press, I had the opportunity to speak with her about her writing and her recent writing. In these poems she explores a variety of poetic forms, all of which she easily masters. The poems are most often about relationships, connecting to the natural world, to myth, story, and of course, other humans, always with a careful eye and a deft understanding of the complexity of all things.
And the Afterword on poetic form and free verse is itself a small masterpiece of explication and joy. Ursula Le Guin is truly one of the great writers of our time. It is my great honor to have had the chance to speak with her here for Writerscast. If you are not aware of Ms. Le Guin's work as a poet, this new collection of sharp and compassionate compressed expression is definitely worth your time to read. We talked about many subjects, including writing, her career, Oregon, the recent occupation at Malheur, a place with which she is very familiar, and of course the poems in this book, one of which she was kind enough to read aloud for us.
There is an excellent interview transcription with Ursula by Choire Sicha in Interview Magazine; the author's own website is a rich source of material by and about her great body of work.