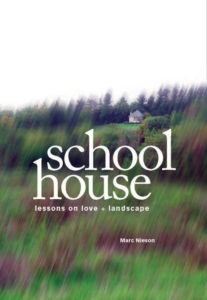 Schoolhouse: Lessons on Love & Landscape – Marc Nieson – Ice Cube Press – paperback – 9781888160925 – 272 pages – $19.95
Memoirs are most often stories of self discovery. To work for readers, they have to engage us indirectly – we have to buy into the narrator's central problem the story will show us being solved. Marc Nieson's memoir is about a period in his life when he was confused about love and self-identity. He left his home and long term lover in New York City to attend the famed Writer's Workshop at the University of Iowa, and ended up living in a former one room schoolhouse on 500 acres of beautiful Iowa landscape.
Escaping the travails of modern life, and living in the woods, the comparisons to Walden cannot help being made. City-bred Nieson learns how to observe the natural world, and in so doing, learns how to understand himself at the same time. Nieson keeps us involved throughout his narrative, and we come to the end of the story fully engaged in his personal adventure.
The book is structured like a schoolbook, each chapter being named after a school subject (i.e. Geography, History, Social Studies, What I Did On My Summer Vacation), which gives the book a certain charm, and while it's a conceit, this organization helps keep the narrative moving forward. It's a fully transformational story, even if you have never experienced the woods or the Iowa landscape.
As Nieson writes: "Here on a quiet Iowa hillside, I was hoping … to both learn and unlearn who I was. To try living not only alone and apart, but a more consciously observed life — both inside and out." I think he achieved what he was hoping to do in Iowa.
"Those of us who have lived in old one-room schoolhouses understand the solitude, solace, and proximity to nature that they provide. During his year living in Union #9, Marc Nieson embraced these opportunities for inner growth. His new memoir—a must read—traces the story of his journey of discovery along the trail through the woods surrounding his house and along the path of human relationships. Read Schoolhouse, and you will open the door to the mind of an engaging voice, a probing, reflective writer who delights the reader with his lyrical prose on every page."
—Mary Swander, author, Out of this World: A Woman's Life Among the Amish
Marc Nieson has degrees from both the Iowa Writers' Workshop and NYU Film School. His background includes children's theatre, cattle chores, and a season with a one-ring circus. He's been awarded a Raymond Carver Short Story award and recent fiction appears in Everywherestories: Short Fiction From A Small Planet (Press 53), Museum of Americana, and Tahoma Literary Review. He is also a screenwriter, whose credits include Speed of Life, The Dream Catcher, and Bottomland. He teaches at Chatham University in Pittsburgh, and is working on a new novel, Houdini's Heirs.
In this interview, Marc and I talked in detail about this excellent book and his work as a writer and teacher. Special kudos to Ice Cube Press for publishing this memoir.