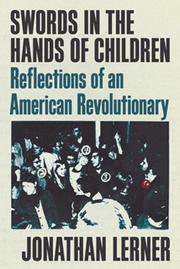 Swords in the Hands of Children: Reflections of an American Revolutionary – Jonathan Lerner – OR Books – Hardcover – 9781944869472 – $22 – 224 pages – December 5, 2017. Ebook versions available at a lower price. Order direct from the publisher, OR Books.
As Writerscast listeners doubtless know, I am interested in books about the sixties, a period in our history that shaped so much of what is now our current worldview and world situation, for better and for worse. This was a period in American history marked by social and political conflict, sparked principally by the Vietnam War. For many young people, it was the time in their lives when political and social idealism flourished, yet for some, directions taken and decisions made, acts committed, that would later appear misguided and wrong.
In the early sixties, Jonathan Lerner was a student at Antioch College, who almost accidentally became a full-time staff member of Students for a Democratic Society, the most powerful organization of the New Left (among its founders, the recently deceased Tom Hayden). In this book, Jonathan recounts the story of his life during the most fraught years of the political upheavals of this era.
Jonathan Lerner was at the center of many of the most important political events of that time. He became a founding member of the Weatherman faction of SDS, which ended up taking over the organization in 1969, and was the editor of its newspaper Fire! and an "above ground" representative of the Weather Underground organization, that was responsible for much of the far left spawned violence of the era.
The Weather Underground ultimately carried out a campaign of bombings across America. Some of its members died, many stayed underground for years, and some went to jail. Lerner tells some compelling stories about this time in particular and the people he worked and lived with. Overall, he seems to have been almost an accidental radical, who like many in the sixties, "went with the flow" of events and people around him, trying to find his place in a complicated environment.
Jonathan tells his story with brutal honesty, questioning much of what he once took for granted, as an insecure gay man existing in an environment that was not supportive in any way. This memoir has much to offer to those of us still seeking to understand the politics and culture of our youth, as well as for those too young to have experienced the sixties directly.
Lerner is the author of the novels Caught in a Still Place and Alex Underground, and is today a journalist focusing on architectural, urbanist and environmental issues. He lives in the Hudson Valley of New York state with his husband.
We had a great conversation in our wide ranging conversation. Visit Jonathan's website here.
"Imagine if your favorite uncle, a brutally honest, worldly, self-reflective gay raconteur, had been, as a twenty year-old, a lieutenant in an underground guerrilla army dedicated to the violent overthrow of the government of the United States. Jonathan Lerner is that favorite uncle you never had, telling unbelievable true stories―no bullshit―from the 'revolution' fifty years ago. This is the closest you'll ever get to being there." ―Mark Rudd, national secretary of SDS, founding member of the Weather Underground and author of Underground: My Life with SDS and the Weathermen