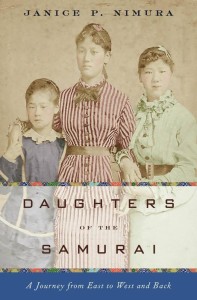 DAUGHTERS OF THE SAMURAI: A JOURNEY FROM EAST TO WEST AND BACK
978-0-393-07799-5 – W.W. Norton – Hardcover – 336 pages – $26.95 (ebooks available at lower prices, paperback edition to be published in May 2016)
Janice Nimura's Daughters of the Samurai is a wonderful book about an extraordinary and little known episode in modern Japanese history. In 1871, soon after the Japanese civil war that led to the modernization of the country, the Japanese government decided to send five young girls to the United States to educated. They were sent along with a delegation of diplomats and civil servants, with a very specific mission to be educated in modern Western ways and then to return to help create new generation of men and women to lead Japan. While each of these young girls had been raised in very traditional samurai households, they were all displaced from their families and clans. Three of the girls stayed the course, while the other two girls went home.
On their arrival in San Francisco, and later, traveling across the country, the Japanese girls became significant public celebrities, written about by newspapers across everywhere. It's incredible to imagine what it must have been like for the girls as well as for the American public, who had never seen anyone from Japan before.
Sutematsu Yamakawa, Shige Nagai, and Ume Tsuda all were raised in middle class or upper middle class homes in the United States and grew up in many ways as typical American schoolgirls, despite their obvious differences from their American friends and family members. Within the families and then in the various schools and colleges they attended, they developed lifelong friendships and connections, and after their ten year sojourn was completed, they returned home to Japan almost as foreigners.
They had started their sojourn in America in radically cross-cultural environments and experiences, then learned a completely new culture, only to return home as yet again out-of-place foreigners, this time in the culture they actually came from. Their unusual experience gave them an incredibly unusual perspective on Japanese culture. As adult women living in a still male dominated society struggling with the tension between modernity and tradition, they each determined to revolutionize women's education and lead their country forward. Ume Tsuda, in particular, made a significant impact on Japanese education that continues into the modern era.
It's impossible not to be captivated by these incredible women and their life stories, both in the United States and in Japan. Nimura's narrative is fascinating and compelling; she brings to life what was once an obscure piece of history, and through the lens of these interesting women, a period in both American and Japanese history of great change in every aspect of culture.
After reading Daughters of the Samurai, it's impossible not to want to share the story with anyone who will listen. I am fortunate that I was able to talk about it with the author herself.  This is a book I am happy to recommend to readers.
Janice Nimura graduated from Yale and then moved to Japan with her new husband, where she lived for three years, became proficient in Japanese, and later earned a Masters degree from Columbia in East Asian Studies, specializing in 19th century Japanese history. At one point she stumbled across a book written by Alice Mabel Bacon (originally from New Haven) called A Japanese Interior, which is about Bacon's visit to Japan in the 1880s. Alice Bacon's story captured Nimura's imagination. She learned about Sutematsu Yamakawa Oyama, Bacon's foster sister and Vassar's first Japanese graduate; Ume Tsuda, whose pioneering women's English school Alice helped to launch; and Shige Nagai Uriu, the third of the little girls who arrived with the Iwakura Mission in 1872 and grew up in America, and then took up the challenge of researching and writing about this amazing episode in modern Japanese and American history.
Author website here.