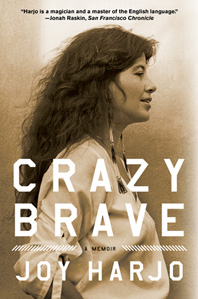 978-0-393-34543-8 – W.W. Norton – paperback – 176 pages – $14.95 (eBook versions available at lower prices)
Joy Harjo has been one of my poet heroes for a really long time. I have been reading her poems for so many years I have lost count. Her writing is inspiring, mystical, deeply human and politically explosive. The perfect word to describe Joy's work is "unflinching," which she is with herself and with her commitment to following poetry and spirit wherever it takes her.
Recently I read her very personal memoir of self becoming called Crazy Brave, and was stunned by the language, heart and soul of this book. This is the story of Joy Harjo's becoming a person, unfolding into poetry, and discovering her true self.
The writing in this book is literally transcendent, as Harjo recounts the her earliest memories and family life.
Here are the basics: Joy Harjo was born in Tulsa, Oklahoma and is a member of the Mvskoke Nation. Her mother remarried a deeply abusive man, and Harjo was lucky to escape to an Indian arts boarding school and from there went on to get her BA from the University of New Mexico and eventually an MFA from the Iowa Writers' Workshop.
Crazy Brave is about all of this, but it is really the telling of her path into poetry, the words that saved her, the voice that enabled her to become. It's a beautiful, power-full, magical book I urge you to read as soon as possible. This is a book whose inner song will stay with you for a long time. Joy Harjo once said this about her own work: I feel strongly that I have a responsibility to all the sources that I am: to all past and future ancestors, to my home country, to all places that I touch down on and that are myself, to all voices, all women, all of my tribe, all people, all earth, and beyond that to all beginnings and endings. In a strange kind of sense [writing] frees me to believe in myself, to be able to speak, to have voice, because I have to; it is my survival.
It was a heartfelt pleasure for me to speak to Joy Harjo about this book and her work as a writer. If you've never read her poetry, you can find some of her work online, including reading her fine poem, She Had Some Horses.
And here, a poem I really love:
Perhaps the World Ends Here
The world begins at a kitchen table. No matter what, we must eat to live.
The gifts of earth are brought and prepared, set on the table. So it has been since creation, and it will go on.
We chase chickens or dogs away from it. Babies teethe at the corners. They scrape their knees under it.
It is here that children are given instructions on what it means to be human. We make men at it, we make women.
At this table we gossip, recall enemies and the ghosts of lovers.
Our dreams drink coffee with us as they put their arms around our children. They laugh with us at our poor falling-down selves and as we put ourselves back together once again at the table.
This table has been a house in the rain, an umbrella in the sun.
Wars have begun and ended at this table. It is a place to hide in the shadow of terror. A place to celebrate the terrible victory.
We have given birth on this table, and have prepared our parents for burial here.
At this table we sing with joy, with sorrow. We pray of suffering and remorse. We give thanks.
Perhaps the world will end at the kitchen table, while we are laughing and crying, eating of the last sweet bite.
"Perhaps the World Ends Here" from The Woman Who Fell From the Sky by Joy Harjo. Copyright © 1994 by Joy Harjo