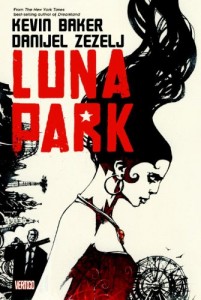 978-1401224264 – paperback – Vertigo – $14.99
Luna Park is an outstanding first graphic novel by historian and novelist Kevin Baker.  Baker is certainly well-known for his best selling New York City based trilogy of historical novels (Paradise Alley, Dreamland and Strivers Row).  And recently he was the consultant for the History Channel's extremely fine mini-series, America: The Story of Us, as well as being the author of its companion book.
Luna Park is centered on a former Russian soldier, Alik, who fought in Chechniya now living in Coney Island, working as the enforcer for a small time Russian mobster.  He is addicted to heroin, and haunted by his memories of the horrors of the war and his own part in it.  He desperately loves the prostitute Marina, whose daughter is held captive by the mob boss as a way to keep her under his control.
Alik comes up with a desperate plan he has convinced himself will save Marina, her daughter and himself.  It's at this point that the story takes a turn, as Alik discovers he is destined to repeat his past lives repeatedly, including a few pasts the present Alik does not know he had.   There are flashes from present- day run down Coney Island to the Russia of 10 years ago during the Second Chechen War to an earlier time period in Coney Island, when the area was at its peak as an amusement park that really was amazing to behold.
Baker keeps us traveling with him throughout, even though the story is complex, the pain palpable and the suffering of the characters in their struggles seems to never let up.  The work of the artist Danilej Zezelj is perfectly suited for this story.  His art is dark, powerful and energetic, and adds tremendously to the strength of the story.  DC Comics deserves praise putting Baker and Zezelj together, it's a terrific collaboration.
Kevin Baker and I talked at length about this, his first graphic novel, both in the context of his work as a fiction writer and historian, and of course his deep interest in the City of New York, especially its seamier areas like Coney Island, as well as how writing a graphic novel in collaboration with an artist is different from other types of writing.  we were able to range widely about a number of other subjects, making this conversation one I hope listeners will particularly enjoy.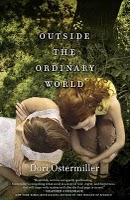 978-0778328896 – paperback original – Mira Books – $14.95 (ebook edition available at a lower price)
Dori Ostermiller's Outside the Ordinary World is a very strong and compelling novel, hardly recognizable as a first novel.   The novel's main character, Sylvia, is an artist and teacher who is grappling with the messiness and unhappiness of her life.  She's distanced from and frustrated with her husband enough to risk an affair with the somewhat exotic father of one of her students.  Since this is in many ways a reflection of Sylvia's own experience as a child, when her mother spent years in her own affair, it triggers Sylvia's memories and ambivalence about much of her own life and thus her unfolding story.
The story unfolds as Sylvia remembers her past and of course must reconnect with her family while she is trying to reconcile her own situation.  We learn about her unusual upbringing as a Seventh Day Adventist, her father, the mercurial and unhappy doctor, who abused his wife and children, and her mother, so unhappy and conflicted that she allowed (or forced) her daughters to participate in her complex "other" relationship, a lack of boundary drawing that has long term ramifications for Sylvia in her own life.  We also meet her grandparents and her sister in the present, for further complications to her situation.
It's risky turf for any writer to take on love, marriage, trust, infidelity and family history with a story line and characters so close to her own.  But I think imagination and creativity using the "stuff" of one's own apparent life is precisely where the most powerful art comes from.  Ostermiller writes beautifully about complex human relationships and tells a difficult story well.  In many ways this novel defines how fiction really works and works best – taking the difficult journey of the soul to resolve difficult emotional and psychic issues (for both the author and the reader).  I really enjoyed this book, as different from my own life experiences and situations as it was.  And it was great fun to talk to Dori about her work, the issues of fiction and the mysteries of human love.
Dori Ostermiller teaches writing and literature in Western Massachusetts.  She is the founder and director of Writers in Progress, a literary arts center housed in the Arts & Industry building (a refurbished old brush factory) in Florence.   Many of her students have published books of their own, including Alison Smith, Kris Holloway, Ellen Meeropol, Kyra Anderson and David Lovelace.
Dori is currently working on her second novel in Northampton, where she lives.  Her website is worth a visit.  And I for one am looking forward to reading her next novel.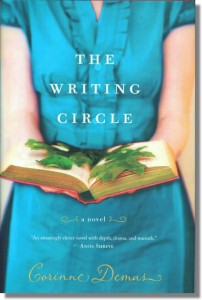 978-1401341145 – Hardcover – $23.99 (e-book edition available $11.99)
In choosing books for Writerscast, I have been trying to read as many books as possible from different styles, genres and viewpoints, to make an eclectic and interesting selection both for myself and for an audience of listeners.  I suspect that if it had not been for that effort, I simply would never have discovered Corinne Demas and her new novel The Writing Circle.
It's not so much that this novel is outside the scope of my literary tastes, as in fact, I really like well written novels that explore character and whose narrative is subtle and skillfully enough handled that I can't feel ahead what is going to happen.  I suppose in one way that just means I like to lose myself in a novel and not feel like I can feel the wheels and levers turning as I follow on.  But I just may not have picked this book off of a book display in a bookstore to read, maybe because it's a book about writers and that might normally seem sort of self reflexive to me.  Thus the lesson, if there is one, is to remain open to surprises and to not make judgments about a book just from it's title.  A funny idea indeed.
I definitely enjoyed reading this novel quite a bit.  Corinne Demas is a very fine writer.  I think the word that comes to mind for me is "deft."  There are a number of characters here, all of whom are important, and the way the story is told reminded me of an ever tightening spiral, as we start from the seeming mundane outside and move ever closer into the lives of these people around a series of events that provides the structure of the book.  This is a very well put together novel.  After reading it, I wanted to rush out and talk to Corinne Demas about the book and how she imagined it, and all the characters (guessing of course that she had been in writing circles herself).
I always feel that when I am talking to a novelist it's critical to balance between talking engagingly about a book I just read and that I feel excited about, and not giving away too much to anyone who might be listening and themselves eventually read the same book.  That certainly applied in this talk, as we danced around the story outline while talking in depth about the book's structure and her involvement with these very compelling characters.  That was fun too and I hope listeners will enjoy that balancing act.
Corinne Demas is a talented and accomplished writer – she's written adult novels, short stories, children's picture books and chapter books, a play and she writes poetry as well.  In addition, she teaches full time at Mt. Holyoke, which we also talked about a bit in this conversation.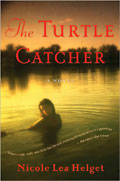 978-0547248004 – Mariner Books – paperback – $13.95 (also available as an e-book)
I found this book, written by an author I had never heard of before, by doing something very old fashioned: browsing in a bookstore.  There are many forms of discovery, but finding a book you want to read in a store is still a great pleasure.  And when you take it home and start reading it, and find out you made a lucky choice to read an exceptionally fine novel, that is a true and deeply rewarding experience.
I was surprised to learn that The Turtle Catcher is Nicole Helget's first novel – she doesn't write like a first novelist at all.  The opening of this novel is absolutely perfect, and is beautifully written, setting the tone for a complicated, very often painful, but also engrossing story.  Helget's novel is mystical and magical, but these moments of "magical realism" where she enters another plane counterpoint brilliantly with the almost plainspoken story she has to tell about immigrant families in a German-American community in rural Minnesota in the early 20th century.  The book is set in the now little discussed period just before, during and after World War I, a time that was very complicated for communities of recently arrived immigrants from the old country, with Germany now the enemy of their new homeland.  The tensions within the town provide a taut backdrop for Helget's for the focus of her story.
The author weaves together the lives of two families living on adjoining farms in the small town of New Germany, Minnesota.  Liesel Richter and Lester Sutter are at the core of the book, along with their fathers and deeply suffering mothers, and what happens to Lester, told brilliantly and painfully in the opening scene of the book is the capstone to a long, rich story of families and communities, hidden wounds and deep suffering transformed into a kind of stoic transcendence Helget's characters embrace, almost because it is all they are capable of doing in the face of such pain.
In The Turtle Catcher, Nicole Helget has created a multi-layered family story whose characters inhabit (and illustrate for readers) a specific place and time, but as with all great novels, through their story, they are transformed into something deeply moving and powerful.  I really loved this novel, and will read it again, I am sure.
I wanted to talk to Nicole about the emotional content of the book, how she came to create this novel (it started with a short story), and discuss some of the complexities of her really wonderfully drawn characters.  I think we succeeded in exploring this writer's work in a really interesting conversation I hope will encourage readers to seek this novel out and read it for themselves.  I do think Nicole Helget is a terrific writer, someone whose work I am deeply gratified to have discovered.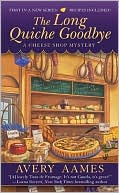 978-0425235522 – Berkley – Mass Market Paperback Original – $7.99 (also available as an ebook 978-1101188644 at $6.99)
I don't often read mysteries, but a few weeks ago, right in the middle of summer, the season for entertaining novels (often known as "beach reads") I decided to give this novel a try.  The tongue-in-cheek title first caught my attention, and I really liked the unusual setting for the novel (small town Ohio) and the quirky but very believable cast of characters.  So The Long Quiche Goodbye is definitely a fun read but not just a throwaway summer book.  Avery Aames is a good writer and she has deft with her creation and handling of characters.
As I mentioned, I am not a steady reader of mysteries, so I may not be as experienced as some are with the various forms and formats of mysteries – they do fall into a set of recognizable patterns, I know.  In The Long Quiche Goodbye, our main character is Charlotte Bessette, the proprietor of the family owned cheese shop called Fromagerie Bessette, in the small town of Providence, Ohio.  At the gala re-opening of the store after a full scale renovation and modernization, the store's landlord (whom we already know not to like) is found stabbed to death with one of the store's knives, and Charlotte's grandmother is the prime suspect.
We're off from there, with a full cast of local characters, friends, family, police, and a couple of other prime suspects in town to make things interesting.  And it's Charlotte who takes the lead in finding out who the real killer must be, as clearly, she feels (and we come to feel as well) that it could not have been her wonderful grandmother (who is the Mayor of the town!)
Avery Aames had a lot of fun writing The Long Quiche Goodbye, I think, and her pleasure and involvement with her characters comes across in the way she writes their story.  I also had a great time talking to her about this well written book, her work as a writer, and the next books in the series that this book inaugurates.  It looks like this series will be successful, and deservedly so – this first in the "Cheese Shop Mysteries" is already a national bestselling mystery novel.  You can visit Avery's website to learn more.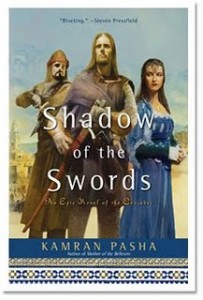 978-1416579953 – Washington Square Press – Paperback Original – $16.00 (e-book edition $9.99)
I love reading really good historical novels.  I'm actually not sure how I found out about this book, but I knew I wanted to read it when I learned that the author, Kamran Pasha, is a Muslim writing about the Third Crusade from a Muslim perspective.  That's definitely a fresh concept.  It turns out that Pasha is a terrific writer, and a deft story teller.
It's almost impossible for Western readers not to think about the Crusades from the Christian side.  The Third Crusade, headed by Richard the Lion-Heart, is one of the best known stories ever told, and our knowledge and understanding of the great Muslim ruler Saladin is without doubt cast by the Western version of the story.  In Shadow of the Swords, we see things very differently, and not just the Muslim side, there are intriguing Jewish and female characters who are integral to the storyline in many fascinating ways.
Some of the characters and events in this book are based in reality, others are made up, but they are always consistent and believable.  By inserting the fictional Miriam, daughter of the historical Maimonides into the story of Richard and Saladin, Pasha is able to link their personae and the real historical events of the battles between them into a much more personal context, which helps bring these complicated characters to life.  We realize as the story unfolds that through their opposition, the two main characters will come to know, understand, and appreciate the other, both literally and figuratively.  Which is a lesson our modern society could stand to learn too.
Kamran Pasha is a prolific writer.  He has created novels (his first book was Mother of the Believers, another historical novel), television (Kings), video games (Blood on the Sand), and is now currently working on a theatrical film as well.  He came to writing through an interesting career – he holds a JD from Cornell Law School, an MBA from Dartmouth and an MFA from UCLA Film School. He spent three years as a journalist in New York City before he went to Hollywood to become a full time creative writer.
I really enjoyed reading this book, and talking to Kamran Pasha was a terrific experience I hope you will also enjoy.   And do enjoy this serious, well written and very compelling novel.  It's literate, well written and packed with interesting ideas that lives up to its billing as an "epic novel."  Pasha blogs passionately about many current issues at his own website, well worth a visit.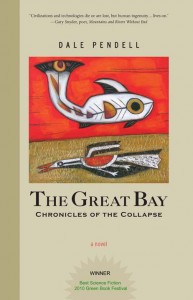 978-1556438950 – North Atlantic Books – Hardcover – $21.95
This is an amazing novel.  Consider it a work of "ecological science fiction" as some have called it.  I found it captivating, terrifying, incredibly emotive and reading it becomes almost a spiritual exercise.  Pendell posits a worldwide collapse of population from a biological war gone amok.  More than 95% of humanity disappears, almost overnight.  He actually does not spend much time on this part of the story, horrific as it is, because that catastrophe is really just the lead in for the much bigger story of what happens next.
Aside from the critical principle of understanding, that modern human society will simply collapse, that going back to prior technologies becomes impossible because people no longer have the knowledge or skills, to live the way our ancestors did, and critically, cannot relearn them overnight in the face of societal collapse, the central tenet of this novel is that climate change will have been unleashed by what modern society *has already done* to the natural world.  The computer models of planetary climate change are simply not able to fully contain and predict the massiveness of what is about to happen to the planet and the natural world that inhabits it.
The novel is essentially a brilliant imagining of what might or could be the future of the planet over the next hundreds, thousands of years, based on the supposition that humans have already begun this process of change.  It's a rich set of interlocking stories, mostly focused on the area that is known today as California, a bio-geographic landscape that author Pendell knows well, and imagines changing in profound and sometimes painful ways for the reader of his story.
This is a very unusual novel – really the main character is the planet and there are no traditional heroic human characters at its center.  While we might search for and find labels for it ("dystopian" or "utopian," "science fiction" or even "parable"), I'd rather think of it as a kind of vision-telling, a myth in the making, that seeks to change the way we think about ourselves.  Indeed, there is a great deal of suffering and difficulty in the book, and at the same time, a powerful sense of continuity, what truly sustains.   As the great poet Gary Snyder (who is a fictionalized character in the book, as it happens), says about the novel: "Civilizations and technologies die or are lost, but human ingenuity–families, tribes, and villages, the musicians, shamans, philosophers, and people of power–live on."  I'd add that not only does human ingenuity live on, so does Gaia, our planet home, adjusting and re-adjusting its inner and outer being, regardless of which or how many humans may be hanging on for dear life.
In my conversation with Dale, we talked about his background as a writer, poet, biologist, and how this brilliant vision of a book came into being.  It's an interview and a book I'd recommend to all my friends and colleagues – it's impossible to read and not do alot of thinking about the future, as well as what we need to do about it – right now.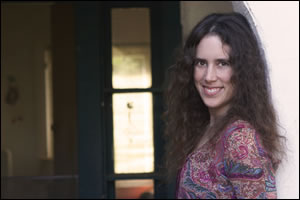 978-0345492623 – Ballantine – Paperback – $15.00 (also available as an e-book at $9.99)
Writerscast is proud to present the third in a series of authors reading from their work, called AuthorsVoices.   I hope you will agree that hearing these works read aloud by the original authors adds to your experience of the writing.
I love getting a sense of the author's distinct sense of her or his own words. With writers touring in support of their books less frequently now, these podcasts should provide readers with an opportunity to hear some of our best contemporary authors reading from, and sometimes performing their own works.
Gayle Brandeis' Delta Girls was a great discovery for me.  I loved her writing, her characters, and the pace and flow of the novel.  I particularly enjoyed the way Gayle set up the alternating stories of the two women, Izzy and Karen and of course brought them together with what was for me a very surprising climax to the story.  In this reading from the novel, Gayle reads the opening two chapters, where the two characters are introduced and their ultimately intertwining stories begin.
Gayle has a terrific website where you can learn more about her and her work.  Her's her brief bio as a writer:
Gayle Brandeis grew up in the Chicago area and has been writing poems and stories since she was four years old. She is the author of Fruitflesh: Seeds of Inspiration for Women Who Write (HarperOne), Dictionary Poems (Pudding House Publications), the novels The Book of Dead Birds (HarperCollins), which won Barbara Kingsolver's Bellwether Prize for Fiction in Support of a Literature of Social Change, Self Storage (Ballantine) and Delta Girls (Ballantine), and her first novel for young readers, My Life with the Lincolns (Holt).  It's great hearing her own voice here speaking the words she has written.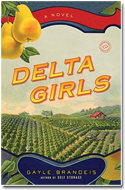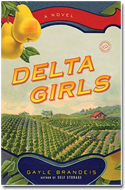 978-0345492623 – Ballantine – Paperback – $15.00 (also available as an e-book at $9.99)
I think I have been lucky lately – I keep finding new novelists I have never heard of before, whose work turns out to be really good.  Literary discovery is very exciting.  Gayle Brandeis is one of those novelists whose work is completely new to me.  Delta Girls is her third novel for adults, and she has one other for young adults.  Her social awareness as a writer has been recognized for a previous novel (that I now want to read) called The Book of Dead Birds – it won Barbara Kingsolver's Bellwether Prize for Fiction in Support of a Literature of Social Change, which I consider high praise indeed.  One of Gayle's great accomplishments in Delta Girls is to include a strong undercurrent of social awareness in a way that enhances the story and does not in any way intrude on one's enjoyment of the novel and its characters.
Delta Girls is a terrific novel (great cover too, and yes, I do think the overall book package does contribute to the experience for the reader).  Its construct is unusual – each chapter is the alternating story of two characters whose relationship is not divulged until nearly the end of the book.  First is Izzy, who with her nine year old daughter Quinn, is constantly on the move as an itinerant fruit picker in California.  As the story opens, they arrive at a pear orchard in the Sacramento River Delta.  As with all her stops, Izzy has no intention of staying very long. But the orchard, its locale, and the family that owns it has a strong attraction for both Izzy and Quinn, and they both allow themselves to become involved and attached to the orchard and its people.   We know that Izzy has a secret in her past, and that she has worked hard to stay away from the public eye, but events occur that put her in the middle of developments in the Delta and she will have to risk everything to save the ones she loves.
In the alternating narrative of the book, we meet Karen, a rising young star in figure skating with a pushy mother and a powerful and attractive new skating partner.  Nathan is sexy, dangerous, and deeply attractive to Karen.  As she reaches her 18th birthday, events come to a head in an unexpected and very public way.
Each main character is faced with a sudden thrust into the spotlight, and of course their narratives become more connected — but you will need to read the book to find out the surprising way their lives will intersect.
This is a very satisfying novel to read, with great characters, and of course the pear orchard and the Delta of the Sacramento River is a terrific backdrop for the book.  The author's deep love for her characters as well as her understanding of the power of place, and its influence on people's lives show constantly throughout the novel.
Gayle is a thoughtful and accomplished writer whose work I am really pleased to have discovered.  It is writing I want to explore more deeply.  Talking to her about this book was a pleasure I am happy to share here.  You can visit Gayle's website here to learn more about her work.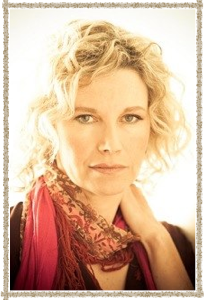 978-0312611576 – St. Martin's Press – Hardcover – $24.99 (also available as an e-book)
Writerscast is proud to present the third in a series of authors reading from their work, called AuthorsVoices.   I hope you will agree that hearing these works read aloud by the original authors adds to your experience of the writing.
I love getting a sense of the author's distinct sense of her or his own words. With writers touring in support of their books less frequently now, these podcasts should provide readers with an opportunity to hear some of our best contemporary authors reading from, and sometimes performing their own works.
Tatjana Soli's The Lotus Eaters is one of my favorite out of a pretty long list of some really great books I have read recently.  Her book tells the story of Helen, a photographer who goes to Vietnam early in the war to try to understand how her brother died.  She ends up staying for many reasons.  There are a couple of different love stories entwined around her, and Soli captures brilliantly the intensity of Southeast Asia at war, the various cultures involved, and some incredibly powerful and vivid characters.  Tom O'Brien, who wrote another great Vietnam novel, The Things They Carried, praised Tatjana's "spare, lucid prose" that "helps us to see and hear and feel the terrible human costs of that conflagration."  He's right about the book.  But there is also incredible beauty, and much love in this book.
Soli reads from the opening chapter of The Lotus Eaters in this terrific reading.  It's captivating.