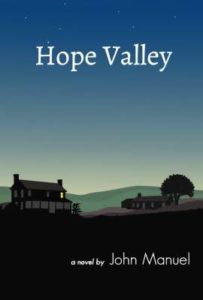 Hope Valley: A Novel – John Manuel – self published – paperback – 9780998111209 – 284 pages – $14.95 (ebook version available at lower price)
In the early 1970s I lived in the more or less rural county outside Durham, North Carolina. It was a far different cultural milieu than I had ever experienced previously, surrounded mostly by farmland and people who had grown up as native North Carolinians. To someone like me, raised in the urban and suburban northeast, North Carolina was, at that time, still very much the traditional Old South, resisting so much of the cultural change that was sweeping America then.
But it was not long after this that things began to change significantly in the South, as increasing numbers of transplants came to places like Durham, Charlotte and many other towns and cities in North Carolina.
John Manuel, who was a classmate of mine in college, got to North Carolina himself in the early 1970s and has stayed there as a writer and cultural observer with considerable skills in both. John is the author of two fine books, The Natural Traveler Along North Carolina's Coast (John Blair, 2003) and The Canoeist (Jefferson Press, 2006). His environmental journalism has been published in Audubon and many other magazines and his short stories have appeared in the Savannah Anthology and the New Southerner.
John's novel, Hope Valley, is set in the same general area in which I lived when I was there, and both the geographical setting of the book and its characters will feel both familiar and comfortable to anyone who spent time there or in other parts of the South during the late 20th century, a period of immense change and disruption.
The story centers on Hurley and Opal Cates, who in their retirement live on a small farm on the edge of the growing orbit of Durham. Hurley is committed to caring for his property, particularly its large lawn, and also the house he built for his son, Buddy. But Buddy sells his house to a young female couple, creating a bit of a crisis for the Cates family. Despite many challenges, the two families learn how to co-exist, despite their vast cultural differences.
Much of the novel involves the ways that Hurley and Opal and their new neighbors learn to live together. But things are not so easily resolved, and this sometimes sad and also uplifting story becomes a parable about the difficulties that face modern America today. The book carries a warm and loving message about acceptance and change, and the meaning of respect, mutuality and yes, the valley of hope we all desire for our families and communities.
Hope Valley is a well conceived and beautifully written book that I hope will reach a wide audience, not just in the south. My conversation with author John Manuel reflects my deep appreciation for his book, and John's quiet, sincere belief in humanity and our future. Learn more about John and his work at his website. You can find the book at most online retailers and also at independent booksellers in North Carolina, for example, the wonderful Regulator Bookshop in Durham.