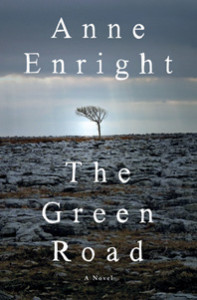 978-0-393-24821-0 – Hardcover – W.W. Norton – 2015 – 314 pages – $26.95 (ebook versions available at lower prices)
Anne Enright is an Irish fiction writer who has been widely praised for the lyrical quality of her prose and for eccentric characters and heartfelt renderings of modern family life, received the 2007 Man Booker Prize, the British Commonwealth's most prestigious literary award, for her novel, The Gathering (2007). In that year's competition, her book was considered a longshot for the prize, but nonetheless was was selected unanimously by the panel of judges. The Gathering was also named "Irish Novel of the Year" at the 2008 Irish Book Awards.
Subsequently, Enright wrote and published more novels, including The Forgotten Waltz (2012) which won the Andrew Carnegie Medal for Excellence in Fiction, about which Francine Prose said in her NY Times review, "a nervy enterprise, an audacious bait-and-switch. Cloaked in a novel about a love affair is a ferocious indictment of the self-involved material girls our era has produced."
Enright went to college at Trinity College, Dublin, and took an MFA in writing at University of East Anglia in England, but soon after ended up working in television production in Ireland, which she did successfully for several years. She then turned to writing, first short stories, and then novels, at which she clearly excels. Since the Man Booker prize raised her profile exponentially, she has won numerous awards and traveled widely in support of her novels.
Enright's newest book, The Green Road, is about a very modern Irish family, splintered and scattered, but always focused on the mother, the unhappy and complicated Doraleen. The family lives in County Clare, the farthest eastern shore of Ireland, as Enright says, the last stop before America, a place of immense beauty and also loneliness and struggle for those who continue to live there. And there is a real green road there, the old path along the water.
For the first half of the book, Enright alternates voices and scenes, from County Clare to New York to Africa to Dublin as she introduces us to the children in the Madigan family. And then the scene shifts back to the home turf of the family, as the children return for their mother's birthday, together for the first time in many years. And this is where the heart of the novel lives.
It's a beautiful book, one that has stayed with me after I read it, and even after I had the opportunity to talk about the book, the characters and the writing process with author Enright. She is an incredibly accomplished writer, able to convey immense depth about characters, a places, or events, with an economy of language and a piercing eye. We had a lively and interesting conversation while she was in New York on her book tour. And I am really pleased that she was willing to read two sections of the book, as hearing the author's voice in this particular instance is terrifically important as her tone and intonation helps us feel the book more deeply.
I also had the pleasure to welcome her to the United States as she is now the first official Irish Fiction Laureate. This recording is of a wonderful conversation with one of our best living novelists, about a novel I am happy to recommend to all readers. And here is a terrific piece she wrote about the writing of the book for The Guardian (which we did talk about in our conversation). While I could not find a website for Ms. Enright but here is a pretty nicely done fansite for her work. And for those of you who have become fans of Enright's work, this interview in the Paris Review about The Forgotten Waltz will be of interest as well.  Publisher WW Norton has a page for the author here.
Photo of Anne Enright credit Domnick Walsh