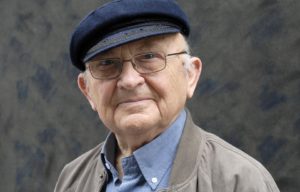 The New York Times reported that the wonderful Israeli novelist Aharon Appelfeld passed away on January 4. I had the great pleasure to interview Appelfeld about the novel Blooms of Darkness for Writerscast in 2010. You can listen to that conversation here.
Appelfeld was the author of many books in Hebrew and at least 16 of his novels were translated into English from 1981 to 2011, the Times noted. Appelfeld's works include Badenheim 1939 (an extraordinary and beautiful work), The Age of Wonders, To the Land of the Cattails, The Immortal Bartfuss, For Every Sin, and The Skin and the Gown. Schocken will publish The Man Who Never Stopped Sleeping January 31, and To the Edge of Sorrow in January 2019.
Appelfeld was described by Philip Roth as a "displaced writer of displaced fiction who has made of displacement and disorientation a subject uniquely his own." Critic Eva Hoffman wrote, "In his call to break the concealed silence, he has courageously begun to illuminate regions of the soul usually darkened by secrecy and sorrow."
He was a warm and generous man whose life and work touched readers around the world. Tablet magazine published the last interview with him recently.