Phillip Lopate: A Mother's Tale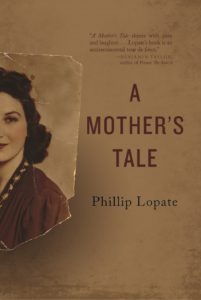 A Mother's Tale – Phillip Lopate – Mad River Books (Ohio State University Press) – Hardcover – 9780814213315 – 196 pages – $24.95 – ebook versions available at slightly lower prices – January 12, 2017
It might be said that a good memoir is a hard thing to find. It takes a special touch from a writer. The best memoirs have humor and self awareness – one must be selective in choosing what is important to share and what must be omitted, valuable to one's self but not so much for the reader.
Philip Lopate is a skilled and experienced writer who inherently understands the necessities of writing about self and family. His mother was a complicated person, his family life unusual and full of strange twists and turns that made him and his brother who they are as adults.
In 1984, Lopate convinced his mother, Frances, to allow him to interview her and record the story of her life. Frances was a powerful and strong willed figure. She was orphaned in childhood, married young, and had to make a life for herself without a support system, as a mother. She worked in a number of fields and late in life became an actress and singer. She appeared in television commercials and performed in plays in New York.
She told Philip all her many criticisms of her husband (his father), recounted the details of her affairs and sexual encounters, told him about her experiences with therapy and continuously complained about how the world had mistreated and misunderstood her. Locate set the tapes aside and never listened to them until thirty years later, when his mother had passed away. At that point Lopate was drawn back to the recordings, perhaps wanting to better understand his mother and himself through her confessions.
A Mother's Tale is essentially then a three-way conversation between Lopate today, his mother, and the younger self he hears talking to her on the tapes.
Lopate seeks to better understand and appreciate his mother and the husband she ostensibly despised, but could never leave. He cannot share her self-pity or the harping on blame assessed to everyone but herself. But through it all, he comes to see her anew, now as a grown man, recognizing more clearly the survivor, her powerful appetite for love and for life, and the ways he finally found to express his love for her.
It's a brave thing to expose oneself and one's family in such a personal piece of writing. Lopate has succeeded with this short memoir, giving us much to savor, appreciate, and ponder about ourselves and our own family histories. This is a terrific book.
"With his signature insight an candor, Lopate reveals his mother for the complicated and troubled character she was, and himself–her darling, her confessor, her victim, her judge–as the child behind the writer he was to become. I could not put it down." — Lynn Freed
Philip Lopate is the author of a number of well respected memoirs and personal essays, as well as two novellas, and is also the editor of several important anthologies. He has won a variety of awards for his writing, as well as for his work as a teacher. He is currently a professor at Columbia University's School of the Arts, where he teaches nonfiction writing.
Philip Lopate is a wonderful conversationalist and an easy person to interview. It was a tremendous pleasure for me to speak with him about this book and his intriguing mother.
Author website here. Author photo by Sally Gall.