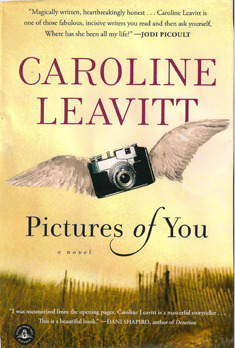 978-1565126312 – Algonquin Books – $13.95 – paperback original (ebook versions also available)
I've become a big fan of Caroline Leavitt's work – I read Girls in Trouble last year and interviewed this very entertaining and engaging author about that book for WritersCast in 2010 (listen to that interview here).
Pictures of You starts with a car crash, and some of the unanswered questions about how and why it happened, inexorably and permanently linking the lives of two families.  These complicated relationships are at the core of the novel.  There are many threads to unravel in this story, and it was for me a completely compelling book to read.  The two women involved in the crash, Isabelle and April, were both fleeing their lives at the time; the crash stops time for both of them, one literally, the other figuratively and psychologically.
Isabelle is the woman who survives the crash; her connection to the other woman, April, who does not, and April's family (who lived only six blocks away from her when the crash occured), is what drives the novel forward.  There's a great deal of pain and suffering in this novel, but it is never overwhelming, we are drawn to these characters and recognize the choices they make, and sympathize with their difficulties throughout, the imperfections of human beings we fully recognize in our own lives.
This is a complex story about the nature of family, how we depend on others and how they let us down in small and large ways, and how people are able to recreate their lives, sometimes painfully, when those lives have been broken.  Carolyn See wrote a wonderful review of the novel for the Washington Post that ends with this wonderful description: "This is a novel that invites us to look at our own imperfections, not the dramatic crimes, but the niggling little sins of omission that so often render our lives tragically undernourished and small."
If you have not discovered the work of Caroline Leavitt (she's a busy writer, the author of ten novels, writes criticism for the Boston Globe and People, teaches novel writing for UCLA online, and judges fiction awards too), Pictures of You would be a great book to start with.  It's complex and rewarding, and deeply humane.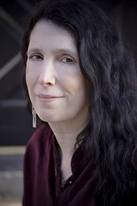 Caroline blogs at CarolineLeavittville.com and has a fun website as well (Welcome to Leavitt Town…)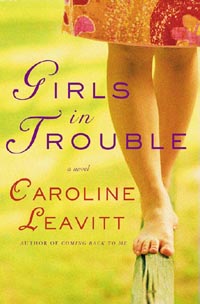 978-0312339739 – paperback – St. Martin's Griffin – $14.95
Sometimes you get lucky.  There are books you find by accident, maybe you choose them just to browse, not meaning to become engaged, they're discoveries, books you would not "normally" have picked up to read, they surprise you, you're hooked, and then you can't stop reading.  For me, reading Caroline Leavitt's Girls in Trouble was just that sort of a book.  In this case I read it because she wrote me an email and asked if she could send me a copy of the book, which was easy enough for me to agree to.  When it came, I picked it up, the story line described on the cover has some personal resonance, so I took a chance and started reading.  And then found I could not put it down.  Reading Girls in Trouble was a constant surprise and revelation.  It took me places I did not expect to go, it gave me characters I wanted to know and know better, and I believed in their experiences.  And it's a big plus that Caroline can really write.
I don't want to give any of the story away, but suffice to say, what happens to the people in this book is not what you expect, and reading it will help you understand something important about families, relationships, and parenting.  Not the easy, feel-good poster stuff from the movies either.  I recommend this book to almost any kind of reader, male or female, old or young, literature readers and even those who just like to be entertained.  It's that good.
Given how much I liked this book, interviewing Caroline Leavitt was quite a pleasure.  She has a lot to say about writing, and the way she interacts and lives with her characters, and how this and her other books came into being.  Girls in Trouble is a rich vein to mine for an interview too, as it works on so many different levels and across so many lives and years, and of course because it is centered around an open adoption gone terribly wrong, it generates a certain amount of controversy and that gives the author another great subject to talk about.  I am very much looking forward to reading her next novel, Pictures of You (which we also talked about in this interview).