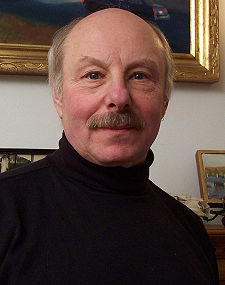 Genetically and biologically, we humans must still be heavily pre-literate, so the oral transmission of ideas, art and culture is powerful for us; we listen and concentrate on the words differently than we are used to doing when we consume written texts.  I have always enjoyed hearing writers read their work.  The author's voice carries intonation and meaning that adds to the impact of the work and makes me feel closer to the writing.
So it's a great pleasure to feature one of my favorite writers, James Howard Kunstler, in the AuthorsVoices series here at Writerscast.  Kunstler is the author of a long list of really interesting books.  He started out as a novelist, publishing novels on a variety of topics and settings through the nineties, when he switched to publishing nonfiction books about social and geographical issues, focusing on the suburbanization of America for the most part.  The in 2005, Grove Atlantic published his The Long Emergency, a brilliant and troubling book about climate change and the "converging catastrophes of the 21st Century."
In February, 2011, I interviewed Jim about the post-apocalyptic World Made by Hand series of novels that are his imaginings of what life will be like in the world after the collapse he predicted in The Long Emergency.  At that time, he had written and published two books in the series, World Made by Hand and The Witch of Hebron.  That interview can be found here. The third book in the series is still in progress, and it is from that novel that Jim is reading in this recording.
Kunstler's excellent and active website is here.  He blogs weekly and always has something interesting to say.  You can read about his newest book, Too Much Magic, here; this book tells us how and why the long emergency is already upon us.  The world in the novels he imagines may get here sooner than we think.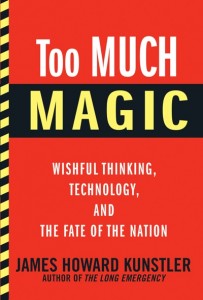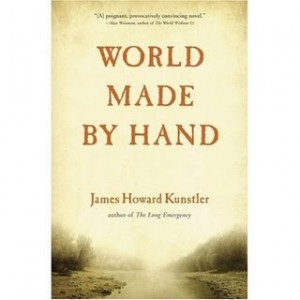 World Made by Hand – 978-0802144010 – paperback – Grove Press – $14.95 (e-book edition available)
The Witch of Hebron: a World Made by Hand novel –  978-0802119612 – hardcover – Atlantic Monthly Press – $24.00 (e-book edition available)
This is an unusual podcast for me as it covers two books, World Made by Hand and the next in what looks to be at least a trilogy for author Kunstler, The Witch of Hebron.  I had heard of, but never read any of Jim Kunstler's books before these two, which I read much the way I read science fiction and fantasy novels when I was young, voraciously, entering and imaginatively inhabiting the world the author has created, joyfully, and always wanting more.
These two books are set in a fictional town in a real region of upstate New York, near the Hudson River, several hours north of Albany, in a period that Kunstler has dubbed The Long Emergency. That is the title of his most recent and best-selling work of nonfiction, a book I subsequently read and now believe is one of the most important books of our time.
In The Long Emergency, Kunstler describes why our current civilization is inevitably going to collapse.  This is by no means a joyful prediction, but as his novels illustrate, the world ahead as we might imagine it, is not completely grim or devoid of joy and earthly human pleasure either.  It is a post-fossil fuel world, and therefore much, much larger – humans do not travel thousands of miles in a day any longer.  Governments have, for the most part, collapsed along with the great powerful corporations that have come to dominate our landscape.  There is effectively no interstate commerce.  Agriculture based on human and animal power is the dominant feature of daily life for most people.
There is a rise in human suffering, but a massive decline in human population, and during the period in which these novels are set, relatively soon after the collapse of modern civilization, there is a great deal of rediscovery of the tools and methods on which human life was built over the many centuries preceding the 21st.  There are still many who remember how things were, and their beings are marked by what they knew, and lost, and now, as they are relearning how to live, by rediscovery of a different set of values.  The younger generations know nothing directly of the world we now take for granted.  Their lives have always been slower than ours, more physically challenging, and much more about adaptation to one's direct physical environment.   In addition to the daily necessities, it is personal relationships, family, community and local culture that this world revolves around.  It is a world made by hand, and sometimes much rougher and more painful for being so, but there is a palpable sense of redemption and concern for what is good and right that underlies the world that Kunstler has imagined, that gives meaning to the struggles his characters must face throughout these two books.
Kunstler is a terrific writer and storyteller. These are fully imagined characters living in a plausible future.  I can't wait to read the next book in the series, and since it won't be published for some time, I have been reading Kunstler's older novels (most of which are sadly, out of print).  When we talked, I had not read The Long Emergency, so our conversation is focused solely on the two novels which followed it.  I'd recommend to anyone who has not read these books to start with the fiction as I did, and then go back to the nonfiction.  It's important for us to have an understanding of where we are headed, and I think it helps us to face the difficulties ahead if we can imagine ourselves into a better place, just as Jim Kunstler has done with A World Made by Hand and The Witch of Hebron.
Do visit Jim's website, which continuously presents valuable information about where we are and what we can do about it.  Make sure you take a side trip to the mini-site for these novels, which is a beautifully put together experience in and of itself.  A great author biography here. We had a fantastic wide-ranging conversation about the novels, the world they are set in, and how these characters and their stories illustrate the future Kunstler has so beautifully imagined and portrayed.