Elizabeth Hand: Fire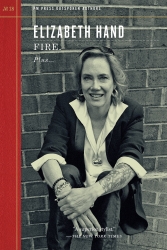 Fire (Outspoken Authors Series) – Elizabeth Hand – PM Press – paperback – 978-1-629632-34-6 – 128 pages – paperback – $12.98 (ebook version available at $9.99)
Over the years, I had heard of Elizabeth Hand, and knew she was a writer to be reckoned with, but I had never read her science fiction and mystery novels or stories. She was just not on my radar. Now, having read this fantastic short collection of some of her fiction and nonfiction, I have belatedly begun to understand the scope of her work and enjoyed the opportunity to experience her powerful writing.
Fire is a short book that packs a big punch. Maybe it is the ideal introduction to Hand's work, and maybe that was PM Press' intention in publishing it. The title story was written especially for this book. It is a powerful post-apocalyptic short story set in a world – our own – approaching global conflagration.
In a useful essay, "The Woman Men Couldn't See," Hand examines the work and life of Alice Sheldon, who wrote some stunning science fiction novels under the pseudonym "James Tiptree, Jr." in order to conceal identity from both readers and her bosses at the CIA. In another nonfiction contribution called "Beyond Belief," Hand talks about how she went from being a troubled teenager to a serious writer. Other pieces include some of her short fiction, a bibliography of her writing, and PM's own interview with the author (which I tried to not replicate in my own conversation with Elizabeth).
After seeing Patti Smith perform, Hand became involved in the nascent punk scenes in DC and New York. She worked at the Smithsonian's National Air and Space Museum in Washington, D.C. Hand is the author of a number of novels and three collections of stories and her work has been recognized by the Nebula, World Fantasy, Mythopoeic, Tiptree, and International Horror Guild Awards. Her novels have been chosen as notable books by both the New York Times and the Washington Post. Hand is a regular contributor to the Washington Post Book World and the Magazine of Fantasy and Science Fiction, and lives with her family on the coast of Maine.
Talking to Elizabeth Hand was great fun for me. She is as good a conversationalist as she is a writer, and has alot to say that I think listeners will find interesting.  I hope this interview with Elizabeth Hand will be a useful and meaningful contribution to our literary landscape. Now that I have become familiar with her work I intend to add Elizabeth Hand's fiction to my ever expanding list of "must-read" books. Thanks to PM Press for introducing me to this wonderful writer's work.