David Wilk interviews Infinite Ideas publisher Richard Burton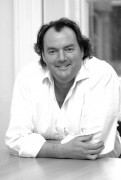 Publishing Talks began as a series of conversations with industry professionals about the future of publishing, books, and culture. As we continue to experience disruption and change in all media businesses, I've been talking with some of the people involved in our industry about how the book business might evolve as our culture is continues to be affected by technology and macro-economic factors.
Over the years I've expanded this series to include conversations that go beyond the future of books and publishing. I've talked with editors, publishers, booksellers and others who have been innovators and leaders in independent publishing, and will continue to explore the ebb and flow of writing, books, and publishing in all sorts of forms and formats, as change continues to be the one constant we can count on.
I continue to be interested in the ways that publishers might reinvent themselves  in order to be able to succeed in a challenging sales and marketing environment. Most publishers acknowledge that the business model that worked for so many years, which relied on bookstores and other retailers to stock a wide range of books, simply does not work now that we are in the age of Amazon.
In fact, there are distinct, though perhaps short term, advantages to a consolidated market – lower cost of sales, better inventory management, and lower returns rates, principally. But having ceded direct knowledge of actual customers to intermediaries, foregoing the meaning of their brands for consumers, and working diligently to protect existing pricing models, all pose difficulties to the future business proposition for commercial publishers.
Some publishers have decided to change their models to address these concerns. One who has found a way to adapt to a changing book selling environment is Infinite Ideas, an innovative publisher based in Oxford, UK. Founded and operated by Richard Burton to publish business content, Infinite Ideas has literally reinvented itself over the past few years, and now focuses on books about wine and spirits, with a digital printing underpinning, and a strong direct to consumer and special markets focus.
Publishers and publishing observers will find my conversation with Richard to be of interest, and the thinking that led to this model may demonstrate some valuable lessons for anyone connected to books and publishing today.
Aside from having had success in publishing over an interesting and varied career, Richard has a background in literature. He holds a PhD on the early poetry of W.B. Yeats, and recently authored a significant biography of the important Northumbrian poet, Basil Bunting, A Strong Song Tows Us, which was published by Infinite Ideas in the UK and by Prospecta Press in the US.