Christopher Benfey: Red Brick, Black Mountain, White Clay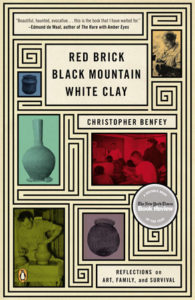 Red Brick, Black Mountain, White Clay: Reflections on Art, Family, and Survival – Christopher Benfey – Penguin – paperback – 9780143122852 – 304 pages – $16.00 – ebook versions available at lower prices – February 26, 2013
I found this lovely and compelling book by complete happenstance while visiting North Carolina earlier this year. The redoubtable Regulator Bookshop in Durham had a copy out on its "local interest" shelf, and the cover grabbed my attention immediately.
Not knowing anything about author Benfey, I was surprised and pleased to learn about his background through this complex and rewarding memoir. It's a book that combines so many different areas of his interest – and mine – built around a complex interweaving of his family's story and his desire to learn about and understand the people in his life story.
Benfey was raised in Richmond, Indiana, where his father was a chemistry professor at Earlham College. His father's side of the family were German Jews who escaped Hitler, including aunt and uncle Josef and Anni Albers, who were both central figures at Black Mountain College, in North Carolina (and central also to modern arts and crafts in 20th century America). North Carolina is a nexus, as Benfey's mother grew up in the longstanding folk pottery region of the state as well.
So Benfey's story starts as a family history, but moves assuredly through art, geography, cultural history and his own personal journey of discovery as a writer and thinker; as the title itself suggests, "names the three paths, each mapping the experience of relatives or ancestors of mine trying — by art, by travel, or by sheer survival — to find a foothold in the American South."
There are many well-told stories here, and North Carolina is at the core of it all. Even if you have never explored the cultural and geographical riches of that state, this book will capture your imagination and bring you there. Benfey builds his story much as a brick layer does, carefully assembling the pattern from materials at hand to create a fully formed story all the while.
This is a book I am happy to recommend to almost any reader.
Chris Benfey is a professor at My. Holyoke College, where he is Andrew W. Mellon Professor of English. He was educated at the Putney School, Earlham College, Guilford College, and Harvard (Ph.D. in Comparative Literature). Benfey is also a journalist, having served as the art critic for Slate, and also is a contributor to The New York Review of Books, The New York Times Book Review, and The New Republic, among many others. Chris is a renowned Emily Dickinson scholar, and author of four highly regarded books about the American Gilded Age. His edition of essays on the Iliad by Simone Weil and Rachel Bespaloff appeared as War and the Iliad in 2005.
Benfey's poems have appeared in The New Yorker, the Paris Review, and Ploughshares.
This book is among my favorites and I hope you enjoy the conversation I had with the interesting and well-spoken Christopher Benfey as much as I did.