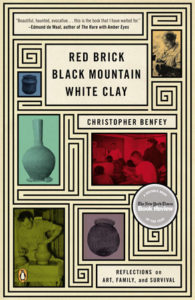 Red Brick, Black Mountain, White Clay: Reflections on Art, Family, and Survival – Christopher Benfey – Penguin – paperback – 9780143122852 – 304 pages – $16.00 – ebook versions available at lower prices – February 26, 2013
I found this lovely and compelling book by complete happenstance while visiting North Carolina earlier this year. The redoubtable Regulator Bookshop in Durham had a copy out on its "local interest" shelf, and the cover grabbed my attention immediately.
Not knowing anything about author Benfey, I was surprised and pleased to learn about his background through this complex and rewarding memoir. It's a book that combines so many different areas of his interest – and mine – built around a complex interweaving of his family's story and his desire to learn about and understand the people in his life story.
Benfey was raised in Richmond, Indiana, where his father was a chemistry professor at Earlham College. His father's side of the family were German Jews who escaped Hitler, including aunt and uncle Josef and Anni Albers, who were both central figures at Black Mountain College, in North Carolina (and central also to modern arts and crafts in 20th century America). North Carolina is a nexus, as Benfey's mother grew up in the longstanding folk pottery region of the state as well.
So Benfey's story starts as a family history, but moves assuredly through art, geography, cultural history and his own personal journey of discovery as a writer and thinker; as the title itself suggests, "names the three paths, each mapping the experience of relatives or ancestors of mine trying — by art, by travel, or by sheer survival — to find a foothold in the American South."
There are many well-told stories here, and North Carolina is at the core of it all. Even if you have never explored the cultural and geographical riches of that state, this book will capture your imagination and bring you there. Benfey builds his story much as a brick layer does, carefully assembling the pattern from materials at hand to create a fully formed story all the while.
This is a book I am happy to recommend to almost any reader.
Chris Benfey is a professor at My. Holyoke College, where he is Andrew W. Mellon Professor of English. He was educated at the Putney School, Earlham College, Guilford College, and Harvard (Ph.D. in Comparative Literature). Benfey is also a journalist, having served as the art critic for Slate, and also is a contributor to The New York Review of Books, The New York Times Book Review, and The New Republic, among many others. Chris is a renowned Emily Dickinson scholar, and author of four highly regarded books about the American Gilded Age. His edition of essays on the Iliad by Simone Weil and Rachel Bespaloff appeared as War and the Iliad in 2005.
Benfey's poems have appeared in The New Yorker, the Paris Review, and Ploughshares.
This book is among my favorites and I hope you enjoy the conversation I had with the interesting and well-spoken Christopher Benfey as much as I did.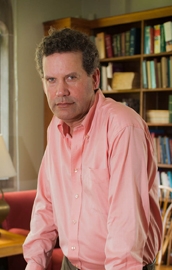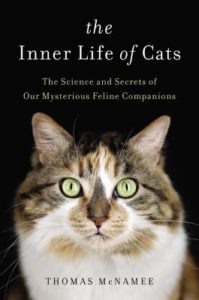 The Inner Life of Cats: The Science and Secrets of Our Mysterious Feline Companions – Thomas McNamee – Hachette Books – Hardcover – 9780316262873 – 288 pages – $27.00 – ebook versions available at lower prices – March 28, 2017
What a fun read! Thomas McNamee's story begins with the story of finding his own cat, Augusta, and that story becomes the framework for a comprehensive understanding of how cats develop both physiologically and psychologically, and of course how their owners do as well.
McNamee recounts the evolution of cats and much more as he tells the story of his own cat's adventures. He talks to all kinds of experts, animals behaviorists, activists and researchers to help his readers understand these strange and different animals who have lived with and among humans for so long. His book is well grounded in every way.
The author has strong opinions about these animals. He is clearly someone who loves cats and wants to improve the way other cat lovers live with and treat their pets. He aims for them to have happier and better relationships with them, and I suspect that reading this book will in fact help make that happen for them.
While I am decidedly not a cat person, Tom McNamee is such a fine writer and storyteller, I found this book impossible to put down. I am guessing true cat loving humans will as well.
McNamee is the author of several successful books, including The Grizzly Bear; Nature First: Keeping Our Wild Places and Wild Creatures Wild; a novel, A Story of Deep Delight; The Return of the Wolf to Yellowstone; Alice Waters and Chez Panisse: The Romantic, Impractical, Often Eccentric, Ultimately Brilliant Making of a Food Revolution; The Man Who Changed the Way We Eat: Craig Claiborne and the American Food Renaissance; and most recently, The Killing of the Wolf Number Ten.
McNamee also  wrote the PBS documentary Alexander Calder, which won a Peabody Award and an Emmy. In 2016, he was awarded a Guggenheim Fellowship to work on The Inner Life of Cats.
​He was a board member and chairman of the Greater Yellowstone Coalition. He has also served as a board member of Rare Conservation and the Center for Urban Education about Sustainable Agriculture. After two decades in New York City, he then lived on a cattle ranch in Montana for eight years. He now lives and writes in San Francisco.
Thomas McNamee's website is here.
"The Inner Life of Cats is filled with shining prose, moments of sheer cat joy–and intimate, careful scientific observation. Thomas McNamee's naturalist's eye, combined with his humor and heart, bring the always wild, yet domesticated cat into delightful, insightful focus."
―Cat Warren, New York Times bestselling author of What the Dog Knows
Talking with Tom about this book was a true pleasure. Full disclosure: I published his excellent book, The Killing of Wolf Number Ten (a great book – it is the story of the return of wolves to Yellowstone National Park).