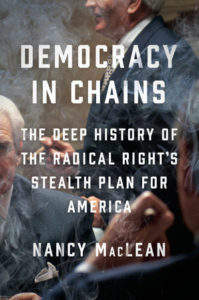 Democracy in Chains: The Deep History of the Radical Right's Stealth Plan for America – Nancy MacLean – Viking – Hardcover – 9781101980965 – $28.00 – 368 pages – June 13, 2017
I will say this clearly and forthrightly: whatever your political opinions or positions, you must read this book. It shines an important light on the history of what has now become the most potent force in modern American politics. This book reveals in detail how the Koch brothers and other shadowy billionaires' political philosophy has been weaponized in an ongoing war against democratic beliefs and institutions.
Professor MacLean came across this historical record more or less by accident, while she was researching the Nobel Prize-winning political economist, James McGill Buchanan, the principal architect of the ideas and institutions  the Koch brothers and their allies have harnessed to radically alter the American political landscape in their distorted image of "economic libertarianism." This philosophy fully recognizes that anti-democratic efforts are necessary to secure the wealth of the few against the "predations" of the democratic majority, and all their work for the last forty years or more has been aimed toward controlling and weakening democratic institutions. They have been remarkably successful in their efforts.
There is so much to learn in this book, yet still so much more for us to uncover, and ultimately then, so much that needs to be done by those who feel the need to defend democratic liberalism and American institutions. It is remarkable to learn that this effort is essentially part of a longstanding effort to reach far back into our history to undo FDR's democratic reforms, as well as those of JFK, LBJ, and the civil rights movement. And that Charles Koch is so ironically a follower of the principles of that old Bolshevik, V.I. Lenin.
We learn here that Koch and his cronies have built a secret cadre of true believers who want to do what their hero Buchanan did in Pinochet's Chile, which was to use the institutions of government to control and contain democracy. They have come a long way toward succeeding in our own country, as most citizens are completely unaware of what they are doing, especially with their takeover of the judiciary. And in Trump's America, they are free to have their way with us.
One way you can tell Nancy MacLean has made an impact with her research is the level and sheer ferocity of mostly personal attacks from the right against her. Those who post in opposition seem to have neither read the book, nor care to think about the author's actual work. One of the tools used by the Koch-financed opponents of democracy is the personal attack and what they call the "increased transaction cost" for anyone who opposes their views. Since they usually cannot win intellectual or even political arguments, they prefer to disparage and attack those who dare stand against them on other grounds than reason.
I urge listeners to read this book, think about what MacLean has uncovered, and then, if you agree with what she says, use what you learn from this book to stand up for freedom and democracy against oligarchy.
"This sixty-year campaign to make libertarianism mainstream and eventually take the government itself is at the heart of Democracy in Chains. . . . [MacLean] takes the time to meticulously trace how we got here. . . . If you're worried about what all this means for America's future, you should be. . . . And if someone you know isn't convinced, you have just the book to hand them."
—NPR
"It's the missing chapter: a key to understanding the politics of the past half century. To read Nancy MacLean's new book, Democracy in Chains: The Deep History of the Radical Right's Stealth Plan for America, is to see what was previously invisible."
—George Monbiot, The Guardian
"[A] riveting, unsettling account of 'Tennessee country boy' James McGill Buchanan, key architect of today's radical right."
—O, The Oprah Magazine
Nancy MacLean is also the author of Behind the Mask of Chivalry (a New York Times "noteworthy" book of the year) and Freedom is Not Enough. She is currently the William Chafe Professor of History and Public Policy at Duke University, and lives in Durham, North Carolina.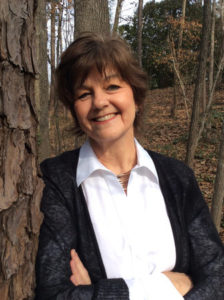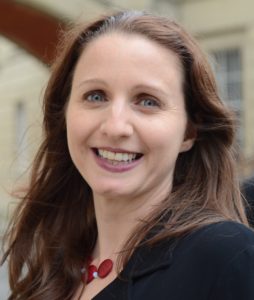 Publishing Talks began as a series of conversations with book industry professionals and others involved in media and technology, mostly talking about the future of publishing, books, and culture. As every media business continues to experience disruption and change, I've been talking with some of the people involved in our industry about how publishing might evolve as it is affected by technology and the larger context of culture and economics.
I've now expanded this interview series to include conversations that go beyond the future of publishing. I've talked with editors and publishers who have been innovators and leaders in independent publishing in the past and into the present, and will continue to explore the ebb and flow of writing, books, and publishing in all sorts of forms and formats, as change continues to be the one constant we can count on.
The rise of self publishing authors is one of the most significant elements of change in the modern publishing landscape. Technology is one element – ebooks and digital short run printing (aka print on demand) give authors access to low cost production and distribution capabilities. The internet as a disseminator of information has helped to democratize publishing skills and knowledge, and generally to drive down the costs of production for books of all kinds. Disruption among traditional publishers has also helped by creating a large pool of experienced freelancers that can provide high level publishing services at reasonable cost.
And crucially, a large group of successful do-it-yourself publishing authors and publishing professionals have become teachers and guides, assisting writers at every level of experience, of every kind of writing,  to themselves learn the ropes of what was once a somewhat esoteric set of skills and knowledge. And because change is such a prominent feature in the modern publishing environment, no author can afford to not be in a continual state of learning. The advisors, consultants and teachers who both know "how to do it" and how to keep learning have become tremendously important resources for a wide range of authors.
One of the best of the brightest of these is UK-based writer Joanna Penn. Her fantastic website, The Creative Penn, has become one of the largest of its kind in the literary world. Joanna is an award-winning, best-selling thriller writer and she writes really good nonfiction books for authors. She is now a publisher too (Curl Up Press), a speaker, and of course, an entrepreneur. She's endlessly energetic, smart, perceptive, and gives consistently great advice. I am a regular reader of her work, and refer to it frequently on the self publishing blog I operate myself.
I could not pass up the opportunity to speak with Joanna about her work as a writer and self publishing guide. It was great fun for me, and I am sure will be for my listeners as well. Even if you never self-publish your work, it is well worth hearing what she has to say. At least for me, the time flew by, and we could easily have talked much longer. Thank you Joanna!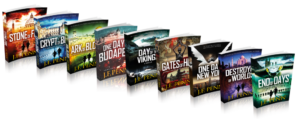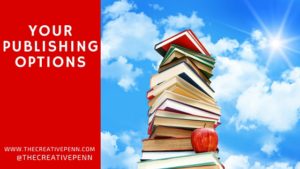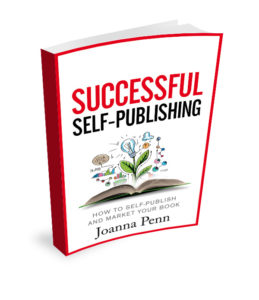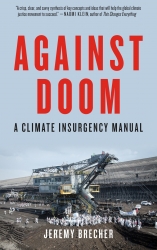 Against Doom: A Climate Insurgency Manual – Jeremy Brecher – PM Press – Paperback – 978-1-62963-385-5 – $12.95 – 128 pages – April 2017 – ebook versions available at lower prices.
For years leading up to the 2016 election, when Americans alarmingly voted (somehow) for a president who maintains the bizarre fiction that climate change is a hoax invented by the Chinese, we have been heavily propagandized and brainwashed by inaccurate and misleading information about climate science supplied by corporate financed sources. Only half of us believe that climate change is caused by human activities, something that scientists overwhelmingly recognize is true, based on actual data.
Still, millions of our fellow citizens do understand the danger to human life and our natural environment by human caused climate change. So many of us are searching for ways to make a real impact on the future through concrete actions. The scale and scope of what we face, and the impediments we face daily to rational thought and action are daunting and sometimes overwhelming.
We need tools – both to understand what is happening in our world, and to help us act positively to make change and to oppose those who seek to diminish and undermine our efforts.
Jeremy Brecher is a long time organizer and thinker about social change. He has been involved in environmental issues for almost thirty years. He puts much of what he has learned into Against Doom, this short but powerful book that I can recommend to any and all of us who want to join the global movement for change. What he calls "climate insurgency" is a strategy for using people power to realize our common interest in protecting the climate. It uses mass, global, nonviolent action to challenge the legitimacy of public and corporate officials who are perpetrating climate destruction. This may be our best hope for saving the planet and human civilization, while at the same time helping change that civilization for the better.
Against Doom: A Climate Insurgency Manual provides guidance in how we can put this strategy into action and succeed. It's an essential read now. Listen to my optimistic conversation with Jeremy and go buy this book!
Jeremy Brecher is the author of more than a dozen books on labor and social movements, including Save the Humans? Common Preservation in Action and the now-classic labor history Strike!, recently published in a revised fortieth anniversary edition by PM Press. He has been writing about climate protection since 1988, most recently in his book Climate Insurgency: A Strategy for Survival (2015). Jeremy is a cofounder of the Labor Network for Sustainability and lives in rural northwest Connecticut. Jeremy was arrested in the early White House sit-ins against the Keystone XL pipeline.
There are many organizations and websites working on climate change insurgency efforts. Visit Jeremy's own site for a good introduction or go here for a list of reputable climate change nonprofit organizations you can work with.