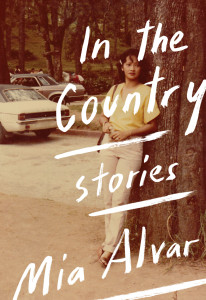 978-0-385-35281-9 – Alfred A. Knopf – Hardcover – $26.95 – 356 pages. Ebook versions available at lower prices.
Mia Alvar is a young writer who was born in Manila. She grew up first in Bahrein and then her parents came to America, so from her pre-teen years onward, she was raised and now lives in New York City. She went to Harvard and got an MFA at Columbia.
These bare facts don't tell you much, but the stories collected in her first book, In the Country, most of which are well written and compelling, dig deeply into the Philippine diaspora experience. There are many different characters, different settings from Manila to Bahrein to America. Narrative voice changes depending on who Alvar wants you best to understand. There are a couple of interconnected stories, but otherwise, each piece stands alone, and as all good short stories, they are worlds unto themselves.
I liked each of the nine stories, and was struck by Alvar's love for her characters and sympathetic to their predicaments and foibles. Each of the stories is fine, but I do have a favorite and will wonder if listeners who take the time to read this book will agree that the strongest story here is The Virgin of Monte Ramon.
It seems that every writer who publishes a collection of short stories, no matter how brilliant and powerful the stories may be, will be expected to be working on a novel. I can't understand why being a great short story writer is not more respected in literary culture. So I feel the need to encourage writers to be comfortable continuing to work in short form if that is what they want to do. Nonetheless, Mia is indeed working on a novel and I expect it will be as good as her stories are. I just hope she will not leave behind the short form in which she excels.
Mia is smart and self possessed, and has alot of good things to say about writing and other things; our talk together was rewarding for me and I hope as well for you.
I think this author is going to be an important writer, so recommend you find this book and buy it.
I have to mention that this is a beautifully produced book, props to Knopf for continuing to make books you want to hold in your hands and read. And I also must mention that the book's cover, which completely captures the ethos of the book, it is terrific work that both captures and equals the writing inside the book.
Author website here.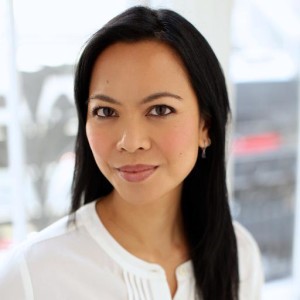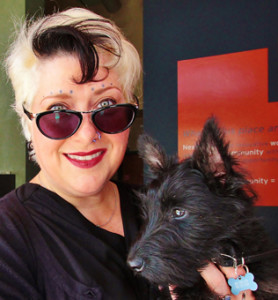 Publishing Talks began as a series of conversations with book industry professionals and others involved in media and technology about the future of publishing, books, and culture. As we continue to experience disruption and change in all media businesses, I've been talking with some of the people involved in our industry about how publishing might evolve as our culture is affected by technology and the larger context of civilization and economics.
I've now expanded the series to include conversations that go beyond the future of publishing. I've talked with editors and publishers who have been innovators and leaders in independent publishing in the past and into the present, and will continue to explore the ebb and flow of writing, books, and publishing in all sorts of forms and formats, as change continues to be the one constant we can count on.
It's my hope that these conversations can help us understand the outlines of what is happening in publishing and writing, and how we might ourselves interact with and influence the future of publishing as it unfolds.
As many listeners here know, I have an ongoing interest in experiments in technology that expand the writing experience for creators and of course then the reading experience as well. Honestly, while we have seen many attempts, thus far, not very many have captured the greater imagination of writers or readers.
The latest undertaking I have run across is Lithomobilus, founded by writer Lise Quintana, whose "online writing software gives authors the power to expand upon their existing works, create new works with built-in expansion opportunities, and craft amazing nonlinear works….Readers can then download the reader software and enjoy the first e-book reading experience that values words without slavishly following the format of a printed book."
I'm ready to see what happens and I thought it would be fun to talk to Lise to find out more.
Creating compelling "interactive" fiction and new forms of storytelling is a hugely challenging undertaking. I found a comprehensive review of Lithomobilus by Emily Short, who knows a lot about new narrative forms, her blog is well worth reading. "There's a core problem of interactive fiction design here: if you design a narrative where the intention is that the reader will read as much as she's curious about and then stop, but you don't communicate that she's allowed to do that, she'll continue exploring the story space past the point where she's started to feel bored and then blame the author for that boredom. This is genuinely not easy to resolve, and it's at the heart of what Lithomobilus appears to be trying to do: to offer stories that aren't consumed completely, but yield more and more content in response to a reader's desire, inexhaustibly, never saying that your experience is complete."
I like Lise Quintana's own piece of writing in the Lithomobilus app, it's called The Strangely-Browne Episode, and even though it's likely meant as a demonstration of the app's capabilities, it is an engaging story. I know there are many who doubt that there is a "need" for new technology to create interactive reading experiences. It seems possible that even if it's "better" storytelling, it may not be a mainstream sort of thing – recumbent bicycles come to mind here. They are demonstrably better riding devices than traditional bikes, but they will never be popular with more than a minority of riders, they take time to learn to ride, they look weird and they cost more. I think similar factors are at play with writing that tries to harness new technologies to tell stories differently. Too hard for most readers to learn, interactivity changes the reading experience from what is expected, and "costs" more time and effort than readers are willing to give. But for those who do want "something more", apps like Lithomobilus do provide an opportunity that may be worth the effort to engage.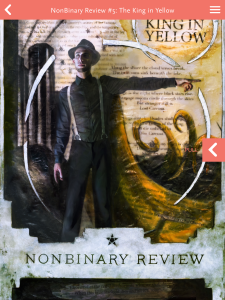 Lise's publishing effort is called Zoetic Press, which publishes using the Lithomobilus app platform. She is Lise the CEO and founder of Narrative Technologies, which uses interactive and hypertext narrative tools to publish new kinds of literature.  Quintana was formerly the editor-in-chief of Lunch Ticket, a literary journal of Antioch University Los Angeles. Previously she worked as a writer and project manager at various hardware and software companies in Silicon Valley. Quintana is on the Board of Trustees for Antioch University Los Angeles and formerly on the Board of Directors for Friends of the Santa Cruz Public Library.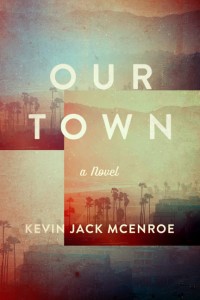 978-1-61902-528-8-1 – Hardcover – $25.00 – Counterpoint – 229 pages
ebook versions available at lower prices
I happened across this young, tattooed writer sitting in a publisher's exhibit space at Book Expo earlier this year, and since it was Counterpoint, a publisher whose work I deeply respect, I shook his hand and took a copy of the book.
It took me a couple weeks before I started reading this novel, and then I was immediately captivated. Our Town is a great story, interestingly constructed, and really well written. The author plays with voice and perspective throughout, there are shifts in narrative viewpoints, and as it is telling a story through time about a number of different characters, all that prismatic dancing really worked for me.
This is McEnroe's first novel, and there are inevitably some rough patches, and maybe even some missing pieces (I would have liked a bit more writing about the main characters' children, for example). The novel traces the life of a minor Hollywood actress, Dorothy White, her husband Dale, and their children, Dylan and Clover. It's a feat of imagination on the part of author McEnroe, to inhabit place, time and people whose lives he could never possibly have experienced in any direct way. I thought he captured that hazy, sometimes glowing world of Hollywood in the fifties and sixties quite brilliantly.
There is an incredible amount of sadness and pathos in this novel, unavoidably, as the lives that are traced here are broken in so many ways. These are people who are trying to be real but who are trapped in the imagery of pop culture, not strong enough themselves to find themselves in the trappings of fame and celebrity, unable to be self aware enough to become whole, or even close to whole. Their tragedies are inevitable by products of impossible aspirations.
McEnroe captures the desire, and the striving and the power of hope throughout. From what I can tell, he has his own demons to wrestle with, but as they motivate him to go deeper into his own understanding, his sure handed talent will serve him well. Our Town is a terrific novel – I resisted the hackneyed impulse to say "first novel" by the way – demonstrating that the author has a terrific set of writing skills and the promise of much more to come. Definitely a book to read and ruminate on.
Kevin Jack McEnroe lives and writes in Brooklyn, New York. He received his MFA from Columbia University.
"From Lou Reed to Joan Didion, the tale of the young and the not-so-young Hollywood starlet has been treated with a gimlet-eyed intelligence. What makes Kevin Jack McEnroe's Our Town so striking is not just his fierce intelligence —although there is certainly that— but his masterful flexibility of tone. Written with both razor-keen irony and surprising, startling depth of sympathy, Our Town is magnificent." —Matthew Specktor, author of American Dream Machine