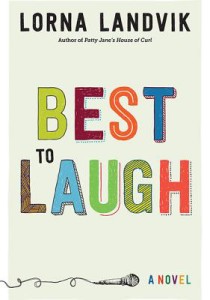 978-0-816698-97-4 – University of Minnesota Press – Paperback- 312 pages  – $16.95 (ebook editions available at lower prices)
I have been reading and enjoying Lorna Landvik's wonderfully funny books for a long time. I can't remember how I discovered her writing but am guessing it might be the fact that she is from Minnesota that got me to try out one of her early books. And then since her books so perfectly capture the Minnesota social landscape and ethos, I kept going and read most of her novels. I come by my Minnesota interest because part of my family is from Minnesota, and I lived in St. Paul for a few years in the seventies, and I maintain a strong interest in the North Country and especially its literary life (oh and their baseball team too — see my recent interview with former Minnesota Twin Jim Kaat).
I suspect Landvik gets typecast by many readers as a "women's" writer – her books are rich with female characters and speak to and for women's social ethos. And in a book business that lives and dies by book categorization, maybe she is typecast also because her books are funny, and have titles that sound like they come from a female centric universe (Angry Housewives Eating Bon Bons, Your Oasis on Flame Lake, Patty Jane's House of Curl). But it's a mistake for any reader to overlook Landvik as there is a lot going on in these books. Landvik is certainly entertaining – her background as a stand up comedian and actor informs her writing and her stories. But comedians and comedic novelists are usually mining something deeper, and Landvik's humor leverages a clear understanding of human nature and both our fallibility and the strength that allows us to live through pain and grief and the difficulties of daily life.
Best to Laugh is Landvik's most recent novel, published last year by the adventurous University of Minnesota Press. It's her most autobiographical novel, for sure. Her main character in this book, Candy Pekkala is half Korean and half Norwegian (unlike Landvik). She goes to Hollywood to follow her dream to be a stand up comedian (as Landvik did). The book follows her adventures in La-La land as she falls in with her neighbors in Peyton Hall, a class LA building that houses a cast of interesting and compelling characters, who all become Candy's family as she becomes the success she has aimed to become. The combination of "old Hollywood" and less romantic 70's era Los Angeles makes for a terrific backdrop. And the characters are picture perfect. Candy, her friends and family are impossible to resist.
In real life, Landvik did work as a stand up comedian in Los Angeles, temping at places like Atlantic Records and the Playboy Mansion (writing film reviews for Hugh Hefner's private VHS tape collection) while pursuing her showbiz dream. Despite her success as a comedian, Landvik eventually turned to writing, which she turned out to be pretty good at doing. She still likes to perform – her 'Party in the Rec Room' is performed once a year at the wonderful Bryant Lake Bowl theater in Minneapolis (yes, theater in a bowling alley!) This is an all-improvised show based on audience suggestion. Landvik describes it this way "While I enjoy a meaty, dramatic role, to me there's nothing more satisfying than making a roomful of people snort beer up their noses as they laugh."
You might find yourself doing the same while reading Best to Laugh.
Author website here. Author page, on Goodreads, worth a visit.