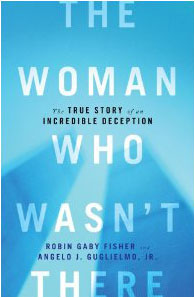 978-1451652086 – Touchstone – Hardcover – $26 (ebook edition available at lower prices)
You really need to know the subtitle of this book to get the full impact – The Woman Who Wasn't There: The True Story of an Incredible Deception. It is an incredible story, about a woman who became one of the leaders of the 9/11 survivors movement, who then turned out to be a complete fraud.  How she managed to convince so many people of a story that was so much a part of our public experience (and so much a part of the terrible private experiences of other survivors and family members) is what makes this book compelling.
Journalist Robin Gaby Fisher wrote this book with Angelo J. Guglielmo, Jr., a documentary film-maker who was very close to the main character of the book and who was part of the story itself.
Tania Head told a dramatic and heart stopping story of survival from an upper floor of the World Trade Center, and quickly rose to a position as leader at an early stage in the development of the World Trade Center Survivors' Network.  She became a prominent public figure helping to establish the group, gave a public face to the survivors' group, and was deeply emotionally involved in the lives of hundreds of people.  Until her story unraveled and the truth became known.
It is a tricky thing for a writer to maintain the reader's interest when the end of her story is already known – Fisher handles this problem successfully by painting an engrossing and detailed picture of Tania Head and all the people around her, and by keeping us waiting for the important details of how her story actually came apart.  And while it is impossible for anyone to truly know and understand Tania, who will not speak publicly about anything at all, Fisher paints a deft portrait of a complex psychological being, who joins a long list of famous public frauds who have taken on personae that did not factually belong to them but whose beings were poured into their fantasies in service of deeply felt emotional needs.
It's also hard not to wonder about the human need for heroes and leaders, which these sorts of confidence men and women prey on.  This could happen to any of us, and perhaps especially when we are ourselves emotionally vulnerable and desperate for someone to show us the better side of the human spirit.  In many ways, this story illuminates more about the nature of human suffering and stress than it could ever help us to understand the perpetrator of the fraud itself.  It's a very rewarding book to read and my discussion with Robin Gaby Fisher about the book will illuminate some of the important issues raised in her book.
Robin Gaby Fisher is a two-time finalist for the Pulitzer Prize in Feature Writing and a member of a Pulitzer Prize-winning team at the Newark Star-Ledger. She teaches Journalism at Rutgers University in Newark, New Jersey.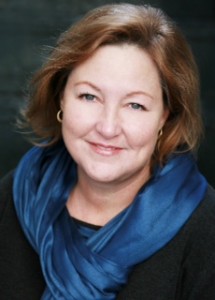 In this series of interviews, called Publishing Talks, I talk to book industry professionals and other smart people about the future of publishing, books, and culture.  This is a period of disruption and change for all media businesses.  How will publishing evolve as our culture is affected by technology, climate change, population density, and the ebb and flow of civilization and  economics?
I hope these Publishing Talks conversations will help us better understand the outlines of what is happening in publishing, books and reading culture, and how we can ourselves both understand and influence the future of books and reading.
There has been alot of talk around the publishing business this year about "book discovery" as it is clear that the decline of bricks and mortar bookstores has lessened the opportunity for readers to discover books they want to read through the kinds of browsing and personal recommending that have been the hallmarks of physical bookselling up to now.  Online bookselling and even social media have thus far been less than perfect mechanisms for either writers or readers, with lots of frustration expressed especially by publishers and writers about the whole process.  We're not sure we know what readers think about all this, but there is doubtless much to be inferred.
The relatively steep decline in overall sales of print books, and the increase in the concentration of sales to best sellers (witness 50 Shades of Gray, among others) suggest that readers are not finding it easy or practical to take advantage of the online availability of just about every book in print.  There are too many books and not enough connection tools for most of them.
Meanwhile, there are intelligent people out there seeking to solve these twin "problems" of too many choices for readers, and ineffective online marketing tools for authors and publishers.  One new project that is the result of some deep thinking about both issues is Bublish, which seeks to create opportunities for social discovery of books by readers.  One of the founders is Kathy Meis, whom I met briefly at this year's IDPF summit at Book Expo in New York City.
Here is what Kathy said about Bublish in an online interview she did recently with Madison Woods:
With Bublish, authors share book bubbles, and readers get to browse through them. A book bubble consists of an excerpt and an author's insight about that excerpt. We call this the story behind the story. Both of these elements are presented in a beautifully designed book bubble that also includes the author's photo and bio, the book's cover and synopsis as well as links to the author's website. It's about as close to the bookstore discovery experience as you can get online. And because we match writers and readers by genre and keywords, we can connect the right authors and books with the right readers without ruining the serendipity of browsing. In an age of immense content abundance, you need a few filters when you're looking for good books.
Bublish is designed to solve a number of problems for writers and readers. For authors, Bublish will let them repurpose their best writing, the content of their books, and enrich it with the story behind the story. This creates an entirely fresh piece of content for authors to share across multiple social networks. Authors have a lot of demands on their time. We think it's important to make it as easy and effective as possible for them to facilitate discovery of their work without feeling like salespeople. With Bublish, the social conversation starts with the voice of the author, just like it does in the bookstore. And since authors can create and share book bubbles in seconds, Bublish significantly lightens the author's promotional content load.
For readers, Bublish recreates online all the pleasure of the bookstore discovery experience. No ads, no algorithms, no distractions…just browsing. Of course, once a reader finds a book or author they love, they'll want to share it. Word-of-mouth continues to be the most popular way for readers to find new books. That's why book bubbles are highly shareable across multiple social networks. Finally, Bublish will create a wonderful community for writers and readers to engage around stories. Imagine getting an invitation to chat with one of your favorite authors or being able to follow the book bubbles of an author you've never even heard of before.
In my interview with Kathy we talked about Bublish and also about many of the perplexing issues surrounding writing and reading, as we enter a new stage in the ways that writers, publishers and readers will relate to each other, indeed a very exciting and challenging time for us all.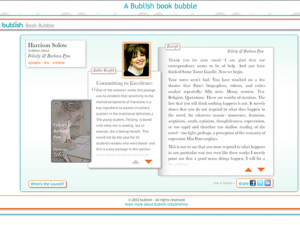 Kathy Meis has been a professional writer for more than twenty years. She founded Serendipite Studios to empower those who create and enhance quality content. You can follow her on Twitter @katmeis or @BublishMe.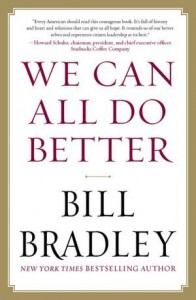 978-1593157296 – Vanguard Press – Hardcover – $24.99 (ebook versions available at lower prices)
Bill Bradley is one of my favorite contemporary politicians.  I felt badly for all of us when he left the national political scene and then went to work in investment banking.  Much like another politician I admire, Mario Cuomo, he is smart, well versed in a wide range of subjects, able to communicate complicated ideas without dumbing them down, and above all, he is passionately a humanist, who clearly likes people, and loves what America could and should be, as a leader on the world stage.
While I certainly do not agree with all of his ideas, what he has to say is well worth paying attention to, especially since he is so intelligent, and his arguments are so well reasoned, grounded in ideas and carefully constructed (how novel!)  Moreover, he represents what the current political discourse so desperately needs, namely leadership that does not trivialize, demonize or mock those with whom one disagrees.
Bradley believes deeply in the power of citizens to make change, and dispensing with so much of what goes for political discourse these days, in We Can All Do Better Bradley makes a strong case for why America cannot continue on its current deeply divided, politically gridlocked, and ineffectual political, social and foreign policy paths.
Bradley first reviews the current "state of the nation."  He makes clear that, contrary to right wing pronouncements,  government is not the cause of our problems. He rightly points out the damaging and dangerous role of money and politics, talks cogently about why and how our existing foreign policy, electoral, and economic paths will lead to a dismal future for America, and sets forth clearly and coherently what needs to be done to for us to  make changes for the better.
As the book title says, "we can all do better."  Rather than blaming and scapegoating (groups of other citizens, the other political party, or just government itself) or as so many do, simply ignoring what we don't like, and disengaging from the political process, Bradley continually and powerfully makes his case we can all—elected officials and private citizens alike—do a better job together.  Bradley is a great voice for uniting rather than dividing, for working together, and for allowing ourselves to see more clearly who we are – and can be – as citizens and participants in the modern world.
Bill Bradley, born and raised in Missouri, was a star basketball player at Princeton, a Rhodes scholar, and then had a Hall of Fame career in the NBA.  He was a three term senator from New Jersey, and ran for president in 2000.  We Can All Do Better is his sixth book.  He's been involved in investment banking and serves as a corporate director for a number of companies.  He hosts a radio show called American Voices on Sirius/XM satellite radio.
("For 40 years, I've traveled around America listening to the stories Americans tell about their lives. I was always moved, and so I wanted to create a show where you can hear some of them too." – Sen. Bill Bradley)
It was a great pleasure for me to have the opportunity to speak to Senator Bradley about We Can All Do Better for Writerscast.  You can learn more about the book at Sen Bradley's website.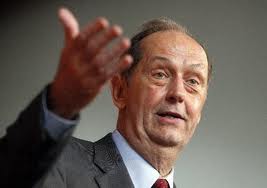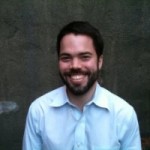 In this series of interviews, called Publishing Talks, I talk to book industry professionals and other smart people about the future of publishing, books, and culture.  This is a period of disruption and change for all media businesses.  How will publishing evolve as our culture is affected by technology, climate change, population density, and the ebb and flow of civilization and  economics?
I hope these Publishing Talks conversations will help us better understand the outlines of what is happening in publishing, books and reading culture, and how we can ourselves both understand and influence the future of books and reading.
I've been thinking alot lately about the evolution of ebook building.  My friends Ron Martinez and Nick Ruffilo at Aerbook and Hugh McGuire at PressBooks, have also built on this kind of concept, in Aerbook's case a cloud based authoring tool that is highly sophisticated and probably best used by experienced book designers (called Aerbook Maker), and in PressBooks' model a WordPress based authoring tool that enables writers and editors to collaborate in the cloud to build books from scratch.  Barnes & Noble has created a tool for publishers who want to build fixed page children's books for their own device, the Nook.  This seems like a growing trend, presaged by what happened years ago in the realm of desktop publishing (which resulted in today's powerful tools, InDesign and Quark – and InDesign now can even be used to make ebooks), making it possible for book designers to do incredible work with powerful, economical tools.
The received wisdom about ebooks with video and audio features is that they don't sell all that well, at least compared to straight text or even just books with illustrations.  And since they have had to be built more or less by hand as one off productions, they have had significantly higher costs of production.  With low sales and high cost of production, the ROI for publishers for these sorts of ebooks has been mostly terrible.
That has meant that relatively few such books have been published.  Which of course has meant that there has been relatively little audience development for ebooks that combine text, illustrations, audio and video features, and perhaps also.  By streamlining the process of ebook building and empowering creators, these tools will reduce the cost of deploying ebooks with integrated audio and video elements, improve design, and hopefully increase the level of interest in enhanced ebooks by attracting more creativity on the production side.  One might imagine that a meaningful increase in the number of these kinds of enhanced or "app-like" ebooks in the various e-bookstores, will also increase the interest of readers for them, and thus more sales.  And of course we can also hope for more marketing commitment from the device manufacturers themselves and better software and hardware to enable readers to more readily enjoy this expected increase in creativity on the author and publisher side of the equation (Amazon, Barnes & Noble, and Apple, are you listening?)
As a proponent of enhanced ebooks, I'd like to believe that with relatively lower cost of production, and more platform support, we will indeed see an increase in output of these kinds of ebooks, and that a great upsurge of creative, meaningful use of audio and video in books will really "enhance" the usefulness and popularity of these kinds of ebooks for readers.
Matt Cavnar is the VP of Business Development for Vook, a company that is now offering their own sophisticated ebook publishing tool for authors and publishers.  When the company started in 2009, it set out to provide video-enabled ebooks to the reading public.  Over the past three years the company has produced hundreds of ebooks of all different kinds.  During that time, they soon realized that acting simply as a production company, they could never achieve the kind of scale they really hoped for, so over the past year or so, Vook's staff took everything they had learned about making ebooks, and built a toolset that virtually anyone can use to make great ebooks.
Matt is a passionately committed to books, and especially to ebooks, and to expanding their reach.  In the course of our conversation, we talked first about the Vook platform and the tools it offers to users, and then went on from there to talk broadly about the current and evolving state of digital publishing, informed by Matt's hands on experience working with ebooks and their creators for the past several years.  This conversation should be valuable to anyone involved in publishing, whether ebooks are your primary interest or not, but especially if you are interested in seeing where the nuts and bolts of ebook creation have gone in mid-2012.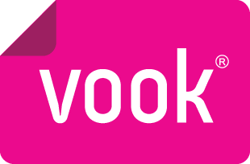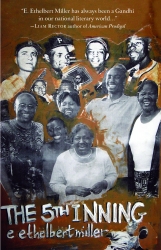 978-1604865219 – PM Press – Paperback – $15.95 (ebook versions available at lower prices)
E. Ethelbert Miller  is a writer and literary activist.  He is currently the board chairperson of the Institute for Policy Studies (IPS).  Since 1974, he has been the director of the African American Resource Center at Howard University.  Ethelbert is also the former chair of the Humanities Council of Washington, D.C. and a former core faculty member of the Bennington Writing Seminars at Bennington College.  He's published more than ten books, in both poetry and prose, has edited a number of anthologies, and his writing is widely anthologized.  He's won all sorts of awards and recognition for his writing and for his longstanding work in support of writing as a community and cultural effort.   In addition, for several years he hosted the popular weekly radio program Maiden Voyage on WDCU-FM, as well as Vertigo On The Air on WPFW.
Ethelbert has long been a favorite poet of mine, whom I got to know years ago when I lived in Washington, D.C., where Eth still resides.  We're of a similar age and share various passions, not the least of which is baseball.
So it is no wonder that I jumped at the chance to read his memoir, The Fifth Inning, and then to talk to him about it on Writerscast.  This is a terrific book, unusual in its shape and structure, which is both poetically charged and carefully built.  Ethelbert allows himself to write honestly and purely about his own life, his insecurities, pain and suffering, but without ever becoming self indulgent or overwrought.  There is always hope, and the sense that something good, or even great, will come from all this "stuff" we go through in life.
Thinking of a baseball game, the fifth inning out of nine is, of course, the turning point.  After the fifth inning, a game can end early but still be considered an official game – a life lived, though abbreviated.  So here he is, in the fifth inning of his imagination, looking back at the beginning of the game, and at the present where it's about to start the last stretch toward the end and the final score.  It's a good time to take stock and get ready to see what you can do to get past the hitters coming up to bat.  When you're pitching you need to pace yourself, remember what worked and didn't work in the early innings, and use what you have learned to keep the hitters off stride and getting the outs you need to win the game.
Poets' memoirs are sometimes brittle and too carefully built to sustain a personal story.  Ethelbert is not that kind of poet.  He's active and alive in every moment, and brings his readers right into his head and heart.  This is a beautifully constructed and written piece of personal writing that I hope will find a audience far beyond the literary community.  What Ethelbert has to say about being human and growing older is important for all of us to hear.
Ethelbert's website is here, well worth a visit.  And I wanted to mention that this is a Busboys & Poets book published by PM Press, a publisher I hope readers will learn about and support.  Buy the book direct from the publisher to support independent publishing and alternative culture.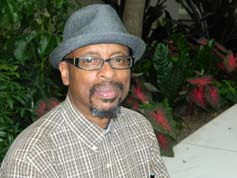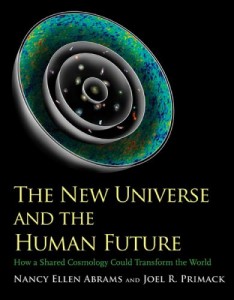 978-0300181241 – Yale University Press – paperback – $20 (ebook versions available)
This was an exciting and extraordinary book for me to take on.  At the very moment I discovered Joel Primack and Nancy Abrams' cool new book The New Universe and the Human Future, I was also discovering Big History and working on a book project that relates exactly to the ideas in this book.  So it was a lucky coincidence for me to find this book and even better to have the chance to speak with the authors.  My first two-author interview also, which was fun, not the least because Joel and Nancy work brilliantly together.
I suspect I learned more about the universe from this book than from anything else I have read in my entire life – and I thought I had been pretty good about keeping up with Big Science over the past thirty years or so.
In The New Universe, Nancy Abrams, a cultural philosopher and Joel Primack, an astrophysicist—combine their knowledge and experience to present the most accurate possible portrayal of our current understanding of the universe in which we live.  It's pretty stunning to realize that we are indeed time travelers, since we are able to see the history of the universe in light as it reaches us.  And to understand the scale of time in which humans are so small.
But Abrams and Primack are after more than just telling what scientists know and what cosmologists understand about the universe and our place in it.  By showing us the absolute miracle of human life on planet Earth, they infuse a scientifically grounded spirituality into the core of our understanding.  While they quickly dispense with any notions of Biblical literalism that are disproven by the physical facts that science has uncovered about space and time, cosmology and biology, what they want to show us is that it is possible for the world now to finally share a scientifically grounded creation story.  Whereas today we seem to have highly fragmented and differing worldviews that prevent us from living intelligently on our small planet, by understanding how unique our planet and we as a species are in the universe, and how we got here, we may yet be able to unite to save ourselves from extinction.  Knowing that it is likely that this is the the only planet able to foster intelligent life does force us to acknowledge our responsibilities not only to ourselves but to the universe we inhabit.
The book is full of incredible information and insights, brilliantly illustrated, our creation story well told.  I find myself going back to it frequently as the richness of information the authors share calls out to be re-read.  And there's a great website for the book that I recommend visiting as well.
Nancy Ellen Abrams is an attorney, cultural philosopher, and lecturer at the University of California, Santa Cruz.  Joel R. Primack, Distinguished Professor of Physics at the UC Santa Cruz, is one of the principal creators of the modern theory of the universe on the grand scale.   Together they have authored several books, including The View From the Center of the Universe. They live in Santa Cruz, California.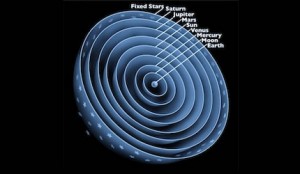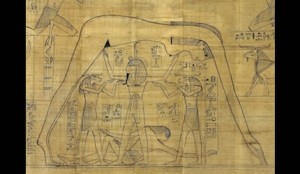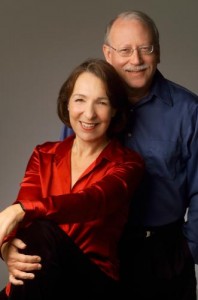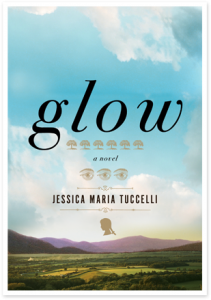 978-0670023318 – Viking – Hardcover – $25.95 (ebook versions available)
Jessica Maria Tuccelli's outstanding first novel, Glow, opens in the fall of 1941, in Washington, D.C., and traverses back and forth through time and place to Hopewell County, Georgia in 1836, and then across the century following.  We start with Amelia J. McGee, a young woman of Cherokee and Scotch-Irish descent, an outspoken pamphleteer for the NAACP, whose husband has been hauled off to jail as a draft protester, sending her daughter Ella, alone with her only her dog as company, on a bus home to Georgia.  This desperate act, meant to protect her daughter, turns out to be disastrous, as the girl, almost at her destination, is snatched by two drifters and then left for dead.
Ella is rescued and cared for by Willie Mae Cotton, an ancient root doctor and former slave, and her partner, Mary-Mary Freeborn, who live deep in the Takatoka Forest near Ella's ancestral home. While Ella heals, in a fluid and beautifully told story, we learn the history of her people and those who are caring for her.
Tuccelli is a lovely writer, and her almost magical ability to capture the voices and stories of the diverse characters in this novel is striking.  She does not shy away from pain and suffering, but manages to find transcendance and hope for her characters against tremendous odds.  The people in this novel are powerfully real, committed to family, to the land, and to the personal histories that make them who they are.
Tuccelli is a fine writer and also a terrific writer to interview.   It's of course impressive and a natural issue to discuss, that she is not from Georgia nor does she share any personal history with the people and place she has made her own in this novel.  There are some truly compelling characters in this book that I will never forget.  I had a great time talking to her and hope you enjoy our conversation as well.   Her excellent website is well worth a visit.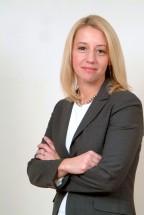 In this series of interviews, called Publishing Talks, I talk to book industry professionals and other smart people about the future of publishing, books, and culture.  This is a period of disruption and change for all media businesses.  How will publishing evolve as our culture is affected by technology, climate change, population density, and the ebb and flow of civilization and  economics?
I hope these Publishing Talks conversations will help us better understand the outlines of what is happening in publishing, books and reading culture, and how we can ourselves both understand and influence the future of books and reading.
Liate Stehlik appeared on a panel I moderated last winter for Digital Book World, and I was  very much impressed by her perceptive understanding of the evolving publishing landscape.  In her role as the Senior Vice President and Publisher of William Morrow/Harper Voyager/Avon Books division of HarperCollins, Liate oversees the digital-centric Avon Impulse imprint, giving her a unique experience base and outlook.  Avon Impulse is innovative publishing for authors and readers, and is a learning base for the company within which it operates.
I thought it would be interesting and enjoyable to talk to her about her views on the book business, past, present and future, and I think our conversation demonstrates that it was just that and more.  Avon Impulse represents a significant effort by a Big Six publisher, creating a chance to experiment and learn important and valuable lessons about digital books and readers, which can then be applied across the overall publishing enterprise.  Much of what Liate and her company has learned will doubtless be applicable to many others in publishing.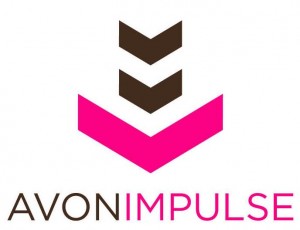 I'll welcome comments and reactions from listeners in all kinds of publishing.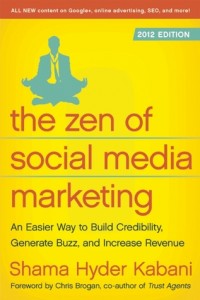 978-1936661633 – Ben Bella Books – $16.95 – paperback (ebook versions are available)
If you're involved in any business or any form of communication arts or entertainment, you already know that social media has rapidly become the buzz term of the new century.  Increasing numbers of people all over the world spend hours a day online in some level of engagement on Facebook, Twitter, Linked In, Tumblr and now Pinterest.   That the book I am talking about here, The Zen of Social Media Marketing: An Easier Way to Build Credibility, Generate Buzz, and Increase Revenue, is an updated 2012 edition of a book first published less than two years ago, indicates how dynamic and fast changing online social media have become.
Over the last four or five years, I have voraciously read or skimmed any number of books that cover either specific social media platforms, or more broadly on social media marketing and strategies for businesses and professionals.  Quite a few of them were very good and taught me valuable lessons.  None, however, was as penetrating and inspiring as this book.  Author Kabani deeply understands how social media marketing is so different from traditional marketing – and requires a very different approach from anyone attempting to "use" social media for their business or profession.  Zen is the right term.
Shama Kabani started her own marketing business, The Marketing Zen Group, right out of graduate school, and built it into a successful operation, learning as she went.  Her company used social media to attract clients; she practices what she preaches.  In the book, Shama lays out her  basic principles, contrasting the conversational and participatory approach of social media marketing to the megaphone approach of traditional product marketing that worked in the one way world of broadcast and publishing media for so many years.  Her core structure is compelling and simple: ACT: Attract followers, Convert them to consumer or customer, Transform your successes into magnetic attraction.
Throughout the book, Shama features anecdotes, guest experts in a wide range of subjects providing useful advice, and a steady stream of really powerful tools and behaviors that will help anyone from beginner to expert become a better social media participant and therefore a marketer.  For many businesses, becoming adept at working in social media has been the magic that has helped them succeed and thrive in a challenging and constantly changing environment.  I do believe that if you only have time to read one book on social media, this is the one to have.  So many of your customers (and potential customers) are so deeply involved with social media, you cannot afford to ignore them.
Talking to Shama was great fun, highly rewarding for me, and I think this interview will be useful and extremely valuable to all.  Writers and publishers in particular will find this conversation of particular value.  You can reach Shama directly in a variety of ways:
Email: shama@marketingzen.com; Facebook; Twitter; LinkedIn; Google+ 

Please post comments and any ideas and suggestions this discussion engenders.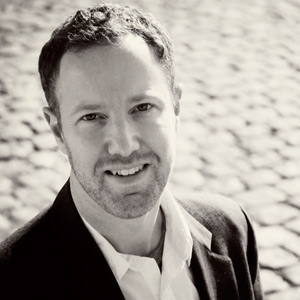 In this series of interviews, called Publishing Talks, I talk to book industry professionals and other smart people about the future of publishing, books, and culture.  This is a period of disruption and change for all media businesses.  How will publishing evolve as our culture is affected by technology, climate change, population density, and the ebb and flow of civilization and  economics?
I hope these Publishing Talks conversations will help us better understand the outlines of what is happening in publishing, books and reading culture, and how we can ourselves both understand and influence the future of books and reading.
Dan Blank is a very smart and perceptive guy.  He works with writers and publishers – as he says on his website,  to "make an impact and build their legacies."  Through his company, We Grow Media, he offers a great deal of really valuable free advice – a terrific email newsletter and always interesting blog – along with paid courses and speaking engagements.  I've assiduously read just about everything he has written for quite a while now, and have watched some of his presentations on video as well.
Marketing is a tough subject for most authors and many publishers.  Dan always has clear and sensible advice and ideas for writers and publishers.  His ideas and perceptions have influenced my own thinking about how writers can operate in the new media environment.
So I am really pleased and honored to have had the opportunity to talk to him for Publishing Talks and bring what he has to say to my audience about marketing for writers and publishers.  I am certain that you will hear more than one actionable piece of advice or a cogent idea that will make you think, and question your assumptions.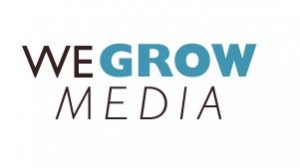 And if you get a chance to hear Dan speak in public, make sure you do, it will be well worth your while.