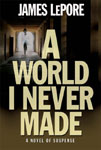 A World I Never Made
ISBN# 978-0981608723
The Story Plant, Hardcover $24.95
The inaugural WritersCast podcast has host David Wilk interviewing author James LePore, whose first novel, a thriller entitled A WORLD I NEVER MADE will be published by The Story Plant in April, 2009. Wilk and LePore talk about the characters in the book, and LePore's writing methods and other topics in a wide ranging interview. LePore is a former trial attorney who turned to writing fiction full time after selling his law practice.